Disclosure:
Your support helps keep Commodity.com running! We earn a referral fee for some brokers & services we list on this page.
Learn more...
The Typical Price Moving Average combines the Pivot Point concept and the Simple Moving Average.
The Pivot Point calculation is shown below:
Pivot Point = (High + Low + Close) / 3
The calculated Pivot Point number is then inputed into the regular Simple Moving Average (see: Simple Moving Average) equation; rather than the input of the closing price, the Pivot Point calculation is used.
The chart below of the mini-Dow Jones Industrial Average Futures contract shows the slight difference between a 10-day Simple Moving Average and a 10-day Typical Price Moving Average: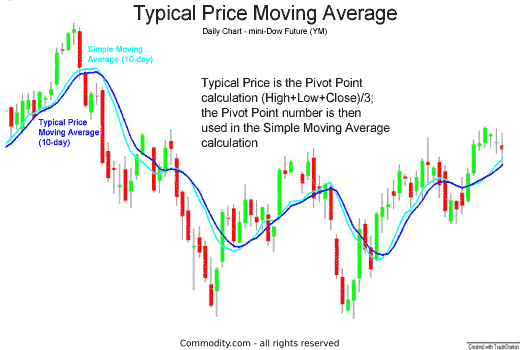 The Typical Price attempts to give a more real representation of where price has been by incorporating the high and low price into the most often used closing price.
The Typical Price is consequently seen as a more pure Simple Moving Average; nevertheless, as can be referenced by the chart above of the mini-Dow Future, there is not much difference between either Moving Average.
Potential buy and sell signals for the Typical Price Moving Average indicator are discussed on the Simple Moving Average indicator pages (see: Simple Moving Average).
How to Start Trading
If you are interested in trading stocks & commodities using technical analysis, have a look at our reviews of these regulated brokers available in to learn which charting & analysis tools they offer:
Loading table...
CFDs are complex instruments and come with a high risk of losing money rapidly due to leverage. Between 73.0%-89.0% of retail investor accounts lose money when trading CFDs. You should consider whether you understand how CFDs work and whether you can afford to take the high risk of losing your money.
Further Reading
Learn more about technical analysis indicators, concepts, and strategies including Momentum, Gann's Theory, Moving Averages, and many others.
Also see our guides on Forex, Bitcoin, CFD, and Option brokers to find out which tools brokerages offer their clients.