Disclosure:
Your support helps keep Commodity.com running! We earn a referral fee for some brokers & services we list on this page.
Learn more...
Adaptive Moving Averages changes its sensitivity to price fluctuations.
The Adaptive Moving Average becomes more sensitive during periods when price is moving in a certain direction and becomes less sensitive to price movement when price is volatile.
The chart below of the E-mini Nasdaq 100 Futures contract shows the difference between an Exponential Moving Average (see: Exponential Moving Average) which weights current prices more heavily than past prices and the Adaptive Moving Average which changes sensitivity based on price volatility: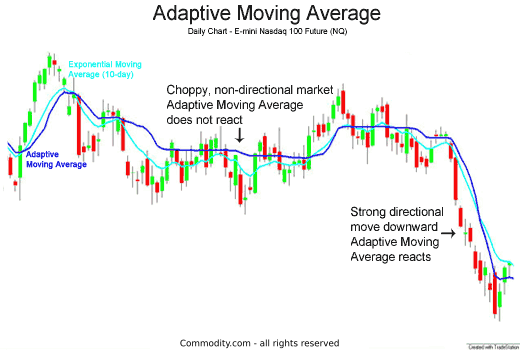 The advantage of the Adaptive Moving Average is show above in the e-mini chart in the center where price became directionless and choppy.
During that period the Adaptive Moving Average maintained a straight line appearance; whereas, the Exponential Moving Average moved with the choppiness of prices.
However, when price trended, like on the far right of the e-mini chart above, the Adaptive Moving Average kept up with the Exponential Moving Average.
The Adaptive Moving Average is definitely an unique technical indicator that is worth further investigation.
How to Start Trading
If you are interested in trading stocks & commodities using technical analysis, have a look at our reviews of these regulated brokers available in to learn which charting & analysis tools they offer:
Loading table...
CFDs are complex instruments and come with a high risk of losing money rapidly due to leverage. Between 73.0%-89.0% of retail investor accounts lose money when trading CFDs. You should consider whether you understand how CFDs work and whether you can afford to take the high risk of losing your money.
Further Reading
Learn more about technical analysis indicators, concepts, and strategies including Triple Exponential Average, the Head and Shoulders Pattern, Gann's Theory, Moving Averages, and many others.
Also see our guides on Forex, Bitcoin, CFD, and Option brokers to find out which tools brokerages offer their clients.