Disclosure:
Your support helps keep Commodity.com running! We earn a referral fee for some brokers & services we list on this page.
Learn more...
In this guide to understanding the Exponential Moving Average (EMA), we'll show you what this chart looks like, what it indicates, and we compare it to other moving average indicators.
What Is the Exponential Moving Average (EMA) Indicator?
The Exponential Moving Average (EMA) weighs current prices more heavily than past prices.
The weighting gives the Exponential Moving Average the advantage of being quicker to respond to price fluctuations than a Simple Moving Average.
However, quicker responses can also be viewed as a disadvantage because the EMA is more prone to whipsaws (ie, false signals).
What Does the Exponential Moving Average Indicator Look Like?
Chart 1 below of eBay (EBAY) stock shows the difference between a 10-day Exponential Moving Average (EMA) and the 10-day regular Simple Moving Average (SMA):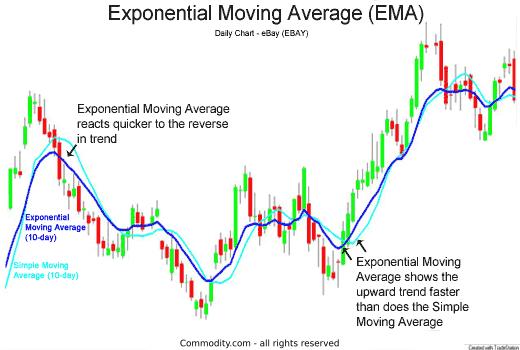 As noted on Chart 1, the differences between the EMA and SMA:
EMA reacts quicker to reverses in trend.
EMA shows the upward trend faster than the SMA.
The main thing to notice is how much quicker the EMA responds to price reversals; whereas the SMA lags during periods of reversal.
EMA Compared to Moving Average Crossovers
Chart 2 below, showing the Nasdaq 100 exchange traded fund (QQQQ), illustrates Moving Average Crossovers in comparison with an EMA and an SMA: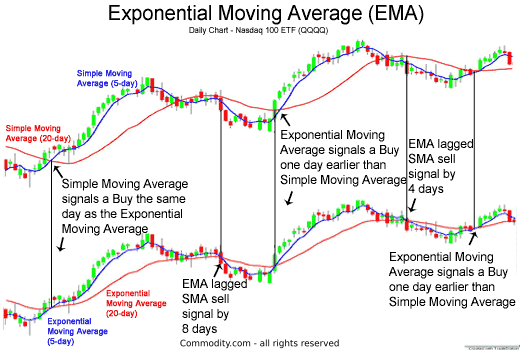 As Chart 2 above of the QQQQ's illustrates, even though EMA is quicker to respond to price movement, EMAs are not necessarily quicker to give possible buy and sell signals when using moving average crossovers.
Also note that Chart 2 illustrates the concept behind the popular Moving Average Convergence Divergence (MACD) indicator.
Summary
Since Exponential Moving Averages weigh current prices more heavily than past prices, the EMA is viewed by many traders as superior to the Simple Moving Average.
However, every trader should weigh the pros and the cons of the EMA and decide in which manner they will be using moving averages.
Regulated Brokers: Where Can I Trade Commodities?
Start your research with reviews of these regulated brokers available in .
CFDs are complex instruments and come with a high risk of losing money rapidly due to leverage. <b>Between 74%-89% of retail investor accounts lose money when trading CFDs.</b> You should consider whether you can afford to take the high risk of losing your money.
Further Reading
Learn more about technical analysis indicators, concepts, and strategies including: