Disclosure:
Your support helps keep Commodity.com running! We earn a referral fee for some brokers & services we list on this page.
Learn more...
Fibonacci Arcs are percentage arcs based on the distance between major price highs and price lows.
Therefore, with a major high, major low distance of 100 units, the 31.8% Fibonacci Arc would be a 31.8 unit semi-circle.
The chart below of the S&P 500 exchange traded fund (SPY) shows an example of a Fibonacci Arc: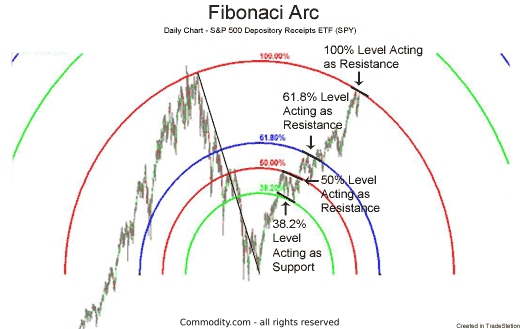 As is seen in the chart above, after the significant bear market, the rally was stopped by the 50% arc; the 50% arc retracement acted as resistance (see: Support & Resistance). The S&P 500 then used the 38.2% arc as support, bouncing between the 50% arc and the 38.2% arc for many months.
After price broke through the resistance arc at 50%, price moved up to the next significant Fibonacci ratio, 61.8%, where it found a new resistance level.
The prior resistance level at 50%, after being broken, became a new support level. The next Fibonacci arc was at 100%, where price met resistance.
Yet another helpful Fibonacci tool is the Fibonacci Fan, discussed on the next page.
How to Get Started Trading
If you are interested in trading using technical analysis, have a look at our reviews of these regulated brokers available in to learn which charting & analysis tools they offer:
Loading table...
CFDs are complex instruments and come with a high risk of losing money rapidly due to leverage. Between 73.90%-89.00% of retail investor accounts lose money when trading CFDs. You should consider whether you understand how CFDs work and whether you can afford to take the high risk of losing your money.
Further Reading
Learn more about technical analysis indicators, concepts, and strategies including Momentum, Elliot Waves, Market Thrust, Moving Averages, and more Fibonacci Patterns.
Also see our guides on Forex, Crypto and Option brokers to find out which tools brokerages offer their clients.