In this guide to understanding Andrew's Pitchfork in technical analysis, we'll show you what this chart looks like, how to create it step-by-step, and how to interpret it.
Andrew's Pitchfork, also known as median line studies utilizes the concepts of support and resistance, as well as retracements.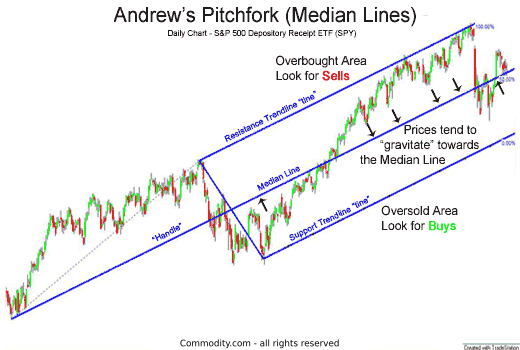 As is visually depicted above, Andrew's Pitchfork consists of:
Handle
Resistance Trendline "tine"
Median Line
Support Trendline "tine"
How to Create a Pitchfork
Find a significant pivot or retracement (in the chart above, the lower-left corner)
Find the next significant pivot or retracement (the dotted blue line connects the first pivot to this second pivot)
Find the next retracement (in the chart above, the solid blue line starting from the left and going down to the right)
Charting software finishes the pitchfork by creating the upper resistance tine, the lower support tine, and the median line.
Interpreting Andrew's Pitchfork
The same rules for support and resistance apply to Andrew's Pitchfork. Traders might consider buying at support and look to sell at resistance.
Read more about support and resistance.
Also, prices are thought to gravitate towards the median line as depicted in the chart above of the S&P 500 exchange-traded fund (ETF).
The chart above shows the long-term view (1 year and 6 months) of the stock market. However, Andrew's Pitchfork can be used for shorter time frames.
Regulated Brokers: Where Can I Trade Commodities?
Start your research with reviews of these regulated brokers available in .
CFDs are complex instruments and come with a high risk of losing money rapidly due to leverage. Between 74%-89% of retail investor accounts lose money when trading CFDs. You should consider whether you can afford to take the high risk of losing your money.
Further Reading
Learn more about technical analysis charting concepts and strategies including:
Also, see our guides to understanding the basics of reading candlestick charts and options trading strategies.