Disclosure:
Your support helps keep Commodity.com running! We earn a referral fee for some brokers & services we list on this page.
Learn more...
WARNING: We do not recommend UFX. This is due to a history of fines and sanctions in various countries. Please consider one of the alternative CFD brokers below.
Loading table...
CFDs are complex instruments and come with a high risk of losing money rapidly due to leverage. Between 73.90%-89.00% of retail investor accounts lose money when trading CFDs. You should consider whether you understand how CFDs work and whether you can afford to take the high risk of losing your money.
Overview
Risk Warning: Your Capital is at Risk
UFX is an online straight-through-processing (STP) brokerage firm that provides customers with a trading platform for Contracts for Difference (CFD) trading. CFDs are derivative securities that allow traders to speculate on the price of assets without actually holding them in their accounts. UFX provides its customers platforms for trading forex and CFDs on indices, commodities, shares, ETFs and cryptocurrencies.
UFX traders have access to three platforms:
ParagonEx Web Trader 4.0: This web-based platform was developed by UFX for trading multiple classes of assets. ParagonEx Web Trader 4.0 incorporates MassInsights™ Technology, which is a UFX's proprietary trading technology. It provides a complete live stream of market events and aggregated trader behavior. The idea is that traders can take the pulse of the market and see what's moving different asset classes at any given time.
MetaTrader4 (MT4): An industry-standard platform with advanced charting features.
UFX Trading App: A mobile version of the UFX Web Trader platform.
UFX has received several awards from industry watchers:
2016 & 2017 – Best Forex Trading Tools – MassInsights™ Technology – UK Forex Awards
2016 & 2017 – FX Broker of the Year – The European Global Banking and Finance Awards
2016 – Best Trader Loyalty Programme – UFX Rewards – FX Report Awards
2016 – Best Trading Platform – MassInsights™ Technology – FX Report Awards
UFX emphasizes its ParagonEx platform, multiple account options and competitive trading conditions as its strengths. Traders looking for a broker that is regulated across the European Union and offers access to CFDs across several major asset classes may want to investigate the offerings at UFX. Please remember that trading CFDs exposes traders to the possibility of losses, which can exceed deposits. CFD trading is for experienced traders.
This UFX review will cover all of the important details about the broker to help you make an informed opinion about its products and services.
UFX - Essential Information

www.UFX.com
Overview
CFD online trading broker with award-winning MassInsights™ Technology
Our Overall Rating
Broker Trust Rating
65/100
Founded
2010
Number of Customers
100,000+
Product
CFDs
Markets
Indices
Cryptocurrencies
Commodities
Shares
ETFs
Countries Served
Over 150
Minimum Deposit
Minimum deposit varies according to UFX account type
Fees
UFX is a no-commission broker. It makes money through the market bid/ask spread. UFX charge an inactivity fee of $50 and some overnight fees may apply. (See here for a full list of fees )
Regulator(s)
Cyprus Securities Exchange (CySEC)
Customer Support
24/5 customer support via phone, email and live chat
Awards
Best Forex Trading Tools in 2016 & 2017, among others
Demo Account
Yes
History of UFX
UFX is operated by Reliantco Investments Limited. The privately held firm based out of Limassol, Cyprus, was granted a license to operate in Cyprus on December 22, 2010. The firm was first established in the United Kingdom on November 30, 2013, under company number FC031723. It closed its UK presence on November 6, 2017.
UFX is duly registered under the laws of the Republic of Cyprus with Registration Number HE 270726, having the necessary license and authorization by the Cyprus Securities and Exchange Commission (CySEC) with license number 127/10.
UFX has headquarters at Reliantco Investments Limited in Limassol, Cyprus. The firm also has a branch office in the Czech Republic.
UFX offers customers 24-hour customer support during the trading week to customers in multiple countries. Traders can contact customer service by live chat, email or local phone numbers in the various countries UFX serves.
Where Does UFX Operate?
UFX is available in most major countries including the following:
United Kingdom
Cyprus
United Emirates
Germany
France
Russia
Turkey
Romania
Bahrain
China
Singapore
Spain
Poland
Canada
Norway
Denmark
Sweden
Finland
Czech Republic
Hungary
Italy
IMPORTANT: CFDs are not available in the USA due to local regulation, and regulated brokers do not accept US citizens or US residents as clients.
It is available in the following languages:
English
Turkish
Portuguese
Spanish
Hindi
Arabic
Dutch
Swedish
Polish
Italian
Finnish
French
Japanese
Russian
Norwegian
Indonesian
Danish
German
Vietnamese
Romanian
Chinese
Hungarian
Czech
Malay
Can I Trust UFX?
Reliantco Investments Limited (Reliantco), which is the company that operates UFX, is regulated by the Cyprus Securities and Exchange Commission (CySEC) with license number 127/10. The Markets in Financial Directive (MiFID) allows the company to operate as a regulated entity throughout the European Union.
However, we would be remiss if we didn't point out that Reliantco has been the subject of punitive regulatory actions by CySEC recently. On December 20, 2017, CySEC issued a financial penalty on the firm totaling €95,000.
The chair of CySEC made the following comments regarding the fine:
The fine imposed on the Company for their failings to act in the best interest of their customers follows CySEC's initial supervisory action towards Reliantco. A fine is not an end-stop action for investment firms regulated in Cyprus, and CySEC will not hesitate to use all the supervisory tools at its disposal to limit consumer detriment.

– Chair of CySEC, Demetra Kalogerou
According to CySEC, the company violated three points in offering its services to clients:
| Violation | Fine Amount |
| --- | --- |
| Failure to act "fairly, honestly and professionally in relation to customer support services account managers provide to existing clients." | €40,000 |
| "Failure to provide accurate, clear and non-misleading advertising materials to clients." | €40,000 |
| "Failure to obtain all the necessary and complete information to ensure customer suitability checks authorized appropriate investment services to each individual client." | €15,000 |
Reliantco notes that these are legacy issues that relate to past problems that they have remedied. They say that further follow-up inspections by CySEC show that Reliantco and UFX are complying with CySEC directives.
In 2013, Reliantco settled with CySEC in the amount of €100,000 for other violations.
Regulator
Countries Covered
Protections Offered
Additional Protections Offered
Cyprus Securities Exchange (CySEC)
Austria, Belgium, Bulgaria, Croatia, Cyprus, Czech Republic, Denmark, Estonia, Finland, France, Germany, Greece, Hungary, Iceland, Ireland, Italy, Latvia, Liechtenstein, Lithuania, Luxembourg, Malta, Norway, Poland, Portugal, Romania, Slovakia, Slovenia, Spain, Sweden, The Netherlands, United Kingdom

CySEC also offers a provision of services to certain countries outside of the EU.
All client funds are held in a segregated client bank account
The Investor Compensation Fund may provide up to €20,000 if UFX fails.
The Cyprus Securities and Exchange Commission (CySEC) is the financial regulatory agency of Cyprus.
Cyprus is a European Union member and is a financial services industry hub. Customers in countries regulated by CySEC are eligible for compensation of up to €20,000 if UFX fails. UFX is a trade name of Reliantco Investments Limited, which is authorized and regulated by Cyprus Securities and Exchange Commission (CySEC License no. 127/10).
Client funds at UFX are held in segregated accounts at top-tier banks. In addition, UFX uses Verisign SSL technology and layered backup systems in secure data centers in separate locations. As a result, UFX is able to secure customers' personal information at all times.
Who Runs UFX?
The Chairman of UFX is Dennis de Jong.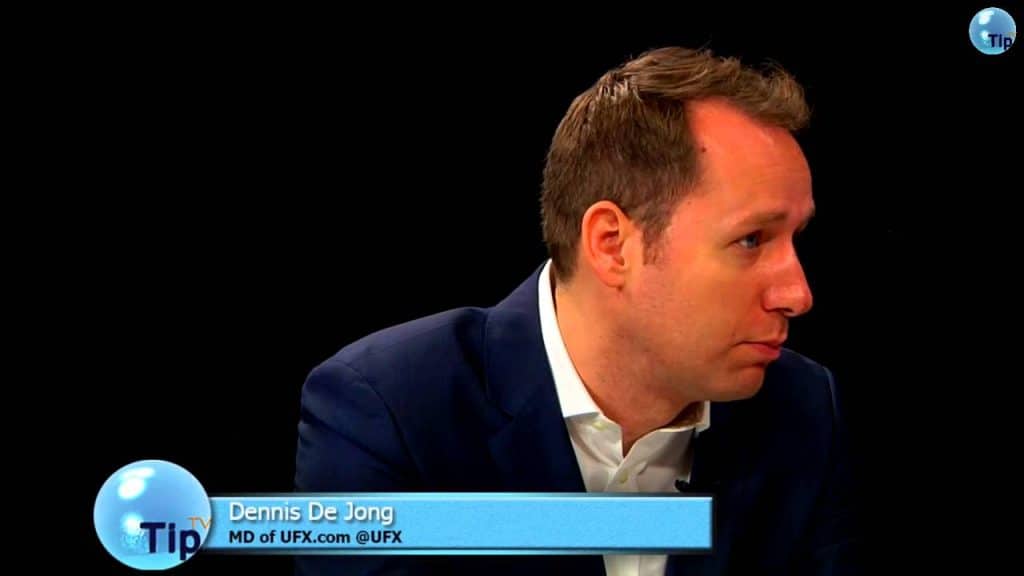 UFX Trading Products
UFX offers its customers financial instruments to trade that span six categories: currencies, commodities, cryptocurrencies, futures, stocks and ETFs.
1) Currencies
AUD/CAD
AUD/CHF
AUD/JPY
AUD/NZD
AUD/USD
CAD/CHF
CAD/JPY
CHF/JPY
EUR/AUD
EUR/CAD
EUR/CHF
EUR/CZK
EUR/GBP
EUR/INR
EUR/JPY
EUR/NZD
EUR/PLN
EUR/RON
EUR/TRY
EUR/USD
GBP/AUD
GBP/CAD
GBP/CHF
GBP/INR
GBP/JPY
GBP/NZD
GBP/USD
NZD/CAD
NZD/CHF
NZD/JPY
NZD/USD
USD/CAD
USD/CHF
USD/CNY
USD/CZK
USD/DKK
USD/HKD
USD/HUF
USD/INR
USD/JPY
USD/MXN
USD/NOK
USD/PLN
USD/RON
USD/RUB
USD/SEK
USD/SGD
USD/TRY
USD/ZAR
2) Commodities
Corn
Gold
Natural gas
Oil
Silver
Palladium
Platinum
3) Cryptocurrencies
Aventus
BCH/BTC
BCH/ETH
Bitcoin
Bitcoin Cash
Bitcoin Gold
BTC/EUR
BTG/BTC
DASH
DSH/BTC
Eidoo
EOS
ETH/BTC
Ethereum
Ethereum Classic
ETP
Iota
Litecoin
Monero
NEO
NEO/ETH
OmiseGO
QASH
QTUM
Ripple
Santiment
Streamr
YOYOW
Zcash
ZECBTC
UFX offers CFDs on futures contracts for the following products:
4) Commodities Futures
5) Indices Futures
BEL 20
CAC 40
NASDAQ 100
Nikkei 225
AEX25 Future
Dow Jones
DAX 30
S&P 500
6) Stocks
UFX offers CFDs on hundreds of international companies' shares. Some popular companies include:
Apple
Alibaba
Amazon
Nike
Renault
Chevron
Coca-Cola
Facebook
IBM
JPMorgan Chase
7) ETFs
UFX offers CFD trading on a number of popular ETFs, including:
QQQ – NASDAQ Index
SPY – S&P 500 Index
FEZ – Eurostocks50 Index
GDX – Gold Mining Companies
USO – Oil Companies
UNG – Gas Companies
XLF – Finance Sector
XLE – Energy Sector
XLK – Technology Sector
XLV – Health Sector
UFX Account Types
UFX offers six types of live trading accounts. The number of live trading options seems excessive. We're generally not a believer in brokers having too many confusing account options since these usually come across as gimmicky.
| | MICRO/MINI | MINI | STANDARD | GOLD | PLATINUM | ISLAMIC |
| --- | --- | --- | --- | --- | --- | --- |
| Minimum Deposit | $100 | $500 | $1,000 | $5,000 | $10,000 | $1,000 |
| Minimum Trading Volume | $250 | $5,000 | $10,000 | $50,000 | $100,000 | $10,000 |
| Daily Market Reviews | | | | | | |
| Video Library | | | | | | |
| Daily Recommendations | | | | | | |
| 24h Live Support | | | | | | |
| VIP Trading Support | | | | | | |
| Exclusive Updates | | | | | | |
| Access to MT4 Platform | | | | | | |
All accounts are denominated in US dollars.
Customers of UFX can also open a demo account. Demo account holders receive a free eBook and $10,000 in virtual money.
UFX Spreads and Fees
UFX receives its compensation in the form of the market spreads on each instrument. The broker is an STP (Straight-Through-Processing) broker, meaning it doesn't take the opposite side of its customers' trades. Instead, it hedges the trades it makes with its customers immediately in the marketplace.
UFX offer fixed and stable spreads. The spreads for trading vary by the particular financial instruments being traded and the platform for trading. The following are the spreads for the most popular instruments by asset classes.
Currencies
| | MICRO | MINI | STANDARD | GOLD | PLATINUM | ISLAMIC |
| --- | --- | --- | --- | --- | --- | --- |
| EUR/USD | 4 | 4 | 3 | 2 | 2 | 2 |
| USD/JPY | 5 | 5 | 4 | 3 | 3 | 3 |
| GBP/USD | 5 | 5 | 5 | 3 | 3 | 3 |
| GBP/JPY | 11 | 10 | 9 | 7 | 7 | 7 |
Commodities
| | MICRO | MINI | STANDARD | GOLD | PLATINUM | ISLAMIC |
| --- | --- | --- | --- | --- | --- | --- |
| Gold | 75 | 70 | 65 | 55 | 50 | 50 |
| Oil | 11 | 8 | 7 | 5 | 5 | 5 |
| Silver SP | 800 | 750 | 700 | 550 | 550 | 550 |
| Natural Gas | 40 | 35 | 25 | 15 | 15 | 15 |
Cryptocurrencies
| | MICRO | MINI | STANDARD | GOLD | PLATINUM | ISLAMIC |
| --- | --- | --- | --- | --- | --- | --- |
| Ripple | 26 | 24 | 22 | 20 | 18 | 36 |
| Bitcoin | 50000 | 45000 | 40000 | 36000 | 33000 | 50000 |
| EOS | 75 | 70 | 65 | 60 | 55 | 60 |
| Aventus | 110 | 100 | 90 | 80 | 70 | 70 |
Indices
| | MICRO | MINI | STANDARD | GOLD | PLATINUM | ISLAMIC |
| --- | --- | --- | --- | --- | --- | --- |
| Dow Jones | 650 | 600 | 550 | 450 | 450 | 450 |
| S&P 500 | 150 | 120 | 100 | 50 | 50 | 50 |
| NASDAQ-100 | 350 | 300 | 250 | 150 | 150 | 150 |
| DAX 30 | 600 | 550 | 500 | 300 | 300 | 300 |
Stocks
| | MICRO | MINI | STANDARD | GOLD | PLATINUM | ISLAMIC |
| --- | --- | --- | --- | --- | --- | --- |
| Apple | 146 | 142 | 138 | 134 | 130 | 130 |
| Facebook | 146 | 142 | 138 | 134 | 130 | 130 |
| Google | 120 | 100 | 90 | 80 | 80 | 80 |
| Tesla Motors | 170 | 165 | 160 | 155 | 150 | 150 |
ETFs
| | MICRO | MINI | STANDARD | GOLD | PLATINUM | ISLAMIC |
| --- | --- | --- | --- | --- | --- | --- |
| QQQ | 96 | 92 | 88 | 84 | 80 | 80 |
| DIA | 70 | 66 | 62 | 58 | 54 | 54 |
| SLV | 30 | 28 | 26 | 24 | 22 | 22 |
| ERUS | 30 | 28 | 26 | 24 | 22 | 22 |
Traders should contact Customer Support for custom spreads. Some currencies and commodities may not be available in certain regions.
Although it is uncommon, UFX spreads can vary during extreme trading conditions or during non-trading hours. If you attempt to trade under these conditions, UFX will inform you on the platform of the relevant spreads.
Other fee information:
Commissions: UFX does not charge commissions on trades, only the spread for each instrument.
Money transfers: UFX does not charge fees for money transfers.
Maintenance fees: UFX does not charge regular maintenance fees, but it does reserve the right to charge a US$50 fee on open accounts once every three months.
Inactivity fees: UFX reserves the right to charge an inactivation fee of US$50 when a client account has been inactive for a period of three months (and provided that the client has at least US$50 in their account).
Overnight financing charges: This overnight fee (or credit) is either added to or subtracted from a trader's account when a position remains open past a certain period of time. Traders can obtain information on overnight funding rates at the Trading Conditions section of the UFX website.
Slippage: UFX advises that slippage is a normal market practice and a regular feature of the foreign exchange markets under conditions such as illiquidity and volatility due to news announcements, economic events and market openings. Therefore, trading according to news cannot be guaranteed.
Deposit fees: UFX does not charge fees on deposits.
Withdrawal fees: UFX does not charge fees for withdrawals. However, your bank may impose transfer fees.
Account Requirements
After you click the green "Sign Up" button the website, UFX asks you a few questions including your personal details and which type of account you want to open (see UFX Account Types section).
Once you fill out this information, you are logged in to the trading system. You then can go to the drop-down menu on the right side of the screen to provide UFX with the information they need to verify your identity. You can also fund your account.
To pass their identity verification, you will need to upload these documents or fax, scan and email them to UFX:
A copy of your passport or another government-issued identification document
A copy of a bill or statement (e.g. telephone bill or bank statement) on which your current residential address is clearly printed
A copy of both sides of your credit card
The UFX compliance team checks all documents submitted for review and will notify you immediately if any document is missing, unreadable or unsuitable.
Deposits
Traders can deposit and withdraw funds with UFX using one of several different methods:
MasterCard
Visa
Visa Electron
Maestro
Diners Club
Local Bank Transfer
Skrill
Neteller
SOFORT
ELV
Giropay
iDEAL
Neosurf
China UnionPay
CashU
Qiwi
WebMoney
POLi
Paysafecard
Bitcoin
UFX does not charge fees on deposits. The broker does not accept third-party deposits. If the initial deposit was made via credit card, UFX can only send a withdrawal to the credit card used to make the original payment. If the initial deposit was made via bank wire transfer, UFX can only send a withdrawal to the account from which the initial transfer originated.
UFX offers leverage of up to 400:1 for many products. Each CFD also has specific UFX margin requirements that traders must maintain. You can see your free margin available to trade with on the UFX platform.
Traders who fall below the UFX margin requirements risk receiving a margin call and having their position closed prematurely.
Withdrawals and Withdrawal Times
To withdraw funds from your UFX account, you sign into your trading account, click on the profile avatar in the top right corner and choose "Withdraw Funds" from the drop-down menu.
UFX will only process and transfer funds via the payment method you used to make your deposit. For example, if you deposited your funds with your credit card, the amount you wish to withdraw will be transferred to the credit card account from which the deposit was made.
UFX does not charge fees for withdrawals. UFX requires withdrawal amounts to be more than $25 and less than the free balance you have in your account. Withdrawals take 3 to 10 business days to process.
UFX ParagonEX Platform Review
The UFX proprietary ParagonEx web-based trading platform has a different look than most other trading platforms.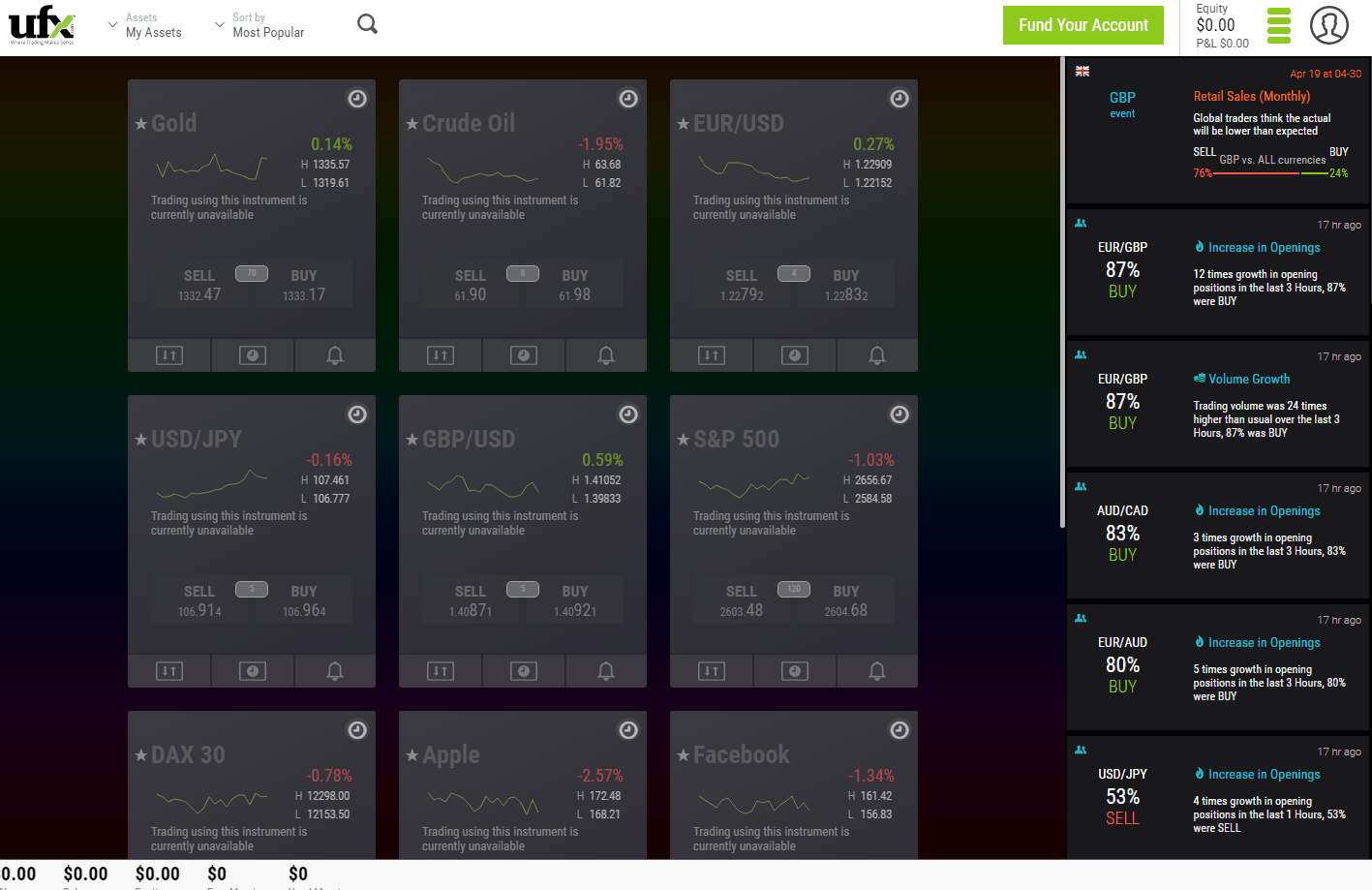 The main screen is organized with the grouping of instruments you can trade on the platform in the middle of the screen, the MassInsights™ Technology tools on the right of the screen and then two drop-down menus on the top left of the screen and an additional drop-down menu under your avatar on the right side of the screen.
The drop-down menu on the top left allows you to sort the instruments by asset class, while the menu next to it allows sorting by most popular, alphabetically, by daily change and by volatility.

The main screen seems a little clunky and busy. We think most traders would prefer having the traditional list of instruments on the left side of the screen and the ability to sort and organize this list as needed. Ultimately, a lot of screen real estate gets occupied by all of these instruments. Traders looking to focus on a smaller handful of instruments would probably prefer to have more screen real estate devoted to multiple charts or news feeds.
Each instrument is laid out with the name on the top. Traders can click on the star icon and add an instrument to favorites. There is functionality for setting alerts and a chart icon in the middle of each box.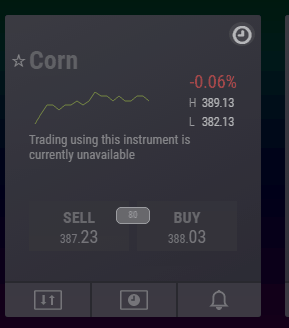 The charting functionality of the platform seemed to lag when we tested it on a fast internet connection. The number of technical indicators and drawing tools was more than adequate. However, the platform didn't really impress with its ability to integrate the charting window with the rest of the platform's functionality.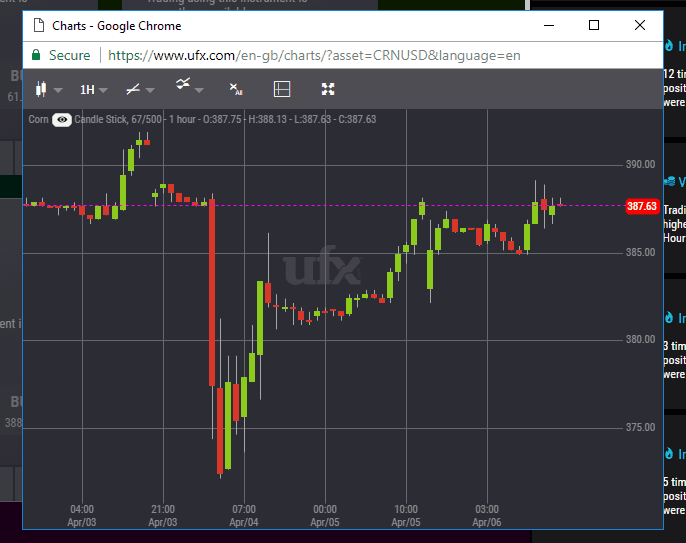 The right side of the platform contains the timeline of insights generated by the MassInsights™ Technology tools. These contained statistics with sentiment indicators showing what other traders were doing.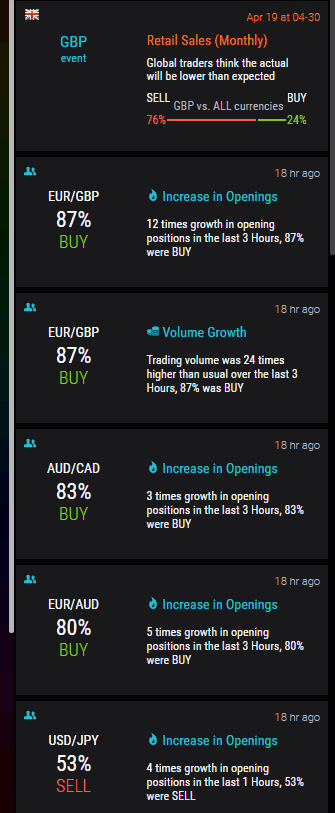 There are certainly many ways to incorporate these statistics into a trading model. However, it would have been nice if these stats were better integrated into the platform's charting features.
There are other tools on the platform that traders will appreciate including a market events calendar: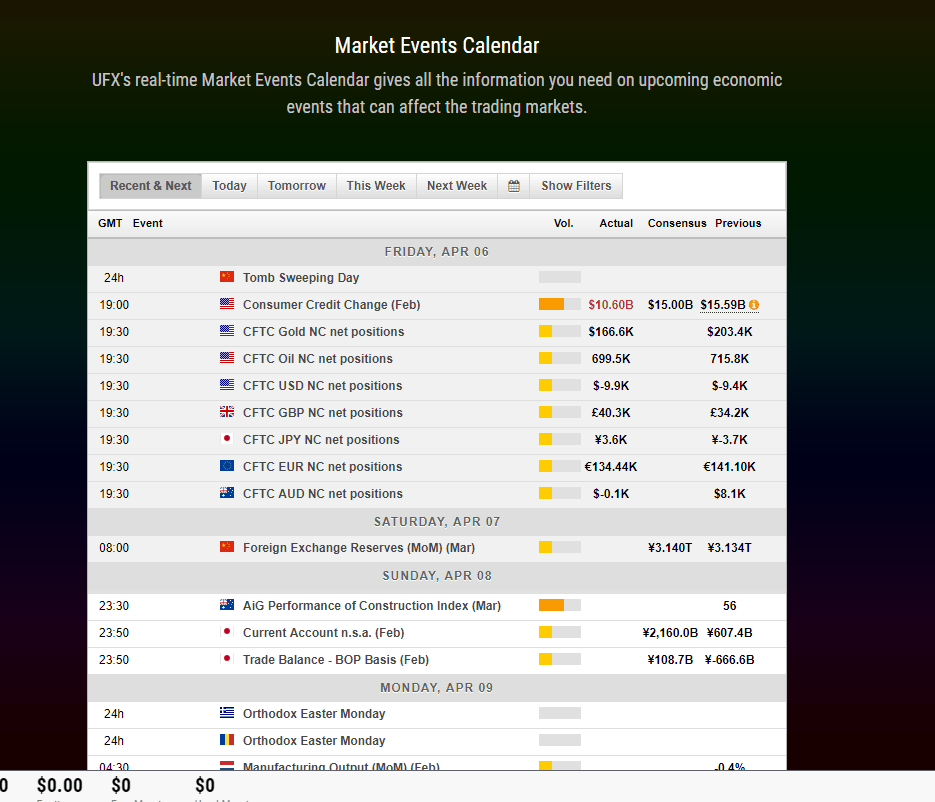 Another feature of this platform that makes it very different from most other trading platforms is the way you access the trading history in your account. Whereas most systems have this as a window on the bottom of the main trading screen, UFX has you access this from the drop-down menu on the top right of the screen. We think this is a major design flaw of the platform since most traders will want to see their closed orders while they are trading.
When you open the Trading History section of the site, you get a screen with access to closed orders, closed positions, a statement and an account summary. To access each of these you have to set the date parameters using a calendar icon. It's not clear where UFX lists open orders for traders.

Overall, we found the UFX platform to be kind of confusing and awkward to use. While the MassInsights™ Technology sentiment tools seem promising, we wish these tools would have been better integrated into the other features of the platform. They seem, instead, to function more like a social media feed scrolling down the right side of the screen.
Traders looking for more advanced charting and automated trading tools may want to investigate the MT4 offerings of UFX. This platform has the look and functionality that many traders would find more familiar.
UFX Demo Account
Traders can open demo accounts with UFX for all of the different account options. Demo account holders receive a free eBook and $10,000 in virtual money.
The demo accounts look like the live accounts, and traders can go back and forth between the two accounts from the drop-down menu on the right side of the main trading screen.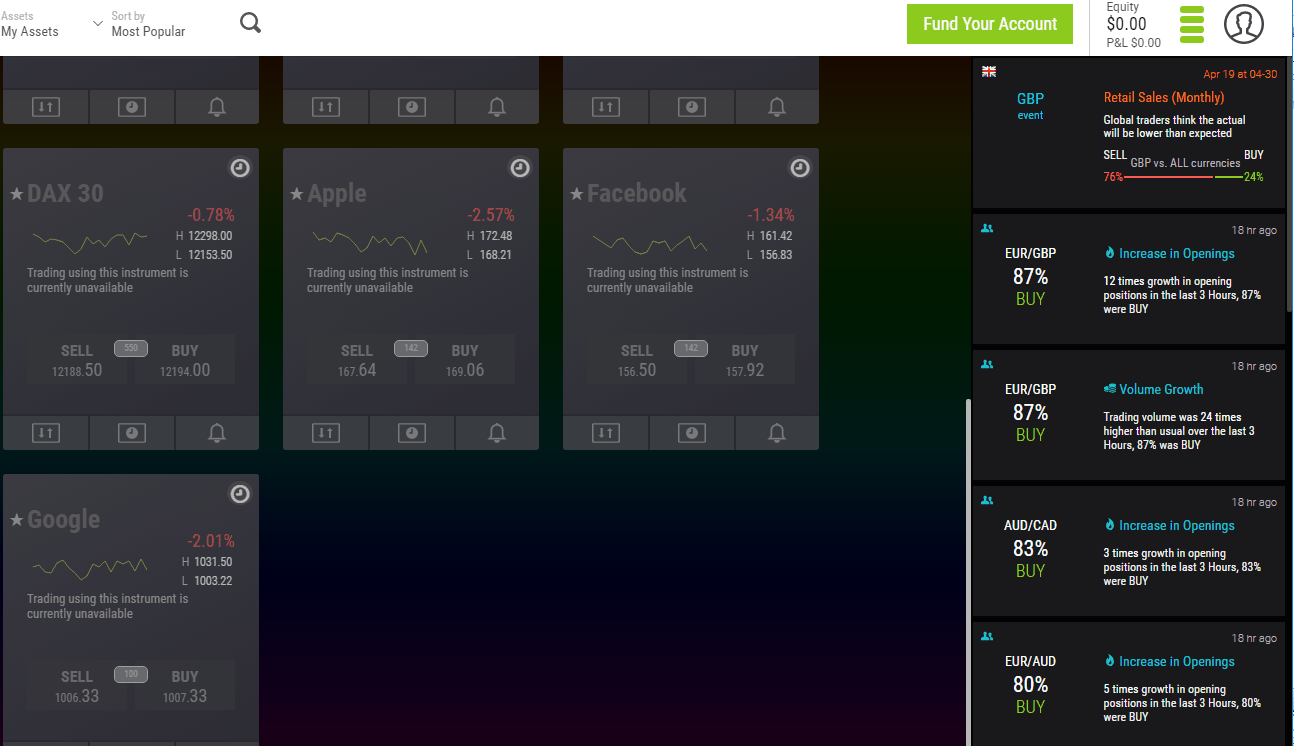 UFX Education Resources
UFX offers these educational resources:
Daily Market Review & Financial Analysis: This section of the site summarizes the main developments across the asset classes traded on the platform. The analysis has an almost exclusive focus on technical factors moving the various markets.
Economic Calendar: A review of key upcoming events and announcements that have the potential to move markets.

UFX Sign-Up Bonuses and Promotions
UFX doesn't list any sign-up bonuses or promotions on its website. However, the broker has offered these in the past.
As of January 2018, however, brokers that are regulated in the EU are unable to offer sign-up bonuses to entice new customers. This is due to the MiFID legislation, mentioned previously, which has been imposed to provide traders with greater transparency in the markets. Therefore, any broker offering this type of incentive is either unregulated in the EU or perhaps isn't regulated at all, meaning your money may not be protected and the broker in question could be operating illegally.