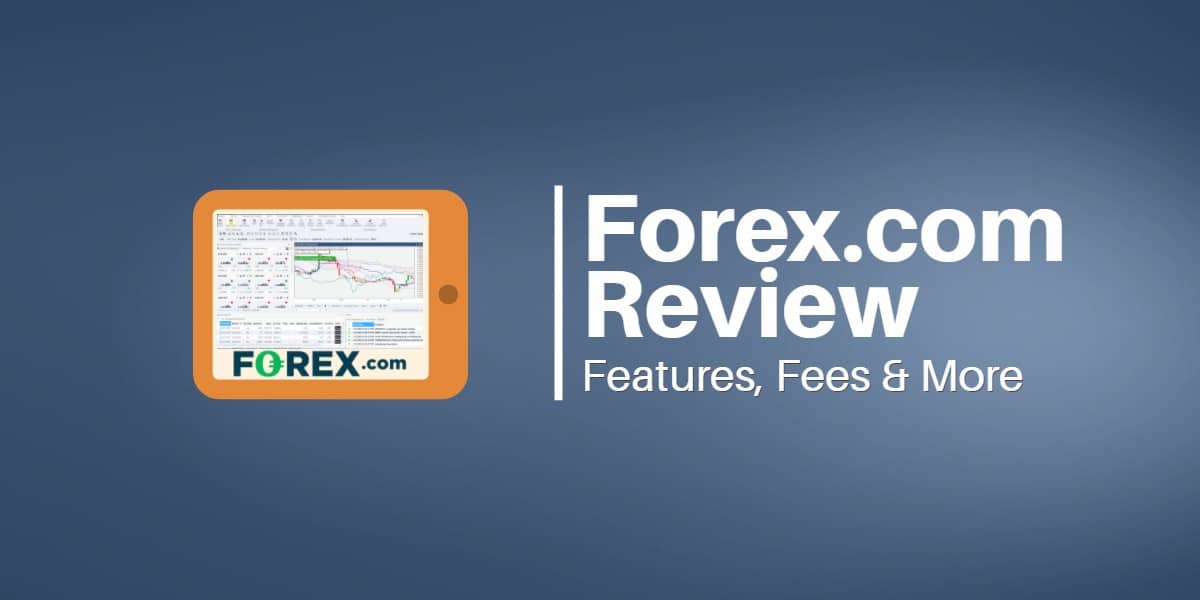 Overview
Risk Warning: Your Capital is at Risk
Forex.com is one of the more established online brokers for Contracts for Difference (CFDs) trading. CFDs are derivative securities that allow customers to gain exposure to the price of financial instruments without actually holding the instruments in their accounts. Forex.com offers CFD trading on asset classes including forex, indices, shares, commodities and cryptocurrencies.
Forex.com traders have access to more than 200 global markets including more than 80 FX pairs and shares of more than 90 companies. Traders can choose between the broker's advanced desktop platform, its web-based platform and mobile options. Traders also have access to the popular industry standard MetaTrader4 (MT4) platform.
The Forex.com parent company, GAIN Capital Holdings, has almost 20 years' experience offering innovative trading products and services to the online marketplace. Traders seeking a reliable, well-regulated broker that provides access to a solid menu of derivatives products may want to investigate Forex.com. Please remember, while Forex.com is a responsible broker, losses can still exceed deposits. CFD trading is for experienced traders.
CFDs are complex instruments and come with a high risk of losing money rapidly due to leverage. 80% of retail trader accounts lose money when trading CFDs with this provider. You should consider whether you understand how CFDs work and whether you can afford to take the high risk of losing your money. Your capital is at risk.
This review of Forex.com will cover all of the important details about the broker and discuss its major advantages and disadvantages.
Why Choose Forex.com?
| What's Good About Forex.com? | What Could Forex.com Do Better? |
| --- | --- |
| Trustworthy broker (we scored Forex.com 100/100 in our broker trust rating) | Website only available in English and Chinese |
| Nearly 20 years' experience in global markets | Demo account only available for 30 days - traders have to contact Forex.com to get it renewed |
| Extensive range of drawing tools and technical indicators available in the platform's charting section | Bitcoin and Ethereum are the only cryptocurrencies available to trade |
| Great news and analysis offered | Demo account isn't linked to the live one |
| Features a "Getting Started" tutorial which many other brokers overlook | |
| Available in over 150 countries | |
| 24/5 customer support via phone, email, fax or live chat | |
Forex.com - Essential Information

www.Forex.com
Overview
A global market leader in Forex trading.
Our Overall Rating
Broker Trust Rating
100/100
Founded
1999
Product
CFDs
Markets
Forex
Indices
Shares
Cryptocurrencies
Commodities
Countries Served
150+ (Full list below)
Minimum Deposit
£50 or currency equivalent
Fees
Forex.com only charges commissions on shares CFDs.(See below). Forex.com charges no deposit fees or withdrawal fees (unless using CHAPS - £25). See here for full list of fees
Major Regulator(s)
Financial Conduct Authority (FCA), Australian Securities and Investments Commission (ASIC)
Customer Support
24/5 email, phone, fax and live chat
Demo Account
Yes
History of Forex.com
Forex.com is a subsidiary of GAIN Capital Holdings, Inc. (NYSE: GCAP), which is an international company listed on the New York Stock Exchange.
GAIN Capital was founded in 1999 with the goal of providing traders with low-cost access to the foreign exchange market.
Forex.com has its corporate address in London, United Kingdom.
FOREX.com is registered with the Financial Conduct Authority (FCA) in the UK (FCA Register Number 113942).
Its affiliates are registered with the following agencies:
Investment Industry Regulatory Organization of Canada (IIROC)
Financial Services Authority (FSA) in Japan
Securities and Futures Commission (SFC) in Hong Kong
Australian Services and Investments Commission (ASIC)
Commodity Futures Trading Commission (CFTC) and is a member of the National Futures Association (NFA) in the US
Cayman Islands Monetary Authority (CIMA) (license number 25033)
Forex.com provides customers dedicated 24/5 customer support. Traders can contact Forex.com customer service by phone, email, fax or live chat. Traders can view the Forex.com website in English and Chinese.
Where Does Forex.com Operate?
Forex.com products and services are not intended for Belgium residents.
Is Forex.com Safe?
Forex.com is a safe and regulated way to trade forex and CFDs. The broker is a subsidiary of a New York Stock Exchange company that has two decades' experience as a provider of retail trading platforms.
As a global operator, Forex.com receives regulatory oversight from several agencies. The Financial Conduct Authority (FCA) regulates the firm in the UK, while the Markets in Financial Directive (MiFID) allows the company to operate as a regulated entity throughout the European Union. The firm's Australian operations fall under the regulatory auspices of the Australian Securities and Investment Commission (ASIC). In addition, Forex.com is regulated to provide services in the following regions:
Securities and Futures Commission (SFC) in Hong Kong
Commodity Futures Trading Commission (CFTC) and the National Futures Association (NFA) in the US
Cayman Islands Monetary Authority (CIMA)
Investment Industry Regulatory Organization of Canada (IIROC) in Canada
Financial Services Authority (FSA) in Japan
Forex.com keeps client funds segregated from its own funds and holds client funds in top-tier banks.
Forex.com's Major Regulators
| Regulator | Countries Covered | Protection Offered | Additional Protection Offered |
| --- | --- | --- | --- |
| Financial Conduct Authority (FCA) | Austria, Belgium, Bulgaria, Croatia, Czech Republic, Denmark, Estonia, Finland, France, Germany, Gibraltar, Greece, Hungary, Iceland, Ireland, Italy, Latvia, Liechtenstein, Lithuania, Luxembourg, Malta, The Netherlands, Norway, Poland, Portugal, Romania, Slovakia, Slovenia, Spain, Sweden, UK. | All client funds are held in a segregated client bank account | Financial Services Compensation Scheme (FSCS) may cover up to £50,000 if Forex.com fails. |
| Australian Securities and Investments Commission (ASIC) | Australia, New Zealand and South Africa | All client funds are held in a segregated client bank account | |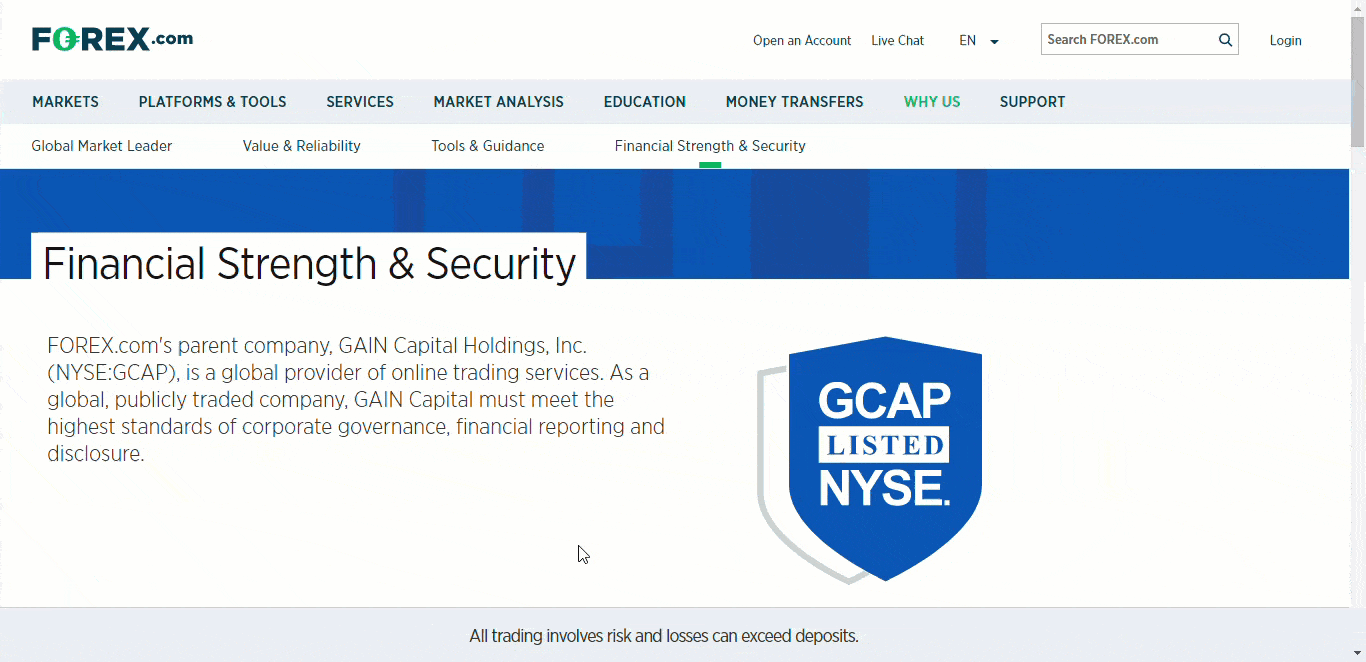 Financial Conduct Authority
The UK's Financial Conduct Agency (FCA) regulates Forex.com's activities in the UK.
The FCA is widely respected as a leader in financial regulation. In addition, the UK scores highly in Transparency International's rankings of countries based on their corruption perceptions index meaning the UK is a pillar of anti-corruption. Forex.com customers in the UK are protected by the UK based scheme Financial Services Compensation Scheme (FSCS), which was established to protect consumers when authorized financial services firms fail. The FSCS pays compensation up to £50k to customers in the UK if Forex.com is unable to pay.
Forex.com is a trading name of GAIN Capital UK Limited. GAIN Capital UK Ltd is authorized and regulated by the Financial Conduct Authority in the UK, with FCA Register Number 113942.
Australian Securities and Investments Commission
The Australian Securities and Investments Commission (ASIC) covers the activities of Forex.com in Australia, New Zealand and South Africa.
ASIC's oversight of Forex.com means that client money is held in a trust and completely separate from the broker's own money. Unlike other jurisdictions, however, if you are based in Australia, New Zealand or South Africa, there is no additional compensation scheme in place to cover your deposit. That doesn't mean it isn't safe to deposit with Forex.com if you're in Australia, New Zealand or South Africa. Rather, you are offered only the legal protection afforded by the Australian legal system. That being said, money held in trust in Australia is highly regulated and covered by the Corporations Act.
GAIN Capital FOREX.com Australia Pty Limited, the company that operates Forex.com in Australia, is authorized and regulated by ASIC (AFSL no. 340255)
Who Runs Forex.com?
GAIN Capital Holdings, Inc., the company that owns Forex.com, is a publicly held company.
Key GAIN Capital Holdings' Executives
| Name | Position | Information |
| --- | --- | --- |
| Glenn Stevens | Chief Executive Officer | Glenn joined GAIN Capital in 2000 as a founding partner and managing director. |
| Nigel Rose | Chief Financial Officer | Nigel is responsible for GAIN's global financial organization. |
| Alastair Hine | Chief Operating Officer | Alastair oversees the company's global operations within the Retail, Institutional and Futures segments. |
| Diego Rotsztain | Head of Corporate Development, General Counsel and Secretary | Diego oversees the legal and compliance functions at GAIN. |
| Samantha Roady | President, Retail | Samantha is responsible for the strategy and day-to-day operations of the retail business. |
| Mike Lear | Chief Information Officer | Mike oversees the technical strategy for the retail business, information and infrastructure. |
| Tim O'Sullivan | Chief Risk Officer | Tim manages the company's market, credit and operational risks. |
Forex.com Trading Products
Forex.com offers customers CFD trading in over 200 different trading products. Forex.com categorizes the products it offers to traders into five groupings: forex, indices, shares, commodities and cryptocurrencies.
1) Forex
2) Indices
3) Shares
Forex.com customers can trade more than 90 shares of companies in the United Kingdom (both FTSE 100 and other UK shares) and in the United States.
4) Commodities
Forex.com customers can trade soft commodities, energy commodities and metals
Soft and Energy Commodities
Corn
Cotton
Heating Oil
US Natural Gas
Soybean
Metals
Copper
Palladium
Platinum
XAU / AUD (Philadelphia Gold and Silver Index priced in Aussie dollars)
XAU / CHF (Philadelphia Gold and Silver Index priced in Swiss Francs)
Cryptocurrencies
Bitcoin ($)
Bitcoin (£)
Bitcoin (€)
Bitcoin (AUD)
Ethereum ($)
Forex.com Account Types
Forex.com simply offers a standard trading account and a demo account for its proprietary platform. The broker also offers a standard and demo account for the MetaTrader4 (MT4) platform.
The demo account is intended to familiarize you with the tools and features of the FOREX.com trading platforms and to help test forex trading strategies using virtual funds. Traders can use demo accounts for up to 30 days, and Forex.com provides them free of charge. If your demo account expires, you can contact Forex.com to renew it.
Forex.com also offers an Active Trader account, which is available to clients who open with and maintain a minimum average monthly balance of $20,000. The Active Trader account offers certain benefits:
Reduced pricing on standard spreads
The opportunity to trade EUR/USD for as low as 0.8
Personalized support
Priority service
No account service fees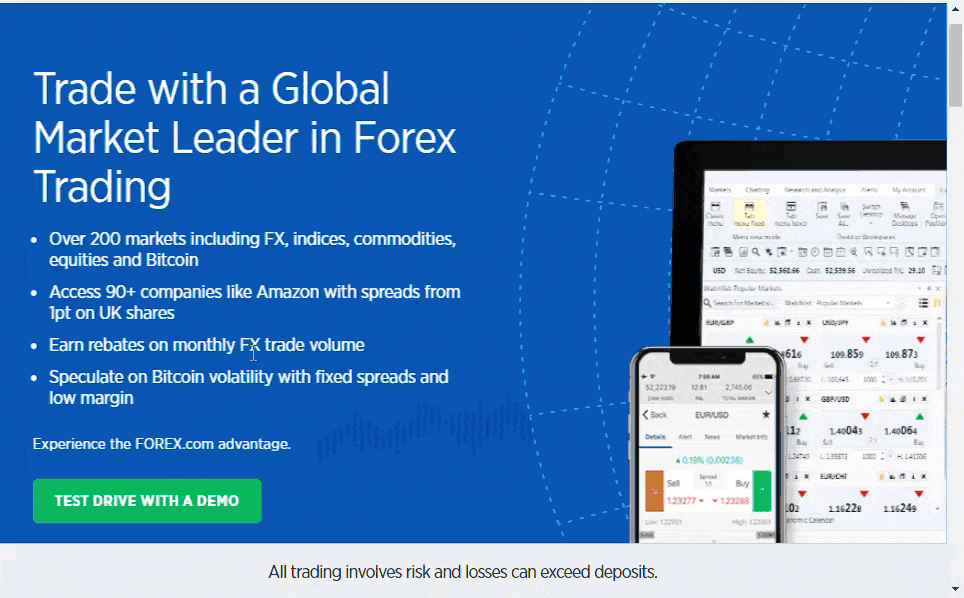 Forex.com Spreads and Fees
The underlying financial instruments determine the Forex.com spreads that traders pay.
The broker offers both fixed and variable spreads depending on the specific market being traded.
Fixed spreads: These spreads don't change regardless of market conditions such as volatility or liquidity. Fixed spreads may either be offered for a defined period of the day or throughout trading hours.
Variable spreads: These spreads may fluctuate throughout the day according to factors such as underlying liquidity or market volatility. Forex.com informs traders on its website of the minimum variable spreads as well as the average spreads over a recent time frame.
Forex.com obtains the data for spreads from reputable third-party sources, which obtain the data directly from exchange feeds.
Forex.com only charges commissions on shares CFDs. Traders of shares CFDs pay both the market spread as well as a commission on each trade.
Other relevant fee information:
Deposit Fees: The broker does not charge fees for debit and credit card deposits or bank transfers.
Withdrawal Fees: Forex.com does not charge withdrawal fees using credit or debit cards or to your bank accounts using SWIFT or BACS payments unless the customer wants to receive same day payment using CHAPS. Same-day CHAPS transfers incur a £25 fee for amounts under £5,000.
Back to Base / Currency Conversion Charge: Forex.com charges commercially reasonable rates for converting CFD and forex trades back to your base currency. The broker discloses the conversion rates on contract notices and trader statements.
Data Exchange Fees: Forex.com does not charge data exchange fees.
Overnight Financing Fees: Forex.com charges financing fees, or rollovers, in order to hold a position open overnight. Forex.com automatically applies the daily financing fee to your account each day that you hold an open position (including weekends). The financing rates are set at benchmark regional interest rate of +/- 2.5%. Traders can learn more on the Forex.com site.
Borrowing Costs for Shorting CFDs: A small minority of CFDs traded on the Forex.com platform are tied to underlying assets that are hard to borrow. Traders who want to short these CFDs will incur borrowing costs. You can check the relevant Market Information Sheet in the FOREX.com desktop or MetaTrader4 platform to see if borrowing costs apply.
Inactivity Fees: Forex.com charges a monthly inactivity fee of £15 (15 base currency equivalent or 1500 JPY) to accounts that are inactive for 12 months or more. Accounts with a balance of 10,000 base currency or more are exempt from inactivity fees.
Market Spreads
Forex.com spreads vary based on market conditions, including volatility, available liquidity, and other factors. The following are the minimum and typical spreads charged to Forex.com customers:
Forex
Indices
Shares
Commodities
Cryptocurrencies
These spreads may change dues to market conditions.
Account Requirements
After you click the green "Open an Account" button the website, Forex.com asks you a series of questions. First, they ask you to choose which account you want to open: Forex.com Platform or MetaTrader4.
Forex.com then takes you to a page where you enter your personal details including name, email, phone and date of birth. You also choose a password for your account and select your base currency.
You then arrive at the next page where you enter your address and tax residency status.
Forex.com asks you a series of questions about your financial status and trading experience. The broker doesn't require specific prior trading criteria to open an account. However, traders must answer some questions to demonstrate that they understand the trading products and the risks associated with them.
Forex.com then asks you to agree to some disclosures regarding your understanding of CFD trading.
To pass your identity verification, you will need to upload one document for proof of identity and one for proof of address.
Document
Examples
Proof of Identity
Acceptable documents for identity verification include but are not limited to:
Valid, current passports (national or international)
Valid, current driver's license
Valid, current national ID Card

Other types of ID may be acceptable on a case-by-case basis after review.

Birth certificates, marriage licenses and insurance cards are not accepted.

Proof of Address
Proof of residence must show your name and address as indicated on the application.

Acceptable forms of proof of residence include but are not limited to:
Utility bill
Bank, building society, credit or debit card statement
Council tax bill
Local government address registration certificates
Valid driving license if issued within the last six months



Utility bills and statements must be dated within the last six months.



The minimum deposit to open an account is £50 or currency equivalent. However, Forex.com recommends that you maintain an adequate excess margin balance above your required margin.
You can easily fund your account by logging in to MyAccount and visiting the Funding page. Traders can deposit using the following methods:
MIN. PER TRANSACTION
MAX PER TRANSACTION
ACCEPTED CURRENCIES
TYPE
TYPICAL PROCESSING TIME
FEES
£10 or currency equivalent
£20,000
USD, EUR, CAD, JPY, CHF, AUD, GBP 

All credit/debit card transactions are automatically converted to the base currency of your account.
VISA, MasterCard, Maestro
Within 24 hours
FOREX.com does not charge any fees for incoming card deposits. Your card-issuing bank may charge you a cash transaction fee if it treats your transaction as a cash transaction.

If you deposit funds from abroad, you may be charged a cross-border fee or currency conversion fee by your issuing bank.
Wire Transfer
MIN PER TRANSACTION
MAX PER TRANSACTION
ACCEPTED CURRENCIES
TYPICAL PROCESSING TIME
FEES
None
None
USD, EUR, CAD, JPY, CHF, AUD, GBP
Up to 1-2 business days
FOREX.com does not charge incoming wire fees. 

However, your bank may charge a service fee. Wire transfers that involve a bank outside the US, may require an intermediary US bank.  Intermediary banks may charge a transaction fee.
Forex.com offers different amounts of leverage to different account holders. You can adjust your leverage within the Forex.com or MT4 desktop platforms or by contacting customer support.
Each financial instrument also has specific Forex.com margin requirements that traders must maintain. Traders who fall below the Forex.com margin requirements risk receiving a margin call and having their position closed prematurely.
Forex.com Withdrawal
Withdrawal requests can be submitted through MyAccount and are processed in the order the requests were received.
Funds are returned to the originating account in the following order:
Credit/Debit Card
Wire Transfer
Withdrawals
Credit/Debit Card
Processing Time – Typically within 48 hours
Max. Withdrawal Amount – Up to £100,000 (or currency equivalent) in 24 hours or the amount funded, whichever is lower
Fees – None
Wire Transfer
Processing Time – Typically within 48 hours
Max. Withdrawal Amount – Unlimited, once card deposits are refunded
Fees – None
Forex.com Platform Review
Forex.com traders have access to two desktop platforms and mobile trading apps for iOS and Android smartphones and tablets:
Forex.com: A desktop platform offering simple and complex order types, professional charting, news services, trade ideas and mobile trading options.
MetaTrader 4: The industry standard platform offering advanced features and automated trading support.
The Forex.com desktop platform is impressive in that it's user-friendly and easy to navigate. One of the first things you notice when logging in is the Getting Started tutorial which is a step-by-step guide to the platform.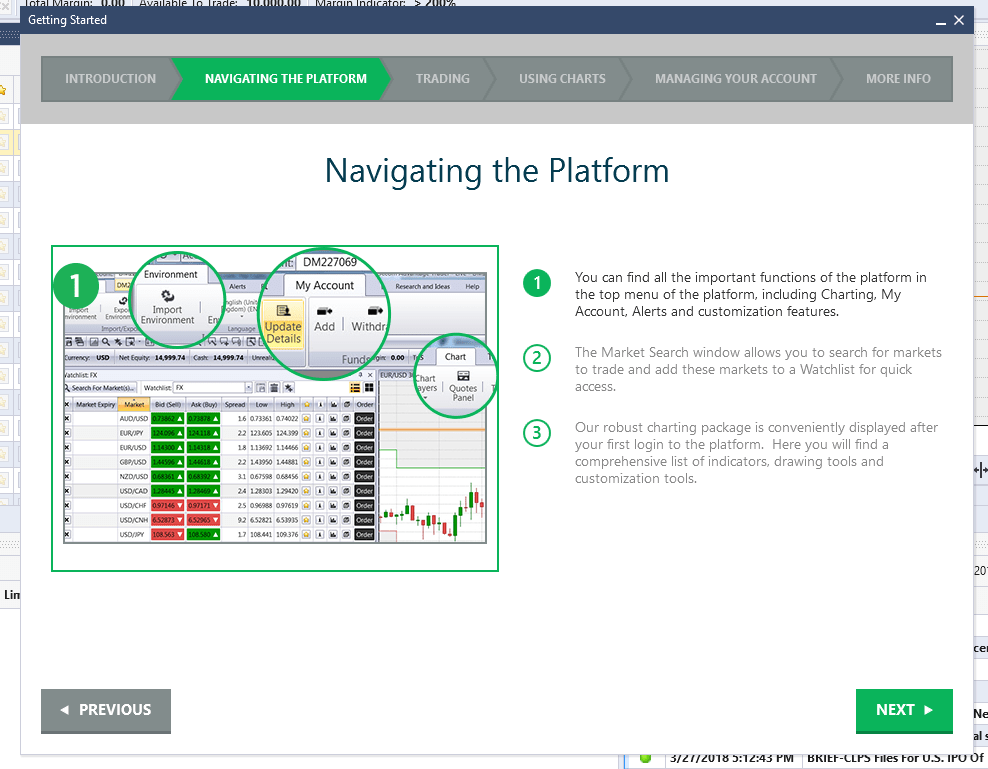 The tutorial explains the charting, trading and account management features of the platform in a clear and concise manner. This is a nice touch that many competitors overlook.
The tutorial ends with a link that takes you to the Education section of the website (see below). We found this effort to integrate and these resources into the trading platform and remind traders of their availability to be refreshing.
When you finish the tutorial, you arrive at the main trading screen: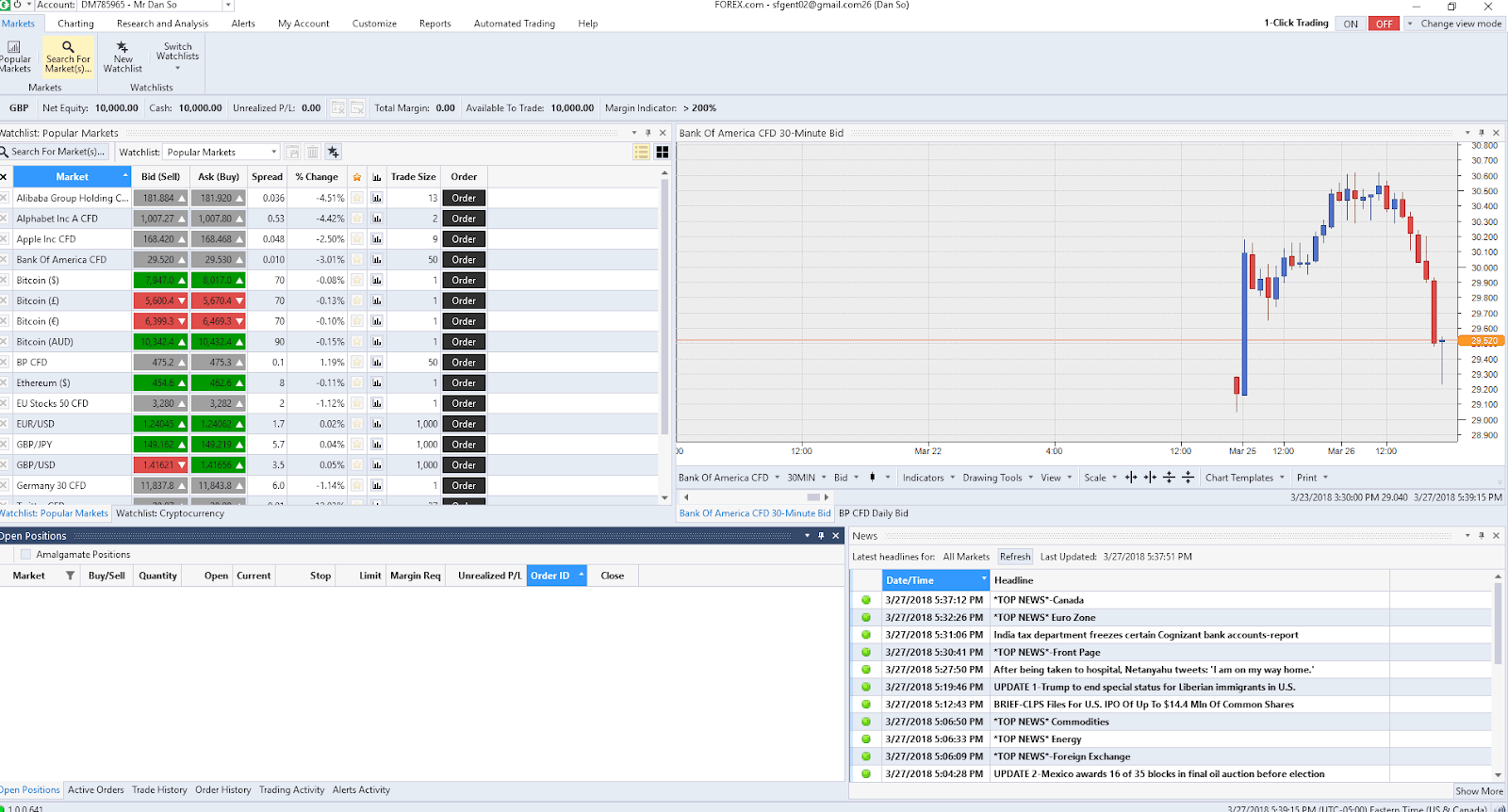 The desktop layout manages to provide a lot of features in one trading window. Traders can customize the layout and access multiple tabs in each trading window.
The top of the main window gives the trader access to a variety of subcategories. This gives the platform a very economical feel.
One of the most impressive aspects of this platform is the myriad of technical indicators and drawing tools available in the charting section.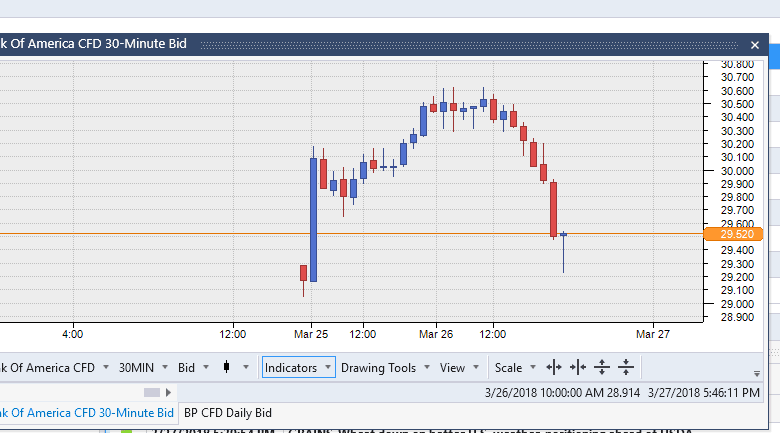 Novice traders will appreciate the ability to easily draw trend lines on charts and create graphs using lines, bars, candlesticks and a host of other indicators. At the same time, advanced traders will like the automated technical analysis, which can scan the markets and find patterns and trade ideas.
Unlike many other platforms we reviewed, Forex.com offers a surprisingly robust offering of fundamental news and analysis to complement the technical offerings.
Traders can navigate to the Research and Analysis tab and find access to market news and analysis.

There's an economic calendar with upcoming announcements and the very helpful Market Analysis section with recent analysis of important news events by the Forex.com research team.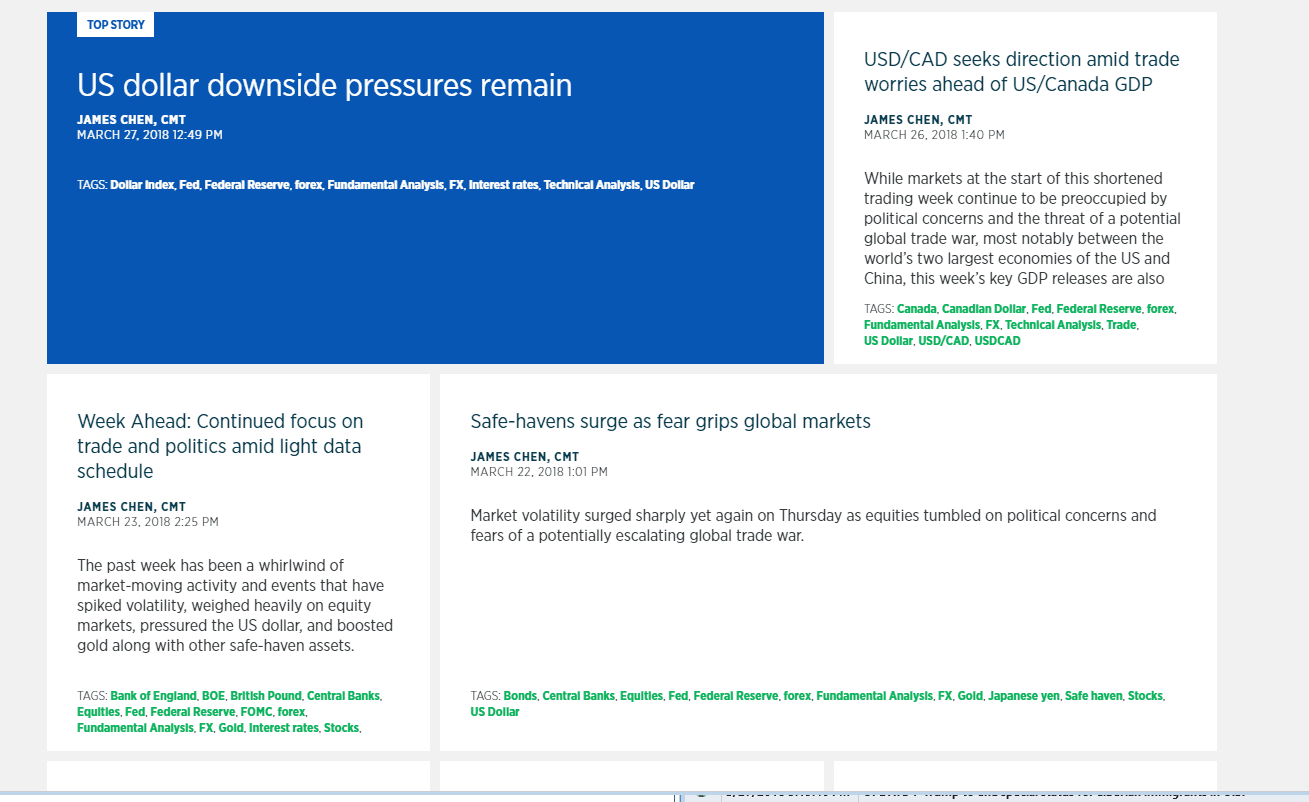 There's also the Reuters powered newsfeed on the bottom of the screen: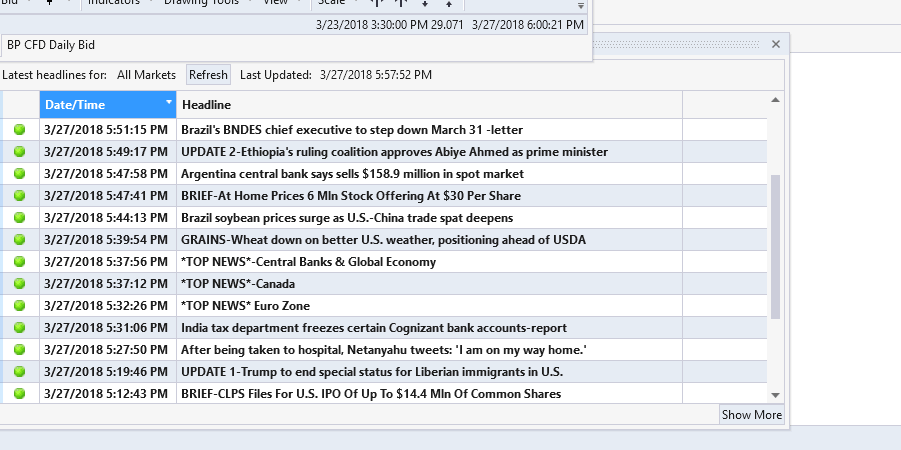 The ticket window also provides some proves to be a solid offering of this platform. Traders have a variety of parameter for placing stops on trades as well as helpful tools for calculating margin requirements: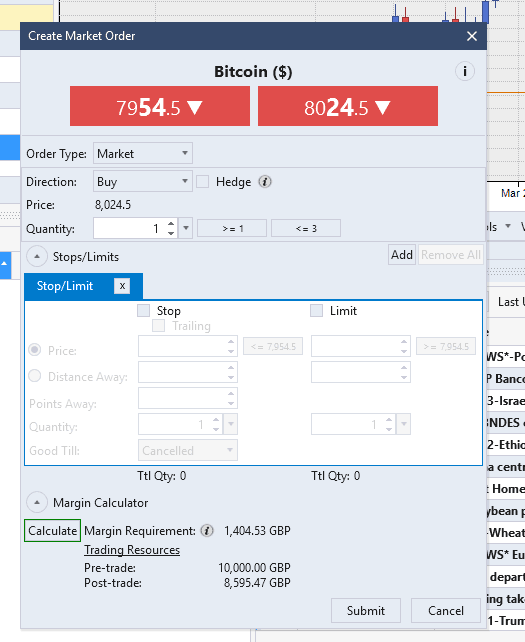 Forex.com Demo Account
Traders can use the Forex.com demo account for 30 days. Both the Forex.com and MT4 demo accounts are separate from the live platforms, so traders can't toggle back and forth between the two platforms. Unfortunately, this is limiting since other brokers allow unlimited use of their demo platforms and a link to the live platform.
Forex.com Education Resources
Forex.com has an Education tab on its website that offers three sections of trading courses: beginner, intermediate and advanced.
Each course section can be filtered by one of the following six themes:
Trading Concepts
Managing Risk
Technical Analysis
Trading Strategies
Fundamental Analysis
Platform Tutorials
When you click on a section and then click on a theme, Forex.com presents videos, charts and text covering the topic. The colorful charts and detailed explanations in this section are thorough and impressive.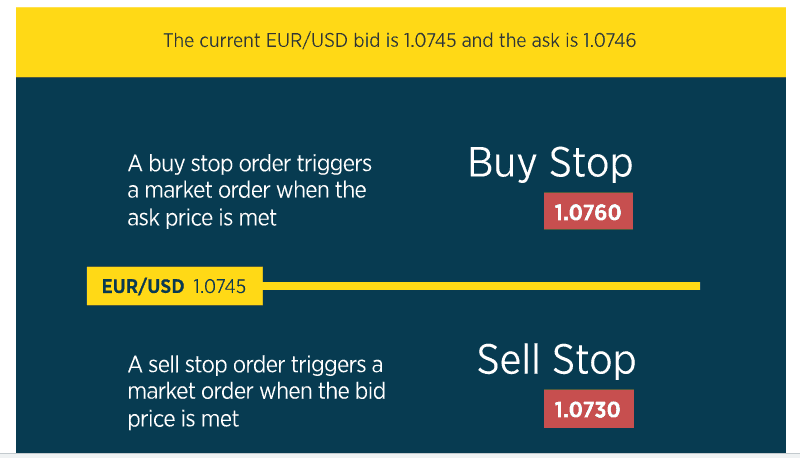 The teaching material allows traders to learn at their own pace. We especially liked the ability to filter by topics. Essentially Forex.com provides a search engine intranet for learning about forex and CFD trading.
Forex.com Sign-Up Bonuses and Promotions
Forex.com does not offer any sign-up bonuses or promotions to new or existing customers.
The lack of sign-up bonuses for new customers is due to legislation that's been brought in across the EU. Applying to any broker who's regulated within an EU country, the Markets in Financial Instruments Directive (MiFID) has been designed to create more protection for traders through a transparent marketplace.
Therefore, any broker operating within the EU is unable to offer sign-up bonuses to incentivize customers. A broker that offers one is either unregulated in the EU or completely unregulated, which means your money may not be safe and they could be operating illegally.