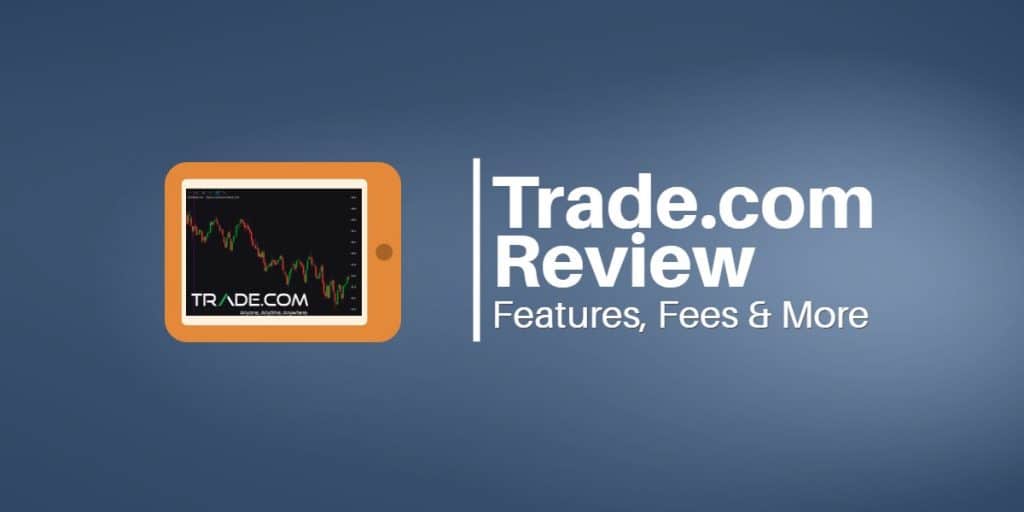 Overview
Risk Warning: Your Capital is at Risk
Trade.com is an online brokerage firm that offers its customers access to Contracts for Difference (CFDs) trading in a variety of different asset classes. CFDs are derivative securities that allow customers to gain exposure to the price of financial instruments without actually holding the instruments in their accounts. Trade.com customers can trade CFDs on stocks, indices, forex, cryptocurrencies, commodities, bonds and ETFs.
Trade.com customers have a choice of the WebTrader trading platform or the popular and more customizable MetaTrader4 (MT4) platform. Both platforms provide traders with access to a wide range of financial instruments across many asset classes and the ability to trade via a mobile device.
Trade.com claims to take a three-stage approach to serving the trading community:
Offer education to enable traders to learn different methods and strategies.
Provide relevant information and analysis on its site so traders can make informed decisions.
Offer traders access to a secure platform that provides access to over 2,100 financial instruments.
Traders seeking a regulated online trading experience and access to a very large menu of CFDs should consider Trade.com. Please remember that trading CFDs exposes traders to the possibility of losses. While Trade.com is a responsible broker and won't allow you to lose more than you have invested in your Trade.com account, CFD trading is for experienced traders.
This Trade.com review will cover all of the important details about the broker and discuss its major advantages and disadvantages.
Why Choose Trade.com
| What's Good About Trade.com? | What Could Trade.com Do Better? |
| --- | --- |
| Trustworthy broker (we scored Trade.com 75/100 in our broker trust rating) | Minimum withdrawal amounts, and amounts under these limits incur charges |
| Hundreds of markets to trade (including shares in over 2,000+ companies, which is more than most other brokers) | Not easy to add stop loss and take profit conditions on orders |
| Great educational tools/resources available | Not all cryptocurrencies available to trade (most major ones are though) |
| Sentiment features of the ticket allows traders to see whether other traders are buying/selling the instrument | Lack of news and resources available |
| Support in 20+ languages | Limited number of tools to draw charts |
| Traders can switch between a live and demo account | |
| 24/5 customer support via phone, email or live chat | |
Trade.com - Essential Information
www.trade.com
Overview
Online brokerage firm that offers traders access to more than 2,100 instruments in the global financial markets.
Our Overall Rating
Broker Trust Rating
75/100
Founded
2009
Product
CFDs
Markets
Stocks
Indices
Forex
Cryptocurrencies
Commodities
Bonds
ETFs
Countries Served
30 (Full list below)
Minimum Deposit
Minimum deposit varies depending on the account you open and the country you are in
Fees
Trade.com is a no-commission broker. It makes money through the market bid/ask spread (See below). See here for full list of fees
Regulator(s)
Cyprus Securities Exchange (CySEC)
Customer Support
24/5 email, phone and live chat
Demo Account
Yes - a free demo account is available and traders can switch to this from their live account
History of Trade.com
Trade.com is operated by Lead Capital Markets Ltd., a company incorporated as a private limited company in Cyprus in 2013. The company also owns other online brokerage firms finexo.com and forexyard.com.
Leadcapital Markets Ltd. has an office in Nicosia, Cyprus and is authorized and regulated by the Cyprus Securities and Exchange Commission (License Number 227/14). The MiFID Directive provides a passport, which allows the entity to operate throughout the European Union. Lead Capital Markets is registered with the regulatory bodies of all EU member states.
Trade.com offers customers dedicated 24/5 customer support in 25 countries. Traders can contact Trade.com customer service by a dedicated phone number for each country, email or live chat. Traders can view the Trade.com website in 23 languages.
Where Does Trade.com Operate?
Trade.com is available in 30 countries and more than 20 languages.
Restricted Regions: Trade.com does not provide service to residents of certain countries and regions.
Can I Trust Trade.com?
Yes, Trade.com is a trustworthy company that is regulated by a leading international regulatory body.
Trade.com is a safe and secure way to trade CFDs. Its subsidiaries are individually regulated by the Cyprus Securities Exchange (CySEC).
Regulator
Countries Covered
Protections Offered
Additional Protections Offered
Cyprus Securities Exchange (CySEC)
Austria, Bulgaria, Croatia, Cyprus, Czech Republic, Denmark, Estonia, Finland, France, Germany, Greece, Hungary, Iceland, Ireland, Italy, Latvia, Liechtenstein, Lithuania, Luxembourg, Malta, Norway, Poland, Portugal, Romania, Slovakia, Slovenia, Spain, Sweden, The Netherlands, United Kingdom.

CySEC also offers a provision of services to certain countries outside of the EU.
All client funds are held in a segregated client bank account
The Investor Compensation Fund may provide up to €20,000 if Trade.com fails.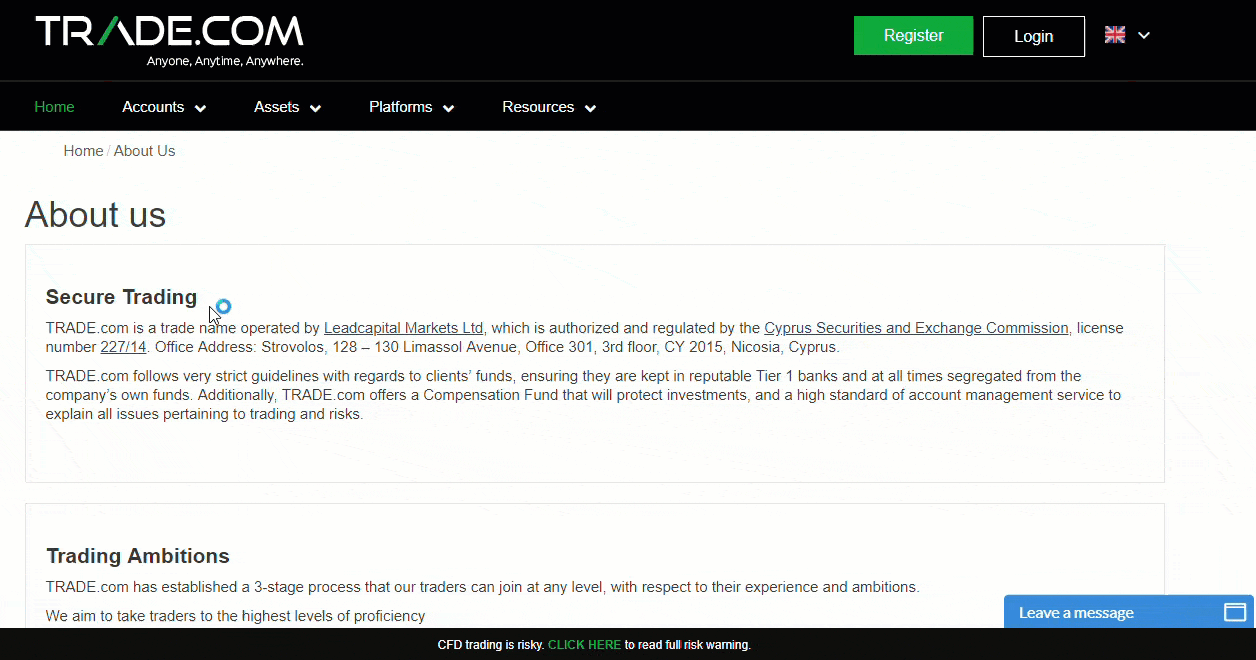 Cyprus Securities Exchange
The Cyprus Securities and Exchange Commission (CySEC) is the financial regulatory agency of Cyprus.
Cyprus is a European Union member and is a financial services industry hub. Customers in countries regulated by CySEC are eligible for compensation of up to €20,000 if Trade.com fails.
Who Runs Trade.com?
Leadcapital Markets Ltd., the company that owns the trading name Trade.com, is a privately held company. The Chief Executive Officer of Lead Capital Markets Ltd. since November 2017 is Christiana Vasiadou. She was previously the Compliance Officer and Head of Monitoring Unit at Depaho Ltd. She was responsible for the compliance of its two brands FXGM and GTCM. Prior to that role, she was the Head of Fund Management – JFD Wealth Division at JFD Brokers.
Trade.com Trading Products
Trade.com offers its customers more than 2,100 financial instruments to trade. The brokerage firm divides these offerings into seven categories: stocks, indices, forex, cryptocurrencies, commodities, bonds and ETFs.
1) Stocks
Trade.com offers customers shares trading in over 2,000 companies located in the following countries:
Italy
Netherlands
Germany
Australia
Sweden
USA
Spain
Belgium
UK
France
Hong Kong
Sweden
Greece
Finland
Austria
South Africa
Denmark
Czech Republic
Portugal
Poland
Russia
Norway
Hungary
Japan
2) Indices
Trade.com offers trading in 26 global indices covering the major economic regions of the world.
3) Forex
Trade.com offers markets in over 55 currency pairs including major, minor and exotic pairs.
4) Cryptocurrencies
Trade.com provides trading markets for the following cryptocurrency pairs:
Bitcoin cash / USD
Bitcoin / USD
Bitcoin / EUR
Dash / USD
Dash / EUR
Ethereum Classic / USD
Ethereum / USD
Ethereum / EUR
Litecoin / USD
Litecoin / EUR
5) Commodities
Trade.com provides markets in the following commodities:
Aluminum
Brent Oil
Cocoa
Coffee
Copper
Corn
Cotton
Gold
Heating Oil
Natural Gas
Oil
Palladium
Platinum
Rice
Silver
Soybean
Sugar
Wheat
Zinc
6) Bonds
Traders can trade CFDs on the following government bond futures on the Trade.com platform:
German 10-year bond
UK Gilt 10-year bond
Ultra (leveraged) 30-year Treasury bond
10-year US Treasury Note
7) ETFs
Traders can trade over 37 ETFs covering sectors, commodities, financial instruments and more.
Trade.com Account Types
Trade.com offers four types of live trading accounts as well as a demo account. There is an option on the main trading screen that allows traders to switch from a live account to a demo account:
Basic
Classic
Gold
Platinum
Min Account Size:
$100
$2,500
$10,000
$50,000
Daily Analysis: Morning Review
Desktop and Mobile Trader
Video Tutorial
24-hour customer service
Daily Analysis: Morning Review
Desktop and Mobile Trader
Video Tutorial
24-hour customer service
Webinars and seminars
Dedicated Account Manager
Daily Analysis: Morning Review
Desktop and Mobile Trader
Video Tutorial
24-hour customer service
Webinars and seminars
Dedicated Account Manager
Premium Daily Analysis
Trading Central
Daily Analysis: Morning Review
Desktop and Mobile Trader
Video Tutorial
24-hour customer service
Webinars and seminars
Dedicated Account Manager
Premium Daily Analysis
Trading Central
Premium Customer Support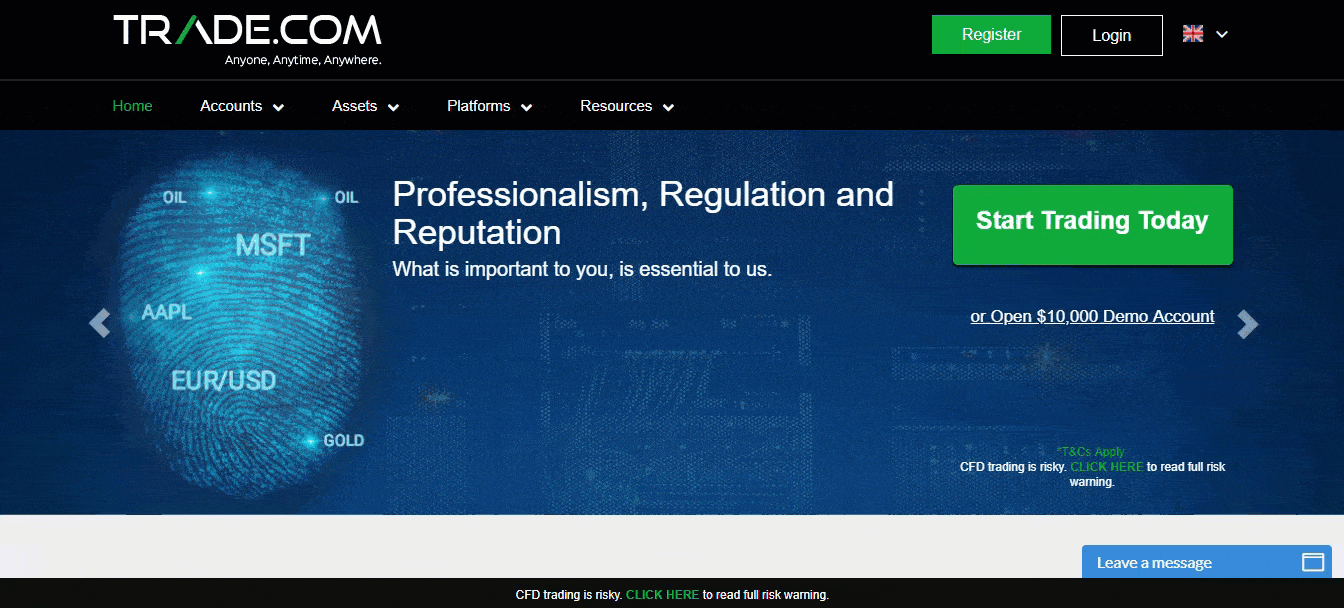 Trade.com Spreads and Fees
The underlying financial instrument and the trading platform determine the Trade.com spreads that traders pay.
Trade.com obtains the data from reputable third-party sources, which obtain the data directly from exchange feeds. Trade.com receives its compensation through the market bid/ask spread.
Trade.com says they provide customers with a clear explanation of all commissions, spreads, fees, funding and other charges for which they are liable on their Online Trading Facility and that these may change from time to time.
The following is the fee schedule for traders using the MT4 trading platform:
| Instrument | Spreads (as low as) | Leverage (up to)* | Trading hours (GMT) |
| --- | --- | --- | --- |
| TBOND-30Y (US30YBond) | 0.06 (USD) | 1:100 | 23:01 - 21:59 |
| TNOTE-10Y (US10YNote) | 0.06 (USD) | 1:100 | 23:01 - 21:59 |
| EURO-BUND-10Y EU | 0.06 (EUR) | 1:100 | 07:00 - 21:00 |
| GILT-LONG UK (Gilt10Y) | 0.06 (GBP) | 1:100 | 08:10 - 18:00 |
| Japan G. Bonds | 0.08 (JPY) | 1:100 | 00:05 - 01:59, 03:35 - 05:59, 06:35 - 14:24 |
*During daily breaks and in major news, spreads might widen.
Stocks
Traders should consult the Trade.com website for individual minimum spreads on the more than 2,000 companies available for trading.
Indices
Forex
Cryptocurrencies
Commodities
Bonds
ETFs
Account Requirements
Trade.com serves many countries worldwide. The process of opening an account is largely the same in each jurisdiction. Before you can trade with Trade.com for the first time, you need to answer a few questions.
When you sign up with your email and a password, the system asks you if you to complete the registration process in order to receive £10,000 in Demo account funds.
The system then takes you to the next page where you enter your name, address, phone number and date of birth. You are then taken to a page where you're asked to fill out basic financial information including your estimated gross income, net worth, expected annual turnover of funds and source of account funding. In the final part of the sign-up process, Trade.com asks you basic information about your education and trading background.
After completing this information, Trade.com asks you to select the amount of leverage you want to use for your trading:
1:300
1:200
1:100
1:50
After selecting your leverage, Trade.com takes you to the deposit screen where you can choose from various funding options.
To pass their identity verification, you will need to upload both an ID and proof of residence. Completing the verification process may take up to 24 hours. However, traders can make deposits prior to this approval, and Trade.com will safely hold the deposit:
Document
Commentary
Valid Passport

(Trade.com requires copies of both sides of the Passport or other document if there are details on both sides).

Other acceptable official ID cards:
National ID card

Trade.com only accepts a driver's license as ID from residents of the following countries:
UK
Norway
Denmark
Iceland
Ireland


Proof of Residence
An official utility bill, local authority tax bill or bank statement dated within the last six months.
Traders can make deposits and withdrawals with a Visa credit or debit card, Pay.com, Qiwi, SoFortuberweisung, Skrill, wire transfer, PaySafeCard or Neteller.
Depositing money in an account is straightforward. Traders click on the Deposit and Start Trading blue button on the main trading screen. Traders then select the deposit method of their choice, fill in the required information and click green "Deposit" button. The minimum amount required to make a deposit starts at $100.
Trade.com allows customers to choose the leverage for their accounts. However, the broker has different maximum leverages that apply to individual products. Traders should consult the Trade.com website for these specific product leverage allowances.
Each CFD also has specific Trade.com margin requirements that traders must maintain. Trade.com advises that the margin for certain transactions will be based on a percentage of the contract value of the transaction and therefore the margin due for such transactions will fluctuate in accordance with the contract value. Traders who fall below the Trade.com margin requirements risk receiving a margin call and having their position closed prematurely. Trade.com advises that traders can get updated margin requirements by logging on to Electronic Trading Services or by calling Trade.com.
Trade.com Withdrawal
To withdraw funds from your Trade.com account, you must submit a withdrawal request through the menu option on the main trading screen. Once your withdrawal request is approved, Trade.com processes it and sends to the same bank, credit card or other source for execution on the same day that the request to withdraw funds was made, or the next working day if Trade.com receives your request outside of normal trading hours.
The minimum withdrawal amount for all methods (excluding the wire transfer) is $20. The minimum withdrawal amount request for wire transfer is $100. Any withdrawal request for an amount below the two amounts mentioned above will incur handling and processing charges as follows: minimum $10 for all methods (excluding wire transfer) and minimum $50 for the wire transfer.
Withdrawal Times
Trade.com affirms it will attempt to process all withdrawal requests promptly.
In the event that it is not possible for the funds to be withdrawn without delay, the company says that, consistent with its MiFID obligations to act in the client's best interest, it will inform the client about the reasons for any delay and the expected timeframe before the funds will be withdrawn. Information provided to the client about any delays in withdrawing funds will be fair, clear and not misleading.
Trade.com notes that the time needed for the requested funds to be processed and appear in your account will depend upon the method used for depositing the funds and the third parties executing the payments.
Trade.com WebTrader Review
This review will cover the Trade.com web-based WebTrader platform. The platform is well-designed for traders new to CFD trading and allows traders to navigate quickly and easily between different panels.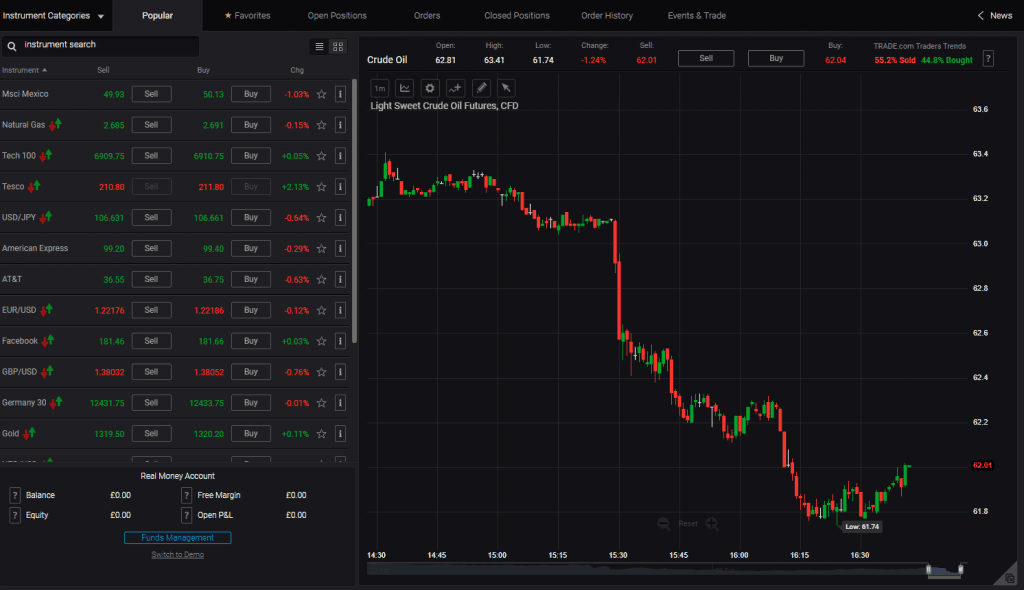 Traders can click on the Investment Category menu and see a list of financial instruments to trade. You can search both by asset class as well as by the Trending Now category. This latter category includes sub-categories such as 52-week highs and lows, Top Risers, Top Volatile and other groups. The Trending Now feature is a great way for traders to find assets to trade that are reaching or breaching key technical levels.
The WebTrader platform also allows easy customization of watch lists. Traders can click on a favorite icon and a trading instrument gets added to the list.
The trade ticket located in the middle of the screen is difficult to locate and should be much bigger and more noticeable:

However, it does have some features that will appeal to both beginners and more experienced traders. Traders can easily see open, high and low trades for the instrument and with one click can send an order.
More sophisticated traders will appreciate one of the advanced features of the ticket. The colorful design incorporates sentiment features, which allow a trader to easily see whether other traders on the platform are buying or selling the instrument. One glaring omission is that there doesn't appear to be an easy way for traders to add stop loss and take profit conditions to their orders.
Traders should be able to simply check a box and easily add price contingencies, entry limits and entry stops to orders. The ability to add these contingencies on the same window would be a nice addition to this platform.
Charting: The charting features of the Trade.com WebTrader platform have some robust features and other more limiting features.
On the one hand, the platform offers dozens of technical analysis tools, which exceeds the functionality available on other beginner-friendly platforms. Traders can incorporate these tools when analyzing charts.
However, Trade.com makes available a very limited number of tools to draw charts. Traders can only produce charts using bars, lines or candlestick. This is surprising given the number of technical indicators that the platform offers.
Other Features: The menu bar on the top of the Trade.com platform shows the windows that traders can access.

It would be nice if these windows could be displayed side-by-side with the instrument list and charts. The fact that traders have to exit out of the instrument panel makes the system seem a little clunky.
Open Positions: A list of open positions in the trader's portfolio.
Orders: This window shows the trader's open orders including the status, symbol, number of shares (contracts), whether it's a buy or sell and the time of order entry.
Closed Positions: Traders can use this window to track closed positions and a summary of their daily activity.
Order History: This window allows traders to search by instrument and order status for orders placed on the platform.
Events and Trades: This very useful window allows traders to see key upcoming news announcements and the trading instruments most likely to be affected by those announcements.
A helpful feature of the Trade.com WebTrader platform is that the different panels within the main trading screen are integrated with one another. For example, when a trader clicks on a symbol, the chart populates with information on that symbol. Trade.com isn't the only broker to offer this feature; however, this integration of information is useful for active traders.
One very disappointing feature of the Trade.com WebTrader platform is the lack of news and research resources available to traders. Fundamentally, driven traders will likely have to navigate outside of the platform to obtain more in-depth coverage of the instruments they are trading. In fact, it seems that the designers of WebTrader intend the platform to be used more by technical than fundamental traders. This contrasts, for example, with the CMC Markets platform, which integrates fundamentals such as economic news releases with its analysis tools.
Overall the Trade.com WebTrader platform is a solid, if not somewhat basic, tool for entry-level CFD traders. More sophisticated traders would likely benefit from downloading the more feature-rich MT4 platform.
Trade.com Demo Account
Traders can easily switch between the demo and the live trading account on Trade.com.

The Demo account screen looks like the live trading WebTrader screen: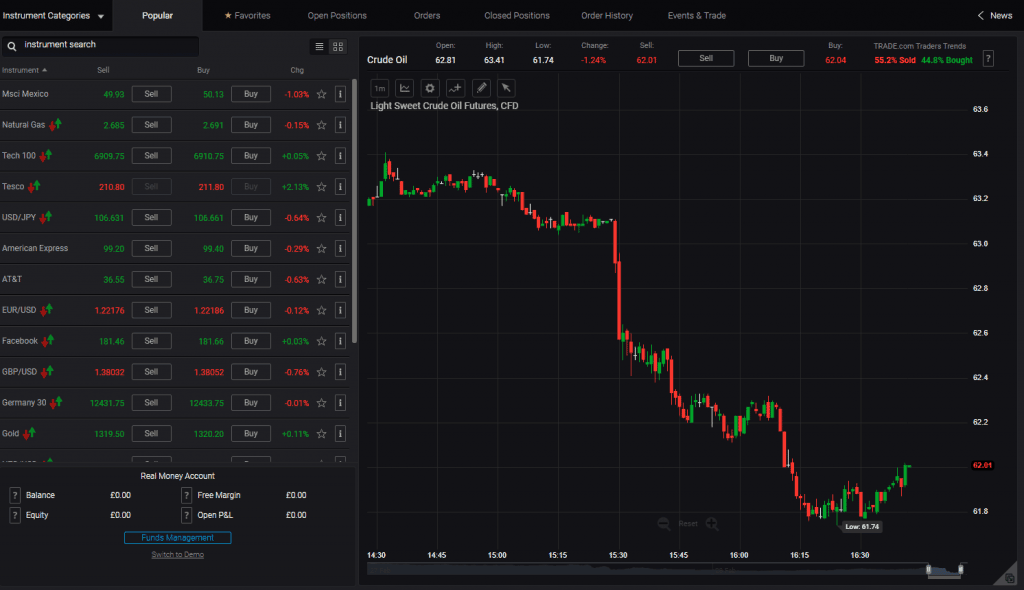 Trade.com Education Resources
The Trade.com Resources tab on the website offers several market and educational resources to help traders improve their skills. These include the following:
Market News: An aggregation of the leading stories that are moving the markets of different asset classes.
Market Outlook: A quick daily video covering key technical and fundamental drivers of markets.
Education Centre: This section includes a wide array of tutorials useful to traders of all skill levels. Topics include forex trading for beginners, MT4 basics, trading tools and trading strategies. Most of the courses are organized into smaller, easily digestible modules and contain video content.
Economic Calendar: A list of the important upcoming announcements in each country with actual, forecast and previous data for each release.
Trading Central: This is an investment research provider to financial market professionals. The service covers trends, pricing and market history and allows traders to identify trading opportunities.
Weekly CFD Expiration Rollover: This section shows the CFD products that are about to be rolled over to the next trading month.
CFD Expiration Dates: This section contains a list of upcoming expiration dates for CFD products traded on Trade.com.
Trade.com Sign-Up Bonuses and Promotions
Trade.com does not offer any sign-up bonuses or promotions to new or existing customers.