Review
24Option.com Review: Are There Advantages to Trading CFDs With This Broker?
Disclosure:
Your support helps keep Commodity.com running! We earn a referral fee for some brokers & services we list on this page.
Learn more...
WARNING: We do not recommend 24Option.com. This is due to a history of fines and sanctions in various countries. Please consider one of the alternative CFD brokers below.
Loading table...
CFDs are complex instruments and come with a high risk of losing money rapidly due to leverage. Between 73.90%-89.00% of retail investor accounts lose money when trading CFDs. You should consider whether you understand how CFDs work and whether you can afford to take the high risk of losing your money.
Overview
Risk Warning: Your Capital is at Risk
24Option.com is a multi-asset online platform for Contracts for Difference (CFDs) trading. CFDs are derivative securities that allow customers to gain exposure to the price of financial instruments without actually holding the instruments in their accounts. 24Option.com customers can trade CFDs on stocks, indices, forex, cryptocurrencies and commodities.
24Option.com traders have access to both the company's proprietary web-based trading platform and the more advanced MT4 trading platform.
Please remember that trading CFDs exposes traders to the possibility of losses, which can exceed deposits. CFD trading is for experienced traders.

This 24Option.com review will cover all of the important details about the broker and discuss its major advantages and disadvantages.
24Option.com - Essential Information
Overview
Web-based trading platform with access to financial markets
Our Overall Rating
Broker Trust Rating
10/100
Founded
2009
Number of Customers
100,000+
Product
CFDs
Markets
Stocks
Indices
Forex
Cryptocurrencies
Commodities
Countries Served
30 (Full list below)
Minimum Deposit
Minimum deposit varies according to 24Option.com account type
Fees
24Option.com has different fee structures depending on account use (See below)
Regulator(s)
Cyprus Securities Exchange (CySEC) and International Financial Services Commission (IFSC)
Customer Support
24/5 customer support in 19 countries
Awards
Forex Magnates 2013-2014 and EGR Operator Awards Winner 2014
Demo Account
Yes
Background
24Option.com is operated by Rodeler Limited, a Cyprus Investment Firm. The company also owns the 24FX brand in its portfolio.
Rodeler Limited has an office in Limmasol, Cyprus and is authorized and regulated by the Cyprus Securities and Exchange Commission (License Number 207/13) since July 11, 2013.
The MiFID Directive provides a passport, which allows the entity to operate throughout the European Union. 24Option.com is also duly registered with the competent regulatory authorities in each of the EU countries in which it operates.
Richfield Capital Limited belongs to the same group of companies as Rodeler Limited and shares the 24Option brand. The International Financial Services Commission (IFSC) of Belize regulates Richfield Capital (License Number IFSC/60/440/TS/17.
24Option.com offers customers dedicated 24/5 customer support in 19 countries. Traders can contact 24Option.com customer service by phone, email, web contact form or live chat. Traders can view the 24Option.com website in 12 languages.
Where Does 24Option.com Operate?
24Option.com is available in the following countries:
Austria
Bulgaria
Croatia
Cyprus
Czech Republic
Denmark
Estonia
Finland
France
Germany
Greece
Hungary
Iceland
Ireland
Italy
Latvia
Liechtenstein
Lithuania
Luxembourg
Malta
Norway
Poland
Portugal
Romania
Slovakia
Slovenia
Spain
Sweden
The Netherlands
United Kingdom
IMPORTANT: CFDs are not available in the USA due to local regulation, and regulated brokers do not accept US citizens or US residents as clients.
English
French
German
Italian
Spanish
Russian
Arabic
Portuguese
Swedish
Dutch
Norwegian
Polish
Can I Trust 24Option.com?
24Option.com is regulated in multiple jurisdictions the Cyprus Securities Exchange (CySEC) and the International Financial Services Commission (IFSC) of Belize.
However, the company has a recent history of fines and sanctions from some of the leading international regulatory agencies.
On January 27, 2016, CySEC fined Rodeler Ltd. a total of €156,000 for multiple violations:
Violation
Fine Amount
Non-compliance with Section 28(1) of the Cyprus Investment Firms law:
Rodeler Ltd. failed to keep adequate and organized records for assessing the suitability of its clients and advertising material
The company also failed to keep adequate records of client complaints and the measures taken to resolve those
€10,000
Failure to take reasonable measures to avoid any unjustified aggravation of the operational risk in the outsourcing of activities or business operations to third parties.
€20,000
Failure to adhere to the interests of clients when providing bonus promotions
€60,000
Failure to inform potential clients about the nature of inherent risks associated with trading binary options
€15,000
Failure to assess the eligibility of its clients to engage in investment activities.
€40,000
Lack of ability of the company's systems and procedures to adequately identify clients
€10,000
Lack of compliance controls
€1,000
On August 1, 2016, Autorité des Marchés Financiers (AMF), France's securities authority, banned 24Option from operating in France. AMF lifted the ban in June 2017.
24Option.com is regulated by two regulatory bodies:
Regulator
Countries Covered
Protections Offered
Additional Protections Offered
Cyprus Securities Exchange (CySEC)
Austria, Belgium**, Bulgaria, Croatia, Cyprus, Czech Republic, Denmark, Estonia, Finland, France**, Germany, Greece, Hungary, Iceland, Ireland, Italy, Latvia, Liechtenstein, Lithuania, Luxembourg, Malta, Norway, Poland, Portugal, Romania, Slovakia, Slovenia, Spain, Sweden, The Netherlands, United Kingdom

CySEC also offers a provision of services to certain countries outside of the EU.

** Although CySEC covers the above countries, Rodeler does not provide services to France and Belgium.
All client funds are held in a segregated client bank account
The Investor Compensation Fund may provide up to €20,000 if 24Option.com fails.
International Financial Services Commission (IFSC)
Belize
The Cyprus Securities and Exchange Commission (CySEC) is the financial regulatory agency of Cyprus.
Cyprus is a European Union member and is a financial services industry hub. Customers in countries regulated by CySEC are eligible for compensation of up to €20,000 if 24Option.com fails.
International Financial Services Commission (IFSC): This regulatory body has the power to license international financial service providers, develop a statutory code of conduct and ensure compliance with internationally-accepted best practices.
Who Runs 24Option.com?
Rodeler Limited, the company that owns the trading name 24Option.com, is a privately held company.
Harris Georgakis – Executive Director
Demetrios Leontis – Director
Ioannis Ashiotis – Director
Michael Christoforou – Director
Petros Hadjikyriacou – Director
24Option.com Trading Products
24Option.com offers its customers financial instruments to trade that span five categories: stocks, indices, forex, cryptocurrencies and commodities.
1) Stocks
24Option.com offers its customers shares trading in over 100 of the leading companies in the United States, Europe and Asia.
2) Indices
24Option.com offers CFD trading on the following commodity and country indices:
TADAWUL
USO
UCO
TA35
OMXS30
DOW
S&P500
DAX
FTSE
MIB
EURO STOXX 50
NASDAQ
ASX
JSE
US INDEX
CAC 40
IBEX
NIFTY
H-SHARES
HANG SENG
NIKKEI
3) Forex
24Option.com offers trading on major, minor and exotic pairs:
EUR / USD
GBP / USD
USD / JPY
USD / CHF
USD / CAD
AUD / USD
NZD / USD
EUR / GBP
EUR / CHF
EUR / JPY
AUD / CHF
AUD / CAD
AUD / JPY
AUD / NZD
CHF / JPY
CAD / CHF
CAD / JPY
EUR / AUD
EUR / NZD
EUR / CAD
GBP / AUD
GBP / CAD
GBP / CHF
GBP / JPY
GBP / NZD
NZD / CAD
NZD / CHF
NZD / JPY
EUR / DKK
EUR / HUF
EUR / NOK
EUR / PLN
EUR / TRY
USD / DKK
USD / HKD
USD / HUF
USD / MXN
EUR / SEK
USD / NOK
USD / PLN
USD / RUB
USD / SEK
USD / SGD
USD / TRY
USD / ZAR
USD / INR
4) Cryptocurrencies
24Option.com offers trading in nine cryptocurrencies against USD, EUR and GBP:
| Cryptocurrency | Currency Traded Against |
| --- | --- |
| Bitcoin | USD, EUR, GBP |
| Litecoin | USD, EUR, GBP |
| Dash | USD, EUR, GBP |
| Ethereum | USD, EUR, GBP |
| XRP | USD, EUR, GBP |
| Bitcoin Cash | USD, EUR, GBP |
| Ethereum Classic | USD, EUR, GBP |
| Bitcoin Gold | USD |
| Monero (XMR) | USD |
5) Commodities
24Option.com offers trading in CFDs based on the following commodities:
Cocoa
Corn
Wheat
Coffee
Soybean
Palladium
WTI Crude Oil
Natural Gas
Gasoline
Brent Crude
Sugar
Platinum
Copper
Cotton
Frozen Concentrated Orange Juice (FCOJ)
24Option.com Account Types
24Option.com offers four types of live trading accounts as well as a demo account. When you sign up for an account, the system defaults to a Basic Account, but traders can contact customer support about upgrading.
After you select an account, 24Option.com asks you to complete the registration and get a €100,000 demo account:
| Basic | Silver | Gold | Platinum |
| --- | --- | --- | --- |
| Platform introduction | Platform introduction | Platform introduction | Platform introduction |
| Dedicated account manager | Risk management explanation | Risk management explanation | Risk management explanation |
| Webinars and seminars | Dedicated account manager | Dedicated account manager | Dedicated account manager |
| Financial market introduction | Webinars and seminars | Webinars and seminars | Webinars and seminars |
| Demo account 100K | Financial market introduction | Financial market introduction | Financial market introduction |
| Daily market brief | Demo account 100K | Demo account 100K | Demo account 100K |
| | Daily market brief | Daily market brief | Daily market brief |
| | Sentimental, fundamental, technical analysis one on one tutorial | One on one MT4 course | One on one MT4 course |
| | Short, medium, long term explanation of common trading strategies | Sentimental, fundamental, technical analysis one on one tutorial | Sentimental, fundamental, technical analysis one on one tutorial |
| | No maintenance fees | Short, medium, long term explanation of common trading strategies | Short, medium, long term explanation of common trading strategies |
| | Max lot | No maintenance fees | No maintenance fees |
| | | Max lot | Max lot |
| | | Trading central | Trading central |
| | | Free withdrawal | Spreads |
| | | | Free withdrawal |
The 24Option.com document Rodeler Limited – Client Agreement notes that the company may offer different types of Trading Accounts from time to time and that the features and characteristics of these accounts (such as spreads, fees and charges) may change. The company can alter the characteristics and features at any time. The website does not list minimum deposits required to open the above accounts. 24Option.com asks that traders contact a Customer Support professional to receive details about each type of account.
24Option.com Spreads and Fees
The Rodeler Limited – Client Agreement notes that all CFDs and Forex trades have spreads that appear on the trading platform. This agreement also notes that 24Option.com has the right to amend these spreads at its discretion from time to time. The broker notes that any such amendments will show up on the trading platform or the website.
24Option.com also notes that the type of trading account the trader hold can affect the spreads offered for a particular financial instrument. Traders are encouraged to speak to Customer Support for details about the features of each account.
The trading platform provides a spread for each financial instrument. However, the website does not list minimum spreads for each instrument the way many other forex and CFD brokers do.
24Option.com obtains its market data from reputable third-party sources, which obtain the data directly from exchange feeds. 24Option.com receives its compensation through the market bid/ask spread.
24Option.com lists other relevant fees for 24Option.com clients on its website.
Commission Fees: 24Option.com DOES NOT charge commissions to clients. Rather, the company receives its compensation through the (bid/ask) spread on each financial instrument.
Deposit Fees: The broker DOES NOT charge deposit fees to clients.
Withdrawal Fees: 24Option.com does charge withdrawal fees to clients. Please see the 24Option.com Withdrawals section below for details on these fees.
Financing Fees: The broker DOES NOT charge financing fees to clients.
Dormancy Fees: If a Trading Account is inactive for three months or more, 24Option.com reserves the right to charge a monthly account maintenance fee.
The exact fee schedule is calculated according to the currency denomination of the Trading Account:
85 EUR
85 USD
85 GBP
10,400 JPY
250 TRY
90 CHF
550 CNY
5,750 RUB
The company reserves the right to change these dormancy fees and will notify clients if it does so.
Account Requirements
24Option.com serves clients across Europe and the world. The system will default to your country of origin when you go to open an account. Before you can trade with 24Option.com for the first time, you need to answer a few questions.
After entering some basic information (name, email and phone number), the system guides you through a series of multiple-choice questions about your trading and educational background.
After completing this information, traders have to complete two more steps:
Complete the 24Option.com verification process
Fund their account with a deposit
To pass the broker's identity verification, you will need to upload both an ID and proof of identity document. Completing the verification process may take additional time, so traders should not expect to trade immediately. However, traders can make deposits prior to this approval, and 24Option.com will hold the deposit. The 24Option Verification Center asks traders to upload the following documents:
Document
Commentary
Proof Of Identity

Valid Passport



(24Option.com requires copies of both sides of the Passport or other document if there are details on both sides).

24Option.com also lists the following acceptable  documents in its verification center:

Driver's license (front and back)
Identity Card (front and back)
Proof of Residence
Copies of the following bills are acceptable:
Electricity
Gas
Phone/Internet
Water
Home Phone
Other Relevant Bills
Credit Card
The broker requires copies of the front and back.
Traders can upload the verification documents on a mobile phone.
Traders can make deposits by a credit card, OKPAY, Neteller, Skrill, Perfect Money, Alternative Methods (PAYSAFECARD) or wire transfer.
To deposit money, traders click on the Deposit tab after opening an account. Traders then select the deposit method of their choice, fill in the required information and click the yellow "Submit" button. 24Option.com doesn't list minimum deposit amounts on the site.
According to the Rodeler Limited – Client Agreement, 24Option.com has different maximum leverages that apply for individual products and individual traders (depending on their knowledge and experience level). Traders should consult this document for specific product leverage allowances. Some leverage allowances also vary by country.
The client agreement also notes that each CFD and type of account also has specific 24Option.com margin requirements that traders must maintain. Traders who fall below the 24Option.com margin requirements risk receiving a margin call and having their position closed prematurely. The broker advises that traders can get updated margin requirements by logging on to the platform or by calling Customer Support.
24Option.com Withdrawal
To withdraw funds from your 24Option.com account, you need to submit a withdrawal request through the menu option on the main screen. Once your withdrawal request is approved, 24Option.com processes it and sends it to your preferred destination.
To make a withdrawal, the customer must first verify the account by providing a copy of a government-issued identification such as a passport or driver's license, proof of residence (such as a utility bill) and a copy of both sides of their credit card if they choose to receive the withdrawal by credit card. Each time customers select a new payment method, they have to repeat this process.
24Option.com processes withdrawal requests during normal Cyprus business hours. The website notes that it doesn't normally charge a fee on the first withdrawal and that Gold and Platinum members receive discounts on withdrawal fees. 24Option.com asks customers to visit the VIP accounts page or contact their account manager for more details.
The following fees apply for most withdrawals:
Method
Fees
Credit Card
3.5%
Wire Transfer
300 JPY
20 CHF
30 USD
24 EUR
1,800 RUB
183 CNY
20 GBP
Ewallets:
Neteller / OKPAY / Qiwi
Perfect Money / Moneybookers (Skrill)
Webmoney

3.5%
2.0%
0.9%
These fees seem excessive given that many CFD brokers don't charge withdrawal fees.
24Option.com Platform Review
This review will cover the 24Option.com web-based proprietary trading platform. Traders also have the option of downloading the MT4 platform that has become standard with many sophisticated online brokers.
Keep in mind that MT4 offers traders a lot more bells and whistles than the in-house platform including access to dozens of technical indicators for charting and analyzing technical trading levels. However, the proprietary 24Option.com platform has some appealing features to recommend it.
The platform's black background and green and red color scheme is both visually appealing and useful for trading. Traders can use the directionally- coded colors to easily spot which instruments are moving up and which are headed lower.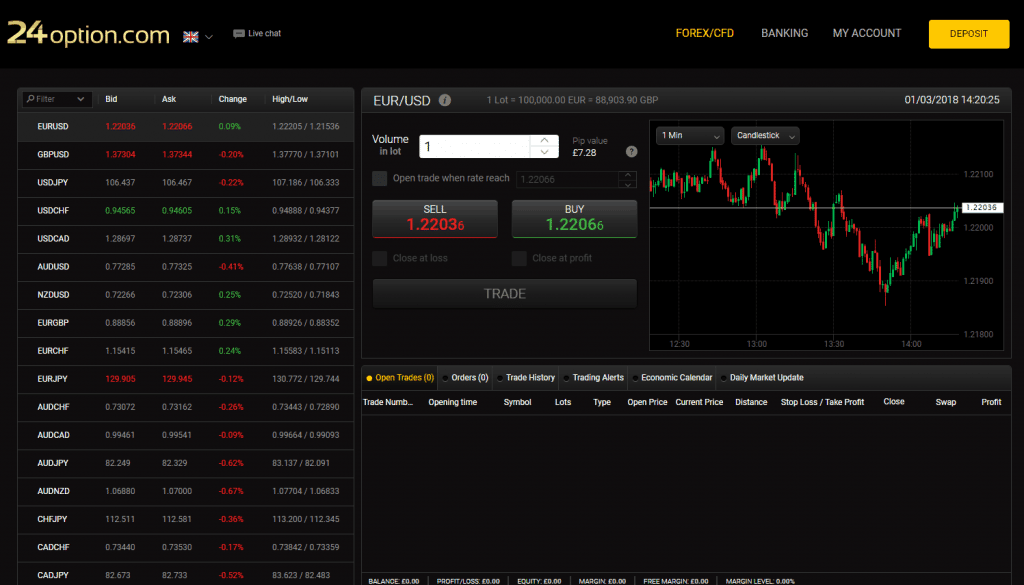 One of the first things most traders will notice is the prominent buy and sell buttons in the middle of the screen.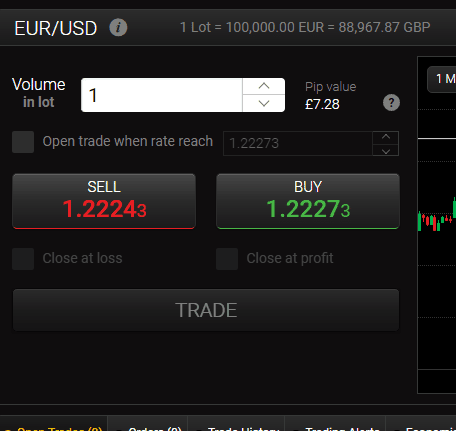 The ticket is great for new traders because of its highly intuitive features. Traders can adjust quantities on trades through the arrows next to the volume button. The ticket also has some other features that can help a new trader develop the discipline needed to be successful:
Open Trade When Reach: Traders can set levels for when they want 24Option.com to execute their trade. This can help new traders who may be overwhelmed following and keeping track of the price action on multiple instruments.
Close at Profit and Close at Loss: Traders can set stop/loss and/or take profit levels for trades. Again, this feature is great for market newcomers. It prevents traders from letting a trade get away from them and creating an unintended result.
The 24Option.com platform offers adequate but underwhelming chart capabilities. For beginners, it may suffice, but more advanced traders will find the simplicity and limitations of the charting features to be lacking: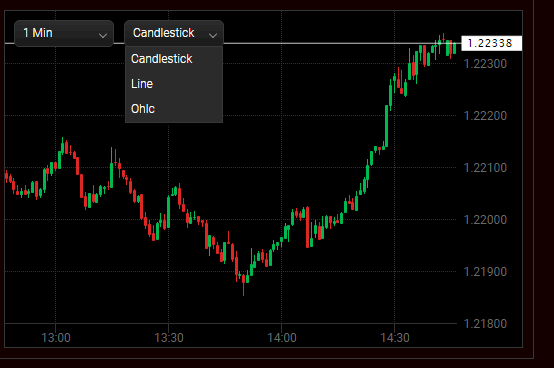 Traders can pull up charts on multiple time frames in candlestick, line or OHLC (Open, high, low, close) formats. However, there is virtually no advanced charting analytics available with this system. Of course, more advanced traders are likely to download MT4 if they sign up with 24Option.com.
The platform offers many of the standard features for tracking open and closed positions. Traders can use the windows in the panel at the bottom of the screen to track their orders: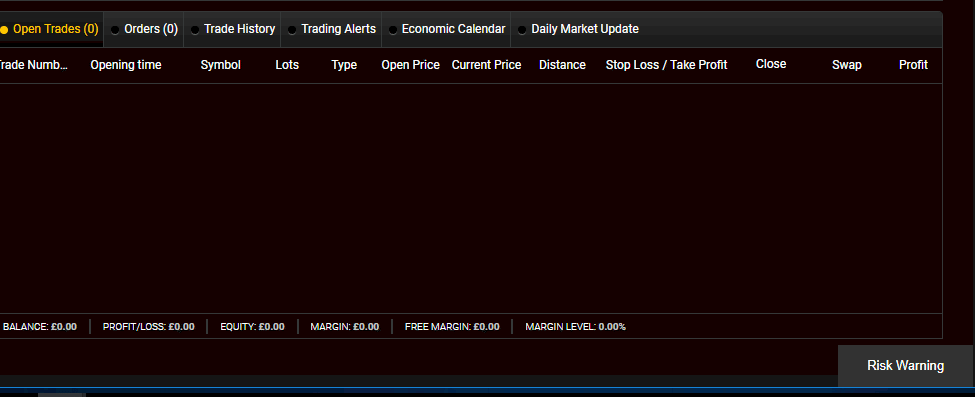 The platform provides complete and thorough data for the trader to track open trades. Traders can see stop/loss levels, profits and times traders were entered and executed. Other tabs allow the trader to set alerts and follow key market events through the economic calendar tab:

Overall, the 24Option.com proprietary platform is an adequate, visually appealing and intuitive system for beginner and intermediate traders. The system complements the more sophisticated offering of MT4.
24Option Demo Account
Traders can easily toggle back and forth between the demo and the live trading environments on 24Option.com through the buttons on the top of the trading screen. Traders who sign up for the demo account receive €100,000 in virtual trading funds.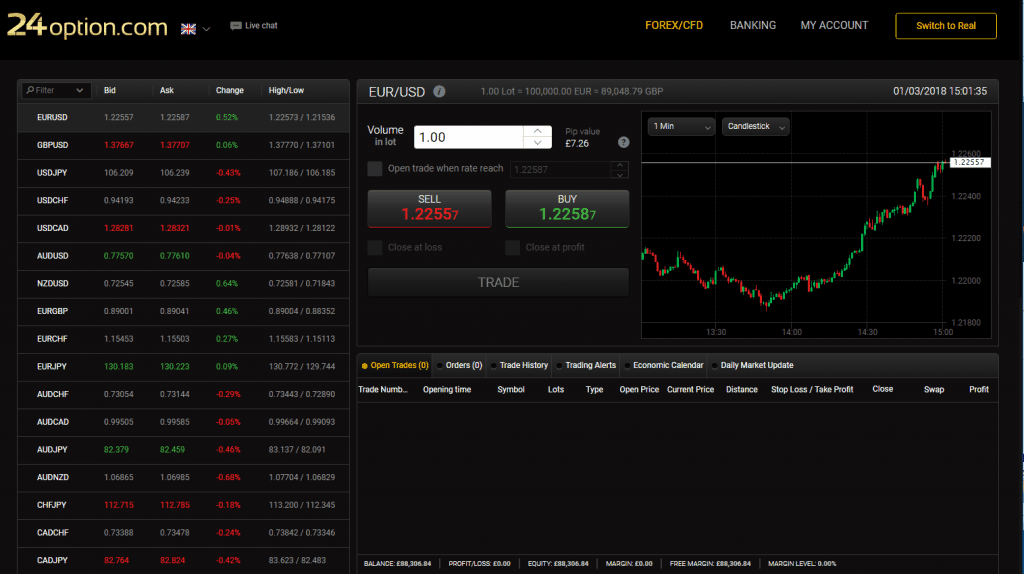 The demo platform looks like the live trading screen and appears to offer the same functionality.
24Option.com Education Resources
24Option.com has an Education section on its website that offers several market and educational resources to help traders improve their skills. These include the following:
Financial News Headlines: A newsfeed showing the leading financial stories from different economic regions of the world.
Daily Market Analysis: Charts with technical analysis and comments about directional biases for different securities.
Trading Central: This is an investment research provider to financial market professionals. The service covers trends, pricing and market history and allows traders to identify trading opportunities.
Economic Calendar: A chronological list of the important upcoming announcements in each country with actual, forecast and previous data for each release.
Trading Strategies: Two briefs describing and differentiating between technical and fundamental trading.
Video on Demand (VOD): This section of the website has short videos on topics of interest to traders of all levels. Videos cover forex and other CFDs. Some sample topics include Types of Orders, Capital Management and Basic Technical Analysis.
Webinars: 24Option.com periodically holds free webinars on topics of interest to the trading community.
24Option.com Sign-Up Bonuses and Promotions
As 24Option.com's headquarters are based in Cyrpus, it falls under the legislation outlined by The Markets in Financial Instruments Directive (MiFID). Therefore, 24Option.com is unable to offer sign-up bonuses because MiFID believes this offers traders more protection and increases the transparency of brokers.
Should a broker, who is located within the EU, offer a sign-up bonus, this means they're either unrelegulated in the EU, aren't regulated at all or aren't operating legally.