Risk Warning: Your Capital is at Risk.

Contracts-for-Difference (CFDs) are popular trading instruments that allow traders to speculate on the price movements of financial assets like gold or oil without having to own the underlying asset.
CFDs are traded in the United Kingdom, both by retail and professional traders. However, cryptocurrency derivatives, including crypto CFDs, are banned in the UK for retail traders.
Brokers in the UK are regulated by the Financial Conduct Authority (FCA) — find out how the FCA regulates brokers, and what client-consumer protection it offers. We also explain how CFD profits are taxed in the UK.
Please Note: Availability subject to regulations. Cryptocurrency CFDs are not available to UK retail traders.
Best Trading Apps In The United Kingdom
In a hurry, and just looking for broker recommendations & reviews? Here's a quick overview of CFD brokers in the UK. If you want more detail, you can skip to the guide on how to choose a CFD broker.
We noticed you are actually in , so we're showing results for .
CFDs are complex instruments and come with a high risk of losing money rapidly due to leverage. Between 74%-89% of retail investor accounts lose money when trading CFDs. You should consider whether you can afford to take the high risk of losing your money.
Read on to learn how CFD brokers work, and what CFDs are.
How Do UK CFD Brokers Work?
CFD brokers offer products named Contracts-for-Differences (CFDs), which are a type of financial product that allow traders to speculate on the price movements of an underlying asset like gold or oil instead of taking physical ownership.
Let's take crude oil, for instance, and compare the difference between buying physical crude oil vs trading crude oil CFDs:
| Buying Crude Oil | Trading on Crude Oil CFDs |
| --- | --- |
| If a trader wants to purchase crude oil and then trade it, they'll need a place to store it and a means of shipping it. | Storing and shipping costs are unnecessary because you're not actually purchasing or selling the oil itself. |
With CFDs, a trader is making a wager about whether the price of crude oil (or another underlying asset) will increase or decrease over an agreed-upon period of time.
The amount of this wager, the direction of the price movement (up or down), and the time period are written into a contract between a trader and a CFD broker.
When the time period for the CFD expires, the trader reaps a profit or suffers a loss, depending on whether the price change they predicted comes true or not. Be sure to check out whether you need to pay tax on CFD profits as a UK trader.
How Does Leverage Work?
A critical part of understanding how CFDs work is leverage – a way in which the broker multiplies a trader's available wager.
Through a 'loan', a CFD broker can underwrite much larger trades than a trader could afford with cash funds.
Here's an example of how leverage works:
Example: A trader has £400 in funds, crude oil is trading at £40 per barrel, and the leverage offered by a broker is 1:10.
Without leverage – A trader can only speculate on 10 barrels of oil.
With 1:10 leverage – A trader can speculate on 100 barrels of oil.
How Does Margin Work?
If leverage sounds similar to a "loan," that's because it amounts to CFD broker financing for the contract duration of the CFD. The "loan" part of leverage is called margin.
In the oil CFD trading example above, the trader is borrowing £3,600 on margin from the broker for a trade: £4000 worth of oil CFDs purchased for £400.
Just like with a loan, a trader must have sufficient collateral to trade on margin. In the case of a CFD broker, that collateral comes from a trader's equity.
It's important to understand that a trader typically cannot make transactions that exceed their margin amount.
How to Choose a CFD Broker In The UK
Here's a detailed explanation of key aspects to consider when you choose a CFD broker in the UK.
Is The Broker Regulated To Operate In The UK?
A regulated CFD broker in the UK will mostly be licensed by the Financial Conduct Authority (FCA) — this is the first thing you ought to check. Government oversight agencies and independent organizations like the FCA tend to provide customer safeguards such as:
Segregating customer trading funds in separate accounts
Submitting regular audits to regulators and
Maintaining adequate capitalization.
If a CFD broker firm fails to adhere to a regulator's standards, the regulator can levy fines or even revoke a firm's license.
UK Brokers Are Regulated By The Financial Conduct Authority (FCA)
The Financial Conduct Authority (FCA) was founded in 2013, preceded by the Financial Services Authority (FSA). The FCA oversees over 50,000 UK business operations with the aim to regulate financial services in the interest of consumers and clients.
The FCA is held accountable by the Treasury and the UK parliament.
Traders who transact with FCA-regulated brokers in the UK are covered under the Financial Services Compensation Scheme in case a broker or financial services provider goes bankrupt.
As of October 2020, the FCA banned the sale of all crypto derivatives for retail customers, meaning retail traders in the UK can no longer trade crypto CFDs, or other crypto derivatives. The FCA also prohibits UK brokers from advertising crypto-related exchange-traded notes (ETNs) to retail traders.
In 2019, the FCA banned all of its regulated brokers from marketing CFDs, including options on CFDs to UK traders.
Do I Get Taxed On CFD Profits In The UK?
As a UK trader and taxpayer, you may be liable to pay Capital Gains Tax (CGT) when you make money on CFDs, provided that you break the CGT threshold for the tax year. CFDs are exempt from stamp duty.
Some brokers also offer spread betting, similar to CFDs — profits on these products are exempt from CGT, as long as it is not considered a source of income by the HMRC.
Opening an account with an unregulated CFD broker is extremely risky. Most legitimate UK brokers have a valid FCA membership. For more information about avoiding brokerage scams, see our tips on Avoiding Scams.
Note: Cryptocurrency derivatives are not available for UK retail traders.
What Platforms Are Available?
The best UK CFD platforms tend to offer fast-loading, real-time charting, and quotes with a broad range of technical analysis tools. Popular CFD providers offer this on both mobile and desktop.
Some CFD brokers also incorporate:
Copy-trading: the ability to mimic the trades of others on the platform
Economic calendars
Financial news feeds
Drawing tools, so you can highlight areas of your technical analysis.
Mobile Trading
Since the majority of people trade on the go, a key consideration in choosing a CFD broker is the quality of the mobile trading app.
Is it easy to execute trades on the go?
Does it have all the features of the desktop app?
Is the app fast?
Is the app available for your phone's mobile operating system (e.g. iOS, Android, etc)?
Does the brokerage regularly update and improve the mobile platform?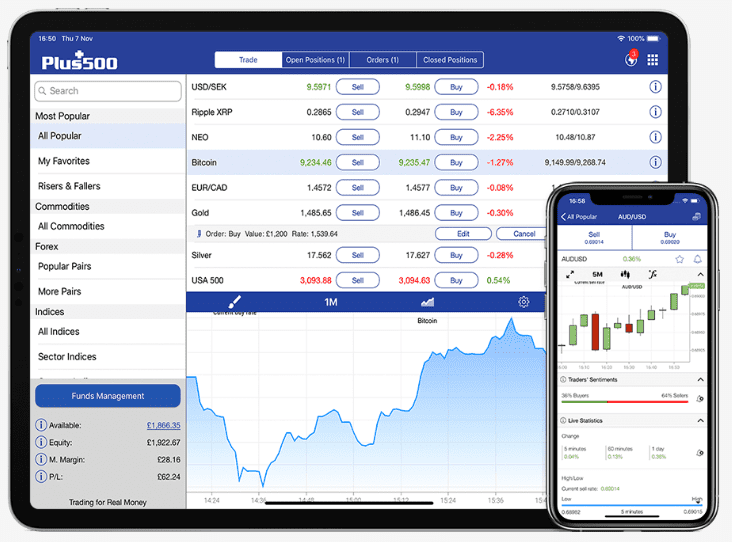 CFD Broker Mobile Features Comparison
Proprietary, MT4, and MT5 Trading Platforms
Many brokers offer the popular MetaTrader 4 (MT4) or MetaTrader 5 (MT5) platforms.
Some CFD brokers like eToro and Plus500 have their own proprietary trading platforms either instead of or in addition to the MetaTrader apps. These platforms may work via your web browser or also as downloadable desktop software.
CFD Broker Desktop Platforms Comparison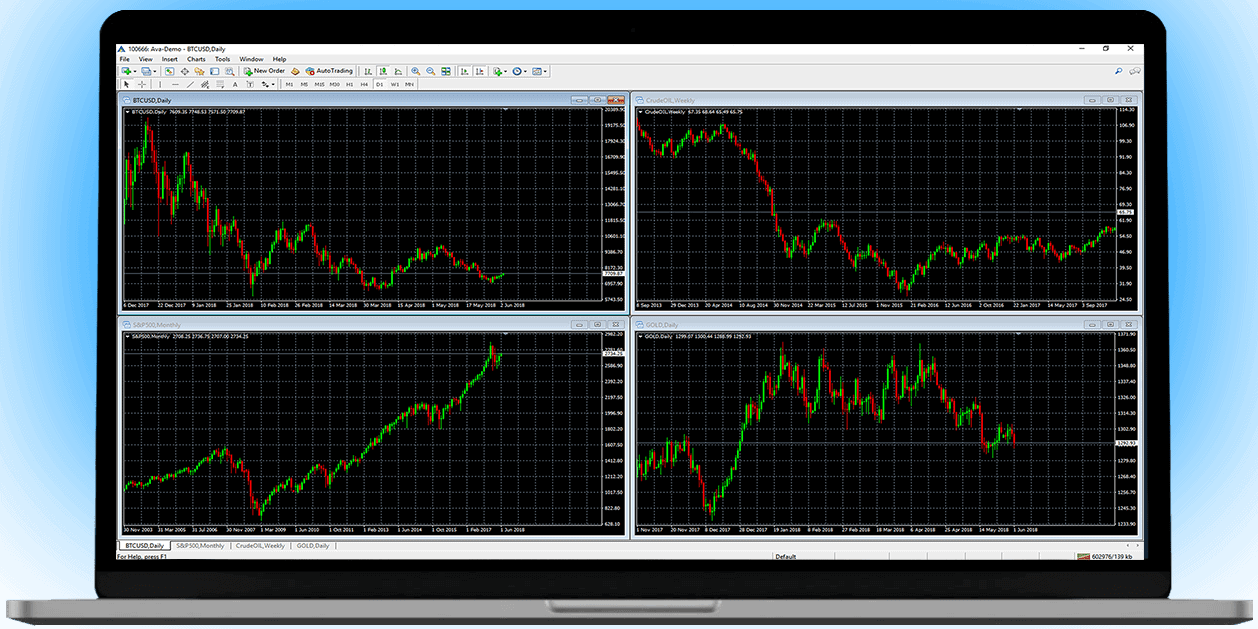 What Are the Requirements to Open An CFD Trading Account?
Check the UK CFD broker's available account types to make sure they have one that suits your needs. Common account types include:
| Account Type | Description | Prevalence |
| --- | --- | --- |
| Standard | A retail brokerage account that allows CFD trading. | All retail brokers offer these account types. |
| Demo | A way to try out a broker's platform or practice trading using "play money." | Most brokers offer demo accounts, but many of them have expiry periods. |
| Islamic | Halal (swap-free) accounts for traders who follow Sharia law | Some brokers offer these accounts. Contact the broker to be sure. |
| Professional | Designed for high-volume day traders. | Some brokers offer these accounts with strict funding and volume minimums. |
Requirements to open a UK CFD account vary by broker and account type, but usually involve:
Proof of identity – A government-issued picture ID like a passport or UK drivers' license.
Proof of address – A bill, UK bank statement, or other formal documentation to prove your residential status in the UK.
Account funding – Minimum account balances can range from £1 to £250 for standard retail accounts. Islamic accounts may require higher balances (e.g. Fortrade requires £2,000). Day trading account minimums start around £25,000.
How Can I Deposit & Withdraw Funds?
Factors to consider:
Deposit sources – Most UK CFD brokers accept wire transfers and credit card funding. However, if you wish to transfer money to your account another way (like PayPal or Neteller), make sure the broker supports your preferred method.
Account minimums – Brokers typically require a set level of funding to be available in your account at all times, to cover losses. Be sure to check our reviews: we note the CFD broker's minimum account requirements so you'll have the information handy.
Some common payment methods among UK CFD brokers include:
Credit or debit card
Wire transfers
PayPal
Skrill
Neteller
Some UK brokers also support payment services like Apple Pay, Google Pay, iDeal, Trustly, UnionPay, WebMoney, and more.
UK CFD Broker Account Funding Comparison
What CFD Asset Classes Does The Broker Offer?
What do you want to trade? Today, derivatives traders have a broad range of underlying assets to trade CFDs on:
| Underlying CFD Assets | Examples |
| --- | --- |
| Commodities | Gold or oil price movements or on commodity futures |
| Currency Pairs | EUR/USD, GBP/USD |
| Cryptocurrency | BTC, ETH (Availability subject to regulations) |
| Index Futures | FTSE 100, US 500 |
| Stocks and ETFs | Tesla (TSLA), Facebook (FB), and Amazon (AMZN) |
| Other Assets | Bonds, US Treasuries, Baskets |
Here's a summary of what asset classes popular CFD brokers offer:
Please Note: Availability subject to regulations. Cryptocurrency CFDs are not available to UK retail traders.
What is the Maximum Leverage?
CFD brokers vary according to whether they offer leverage and how much. Local regulations (such as those required by ESMA in the EU) also affect the amount of leverage that you are allowed to trade with.
For retail accounts, maximum leverage typically tops out at 30:1 on average. Professional trading accounts can offer much higher leverage.
Leverage Limits by Regulatory Agency
Some regulators impose leverage limits on all CFD brokers within their jurisdiction.
UK brokers are regulated by the FCA, meaning all regulated UK CFD brokers offer a maximum leverage of 30:1 for retail traders.
For more about leverage, check our Commodity Trading Guide.
What Fees Does The Broker Charge?
When you choose a UK CFD broker, the fees charged determine your cost of trading:
CFDs are complex instruments and come with a high risk of losing money rapidly due to leverage. Between 74%-89% of retail investor accounts lose money when trading CFDs. You should consider whether you can afford to take the high risk of losing your money.
Spreads and Commissions by Broker
Spreads can be tricky to compare between brokers because they can be charged in different ways:
As a percentage of the trade amount (e.g. 0.13%)
As points or pips (percentage-in-point) for forex trades (e.g. 50 pips)
As a rule of thumb, tight spreads mean cheaper trading fees. Commissions may also be charged as a flat fee per transaction or a percentage of the trade amount.
What Market Sentiment and Social Trading Tools Are Available?
Most CFD brokers offer some way to measure market sentiment which can give insights into how the market as a whole is leaning on a particular position.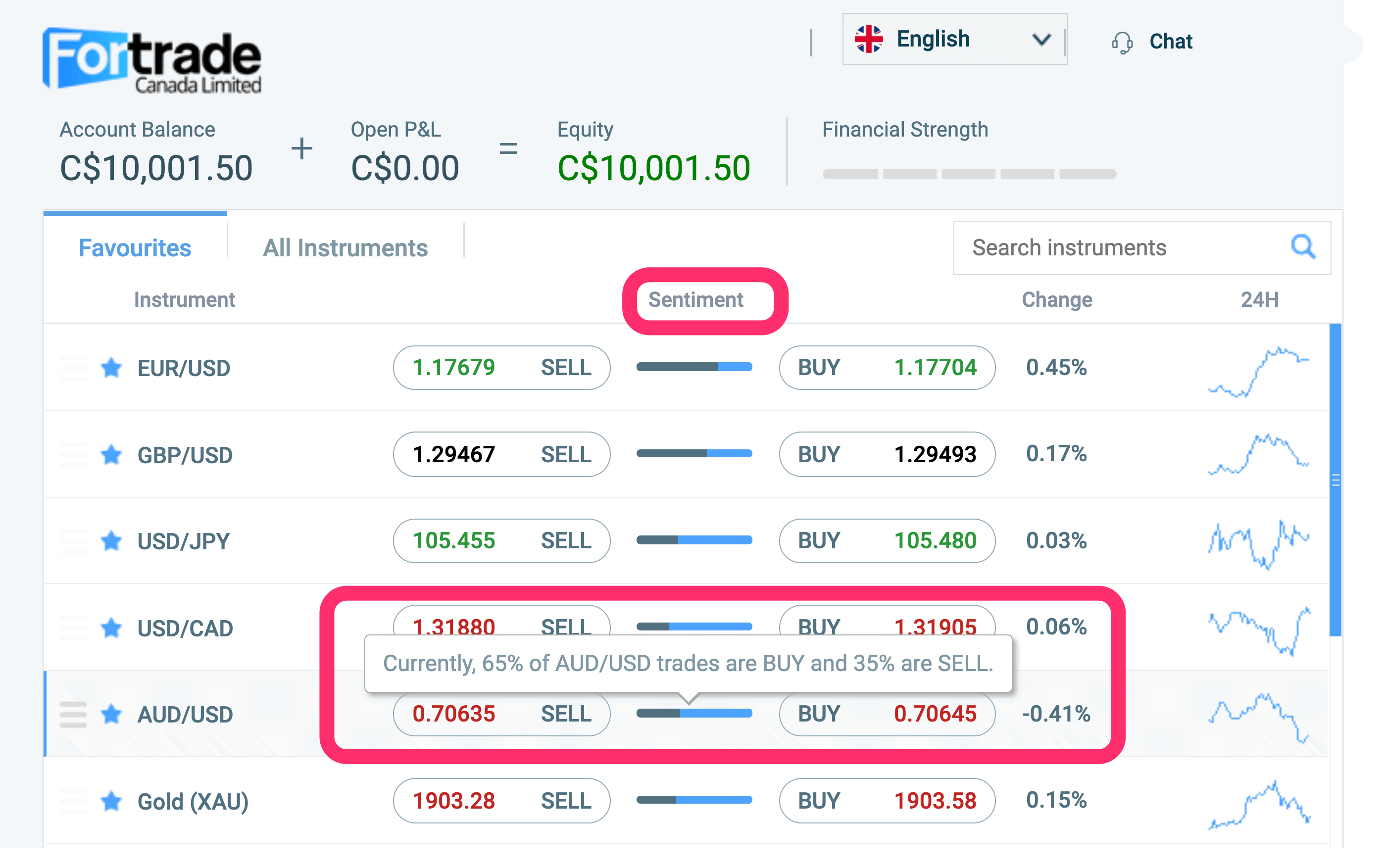 For instance, social trading, pioneered by eToro, allows traders to copy the trades of the platform's most successful traders.
Furthermore, consider available support channels (e.g. phone, email, live chat) and hours. Do they cover your time zone? Do they offer support in your preferred language?
You may want to further review the type of educational materials available CFD broker's website with respect to your knowledge of trading.
CFD Brokers by Education and Customer Support
What Technical Analysis and Charting Tools Are There?
Technical analysis and charting can help traders make decisions about which positions to take. Some CFD brokers offer more complex analysis features or more robust charting than others.
Some of the most popular analyses include:
Does The Broker Offer Enhanced Account Security?
Although all CFD brokers require user passwords and employ back-end security measures, traders wishing for more security should look for a broker that offers Two-Factor Authentication (2FA) as a bare minimum.
2FA can be set up and used via:
An SMS message sent to your mobile device
An authenticator app from the likes of Google or Microsoft
An email message
A mobile security notification pop-up
Unique one-time password (OTP)
For example, eToro, Pepperstone, and Plus500 all offer 2FA security.
How Do CFD Brokers Make Money?
CFD brokers make money in two ways:
On an individual trader's transactions via fees, spreads, and commissions
Financing and hedging
Fees, Spreads, and Commissions
These charges allow brokers to make money on trading actions. Note that some CFD brokers may say they charge "no commissions" and still others may say they have "no fees."
However, they may compensate for these costs in other ways. Check to see what your prospective CFD broker charges for the types of transactions you're likely to make.
Here are some examples of fees that a CFD broker may charge:
| | | |
| --- | --- | --- |
| Monthly Account Fee | Withdrawal Fees | Deposit Fees |
| Inactivity Fee | Borrowing Costs for Shorting | Currency Conversion Fee |
| Overnight Fee | Professional Trader Fees | Other Fees (e.g. swap charges) |
Commissions and Spreads
Typically, a CFD broker charges either spreads or commissions, but in some cases may levy both types of overhead, depending on the trade type or account type.
The spread represents the difference between the Bid and Ask price of an asset. Brokers make money on this price difference.
For example, active day traders may be charged commissions while retail traders are only charged spreads.
Financing and Hedging
the broker may finance traders with borrowed money — we explained this with margins and leverages. Traders' losses turn into profits for the CFD broker.
Some UK brokers also use hedging as a means of making money. Hedging is the practice of making trades (usually in the opposite pricing direction) that can offset potential losses.
Here are some common ways that CFD brokers hedge for profit:
Forwards and Futures Contracts – These contracts "lock-in" the current price of an asset for sale at a later date, regardless of the price at that time. If the later price is greater than the locked-in price, the brokerage firm takes a profit.
Long/Short Equity – A brokerage may go long or short on instruments that are expected to go in the opposite direction of a client's trades.
How We Rate CFD Brokers
When we review CFD brokers, we consider the following factors.
Topic
Questions We Answer
#1
Reputation
What awards, accolades and publicity has the firm received from the trading community?
#2
History
When was the firm founded?
What were the major milestones in its history?
#3
Operating Territories
Which countries does the broker serve?
#4
Regulation
Which agencies regulate the broker?
How do these agencies help protect customers?
#5
Products
What are the specific financial products traders can trade on the platform?
#6
Accounts
What types of trading accounts are available?
What are the features of each type of account?
#7
Fees
What spreads, fees and commissions does the broker charge its customers?
#8
Deposits
What is the minimum deposit required to open an account?
What methods can traders use to fund their accounts?
What deposit and withdrawal restrictions, if any, does the broker impose on its customers?
#9
Platform
What are the most important features of the trading platform?
What does the platform look like?
What educational materials (e.g., videos, reports and tutorials) does the broker provide to traders?
Does the broker provide demo accounts and, if so, are there restrictions on using these accounts?


#10
Promotions
Does the broker offer promotions such as signup bonuses for new account holders?
However, there is no one online broker that suits every trader.
Further Reading
Before you start trading CFDs, you may want to research further. You can also check out our other broker and trading guides:
FAQs
Is CFD trading legal in UK?
Yes, CFD trading is legal in the UK. Both retail and professional traders may speculate on financial derivatives we call contracts-for-difference. However, FCA-regulated brokers that operate in the UK are banned from offering cryptocurrency derivatives to retail traders — this includes crypto CFDs.
Are professional traders able to trade crypto derivatives in the UK?
While the FCA prohibits all UK retail traders from trading cryptocurrency derivatives, including crypto CFDs, professional traders based in the UK may still trade crypto derivatives. That said, the FCA also prohibits the sale and marketing of crypto CFDs to retail traders, so professional traders won't see these offers on public brokerage websites.
Where can I trade CFDs in UK?
There are many CFD brokers in the UK. They are regulated by the Financial Conduct Authority (FCA) and therefore have a legal right to offer traders services in the UK. Examples include Plus500, CityIndex, and eToro. See this list of recommended UK CFD brokers, or head over to our guide to choosing a CFD broker.
What are the FCA's limits on UK CFD trading?
As per the FCA's rules of restriction on CFDs and all CFD-like options products, retail clients are limited to leverages between 2:1 and 30:1. CFD accounts are also subject to a margin call when funds fall below 50% of the required margin. UK brokers are required to ensure that CFD customers can't lose more money than the total balance of the CFD account.
Is CFD trading safe?
No, CFD trading — or any form of trading — is not "safe." Trading involves complex risks, that is, factors affecting price movements of assets that retail traders are unaware of or that are unpredictable. Most retail CFD accounts lose money. Only experienced traders should consider trading CFDs.
Is eToro a CFD broker?
Yes, eToro is a CFD broker (though not in the US). eToro offers CFD trading on commodities futures, currencies, indices futures, and stocks. They also offer cryptocurrency trading and cryptocurrency-fiat currency trading. In addition, account holders can buy and sell cryptocurrency on eToro without a digital wallet.
eToro is fully regulated by CySEC, FCA, and ASIC.
What is the difference between CFD trading and forex trading?
CFD trading and forex (FX) trading differ in terms of the underlying assets you are trading on and the nature of the contracts. When you are trading in the foreign exchange (forex) market, you are trading currency pairs only. CFD contracts are available on a wide range of asset classes, including forex, commodities, indices, stocks, ETFs, and events.
Unlike CFDs, forex trading offers the opportunity to benefit from interest rates associated with currencies and it is legal in the US.
You can also trade spot metals in the forex market because they are considered a form of currency. For example, you can trade gold, silver, platinum, or palladium against fiat currencies. You can also trade metal pairs, such as gold vs. silver (XAU/XAG).
---
CFDs are complex instruments and come with a high risk of losing money rapidly due to leverage. Between 74%-89% of retail investor accounts lose money when trading CFDs. You should consider whether you can afford to take the high risk of losing your money.
---
Credits: Originally written by Lawrence Pines. Major updates by Natalie Mootz and with contributions from the Commodity.com editorial team.