The Volume Rate of Change indicator measures the percentage change of current volume as compared to the volume a certain number of periods ago.
The Volume Rate of Change indicator might be used to confirm price moves or detect divergences. The formula for Volume Rate of Change is expressed below:
[(Current Volume / Volume n periods ago) – 1] x 100
Generally, the Volume Rate of Change is calculated based on 14-periods for input n, but of course can be modified to any trader preferred period. A chart of the 100 ounce Gold futures is shown below with the 14-day Volume Rate of Change indicator: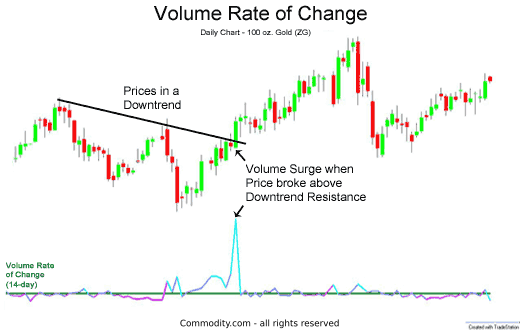 As the price of Gold was increasing, the Volume Rate of Change indicator was increasing as well, suggesting that there was buying interest as prices were rising.
When Gold broke above trendline resistance, the Volume Rate of Change indicator surged higher, suggesting that buyers were extremely interested in buying Gold.
The section discussing how traders typically interpret Volume would be an excellent next step (see: Volume) to read.
How to Get Started Trading
If you are interested in trading, have a look at our reviews of these regulated brokers available in to learn which charting tools they offer:
CFDs are complex instruments and come with a high risk of losing money rapidly due to leverage. Between 74%-89% of retail investor accounts lose money when trading CFDs. You should consider whether you can afford to take the high risk of losing your money.
Further Reading
Learn more about technical analysis indicators, charting concepts and strategies including Triple Exponential Average (TRIX), Fibonacci Time Extensions, and the McClellan Oscillator.
Also see our guide to understanding the basics of reading candlestick charts and option trading strategies.