Disclosure:
Your support helps keep Commodity.com running! We earn a referral fee for some brokers & services we list on this page.
Learn more...
The Ultimate Oscillator combines short-term, intermediate-term, and long-term price action into one oscillator and attempts to give overbought and oversold readings, potential buy and sell signals, and confirmations of price action as well as divergences that might warn of future price reversals.
The creator of the Ultimate Oscillator, Larry Williams, describes the need for different time periods:
Short-term: The short-term oscillator peaks earlier than price action peaks.
Long-term: The long-term oscillator is late in responding to price action reversals.
By combining three separate time periods, short-term (usually 7-period), intermediate-term (usually 14-period), and long-term (usually 28-period), the Ultimate Oscillator tends to peak when price peaks.
Note that the intermediate and long-term include the short-term time period; hence, the short-term period is weighted more heavily in the Ultimate Oscillator equation.
The Ultimate Oscillator is mainly used to identify divergences and give potential buy or sell signals based on those divergences.
The chart of the E-mini Russell 2000 Futures contract shows an example of a bullish divergence and subsequent potential buy signal: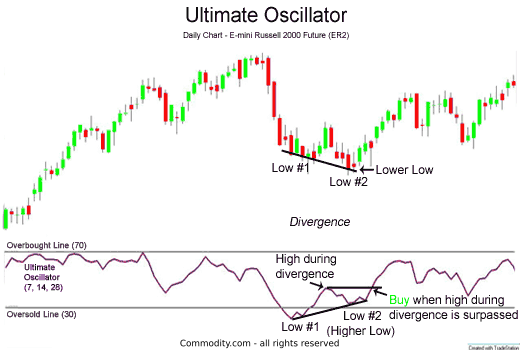 Ultimate Oscillator Potential Buy Signal
The Russell 2000 E-mini made a lower low from Low #1 to Low #2. To the contrary, the Ultimate Oscillator made a higher low from Low #1 to Low #2.
This bearish divergence acts as the first step of the possibly forming buy signal.
The second step occurs by drawing a line where the highest high occurred during the bearish divergence. Once the Ultimate Oscillator closes above the previous high, then the potential buy signal has been generated.
Interpreting possible bearish divergences and potential sell signals is given on the next page.
Ultimate Oscillator Sell Signals
Sell Signal
Overbought Area: The Ultimate Oscillator must have reached overbought status (above 70), before a sell signal can be given.
Bearish Divergence: When price makes a new high, but the Ultimate Oscillator makes a lower high.
Ultimate Oscillator Breakout: When the Ultimate Oscillator closes below the lowest low during the bearish divergence.
When both 1, 2, and 3 occur, then a sell signal is given. An example is given below in the chart of the E-mini Russell 2000 Futures contract: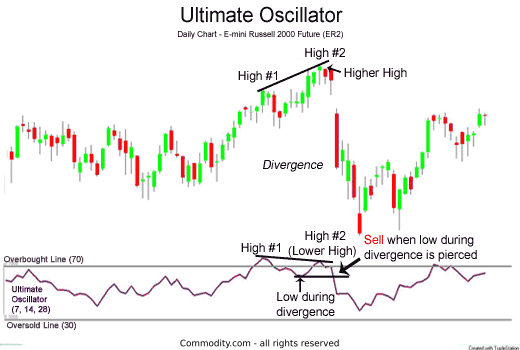 A sell signal given by the Ultimate Oscillator would be strengthed by a trendline break of price. In the chart above of the Russell 2000 emini future, price broke support and consequently crashed downwards with a very large bearish red candle.
The Ultimate Oscillator is a very effective tool for showing overbought and oversold conditions, divergences, and buy and sell signals.
Other oscillators to investigate are Stochastics (see: Stochastics) and Relative Strength Index (RSI), (see: Relative Strength Index).
How to Start Trading
If you are interested in trading using technical analysis, have a look at our reviews of these regulated brokers available in to learn which charting & analysis tools they offer:
Loading table...
CFDs are complex instruments and come with a high risk of losing money rapidly due to leverage. Between 73.0%-89.0% of retail investor accounts lose money when trading CFDs. You should consider whether you understand how CFDs work and whether you can afford to take the high risk of losing your money.
Further Reading
See our other option strategy guides or learn more about technical analysis indicators, concepts, and strategies including Momentum, Elliot Waves, Market Thrust, Moving Averages, and Fibonacci Patterns.
Also see our guides on Forex, Crypto and Option brokers to find out which tools brokerages offer their clients.