Disclosure:
Your support helps keep Commodity.com running! We earn a referral fee for some brokers & services we list on this page.
Learn more...
Interest Payments Per Year
$62,205,816,000
Interest Payments Per Second
$1,973
National Debt Per Citizen
$43,725
GDP Of France
$2,670,660,000,000
France Population
66,133,194
The National Debt Of France
France's national debt is measured as all government debt. This includes any debts accrued by regional and departmental governments.
What Debt Is Not Included In France's National Debt?
However, those lower levels of government are not allowed access to debt markets directly. The following debts are not included in France's national debt figures:
Pension obligations
Bank depositor guarantees
Government guarantees on external institutional loans
State-owned enterprise debt
Outstanding short-term debt on unpaid invoices
What Is France's Debt-To-GDP Ratio?
According to current IMF data, France's central government debt to GDP ratio is 80.98%. At the same time, the country's net debt to GDP was 87%.
These two figures are close and that shows that the country finances its pensions out of its annual budget rather than building an investment fund for the pension system.
France's General Government Debt
France's debt level is high, and it is growing.
Under the Maastricht Treaty, the government is obliged to keep its annual budget deficit below 3% of GDP.
As the graph below from the OECD shows, the government rarely keeps to that target.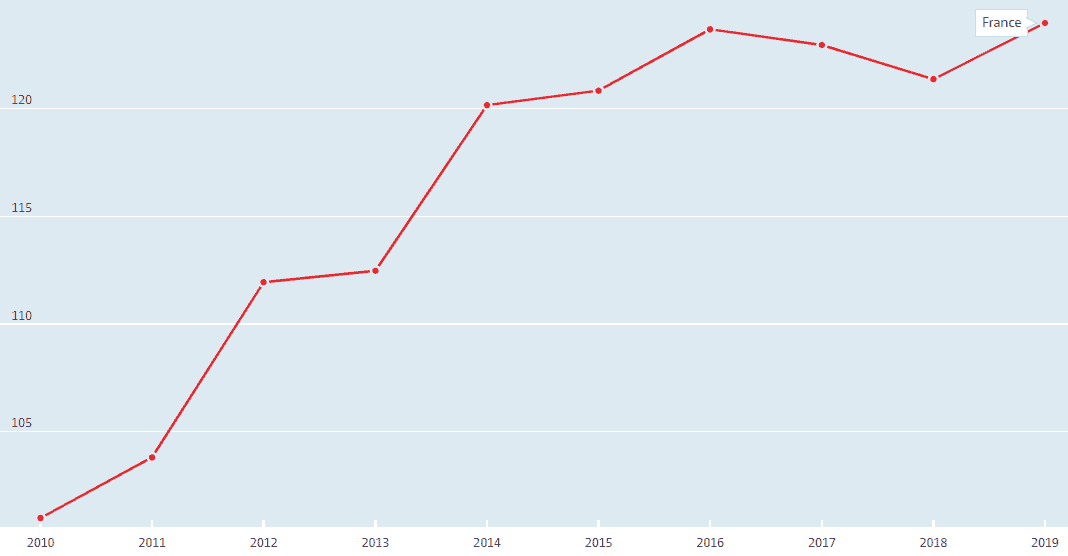 Who Manages France's National Debt?
The French Finance Ministry is ultimately responsible for the national debt. The government department is officially called Ministère de l'économie et des finances, which means Ministry for the Economy and Finance.
The Ministry is commonly referred to as "Bercy," which is the location in Paris of its offices.
The division of the Ministry that is directly tasked with overseeing the national debt is called Direction générale des finances publiques or the General Directorate of Public Finances.
The Directorate issues debt instruments through its sector, which is called Agence France Trésor, known as the AFT.
How Does the French Government Raise in Loans?
The AFT raises money through debt by holding auctions of various types of investment instruments. The frequency of these auctions depends on the debt instrument being sold.
These auctions are not open to the general public, or even to the business community as a whole. Only registered, approved Primary Dealers are allowed to bid for government debt instruments.
Other financial institutions, banks, and individuals can buy French government debt on the secondary market.
When a primary dealer buys government securities, that business either already has customers lined up for the allocation, or buys them speculatively and resells them on the open market.
What Government Securities Does the Aft Sell?
The debt instruments that the AFT sells can be categorized into two divisions:
Short-term debt instruments

Long-term debt instruments
You can read a little more about these strategies below.
What Are Short-Term Debt Instruments?
The short-term devices that the AFT sells are mainly in the form of Treasury bills. This is a very common type of debt instrument used by governments around the world.
The typical characteristic of a Treasury bill is that it bears a maturity date of less than a year. Governments use Treasury bills to enable them to smooth out the irregular pace of their income streams.
Governments have to have a regular income to pay bills and ages and the sporadic payment dates for taxes, duties, and tariffs do not match up with the government's schedule of obligations.
What Is The Role Of Treasury Bills In France?
Although Treasury bills are supposed to run for less than a year, most governments, including the French governments issue 1 year bills.
In France, Treasury bills are called Bons du Trésor à taux fixe et à intérêts précomptés. This is abbreviated to BTFs. The AFT holds auctions of 13 week (3 month) BTFs every week on a Monday.
They also issue 26-week and 52-week BTFs, but not as frequently.
Despite the name, BTFs do not pay any interest. Instead, they are sold at a discount and redeemed at full face value.
What Are Long-Term Debt Instruments?
The long-term financing of the French government is now entirely funded through a device called Obligations assimilables du Trésor (OATs).
In the past, the AFT issued a bond with a different name, which was Bons à Taux Annuel Normalisés (BTANS), but these have been discontinued.
There are five types of OATs:
OATs: standard government benchmark bonds. They have a stated maturity date, which will be anywhere between 7 and 50 years. These devices pay the same annual interest rate for their lifetimes. The full face value of the OAT is repaid on the maturity date.
TEC10 OATs: floating-rate bonds that have a margin over the Base Rate. These OATs have a maturity of 10 years.
OATis: French inflation-indexed bond. This is linked to the French Consumer Price Index, published by INSEE. The bond pays the same interest rate every year for its duration, but the face value gets recalculated each year to account for inflation. So, the interest amount paid rises with inflation even though the interest rate is constant. This is because the capital amount of the bond increases each year.
OAT€is: the same as the OATi, except the inflation index, used to link the value of the capital amount is based on the Eurozone's Harmonised Index of Consumer Prices (HICP) index, instead of the French INSEE calculation.
Green OATs: standard benchmark bonds, except that the funds raised from these sales go into a reserved fund that is intended for the financing of environmentally-friendly government initiatives under the "Invest for the Future" program.
French National Debt Financing Costs
By mid-2018, the French government owed 1,752 billion Euros. That debt incurs a cost.
The AFT needs to find money to pay the interest on those debts and cover the costs of increasing the value of inflation-linked bonds.
The AFT is not in a phase of paying off any debt at the moment, so the cost of repaying maturing bonds is covered by the issuance of new bonds.
The table below shows the cost of maintaining France's national debt. Figures shown are in billions of Euros.
| Debt instrument | 2016 | 2017 | 2018 |
| --- | --- | --- | --- |
| OATs | 41.04 | 39.09 | 37.91 |
| OATs index linking | 0.01 | 2.31 | 2.44 |
| BTFs | -0.75 | -0.86 | -0.22 |
| Debt assumed by state | 0.08 | 0.08 | 0.08 |
| Treasury | 1.04 | 1.05 | 0.96 |
| Other | 0.03 | 0.03 | 0.03 |
| Total | 41.45 | 41.7 | 41.2 |
As interests have been stable for the years shown in the table, the above figures show that the cost of servicing France's national debt have stabilized even though the actual amount owed keeps rising.
Who Owns France's National Debt?
The largest source of funds for the French government are overseas investors.
In the domestic market, the insurance sector is the largest holder of the governments debts.
According to Banque De France, the inclusion of overseas investors in French government debt has been reducing gradually over the past decade.
Other Facts About French National Debt
What facts should you know about France's national debt?
You could wrap $1 bills around the Earth 11,256 times with the debt amount.


If you lay $1 bills on top of each other they would make a pile 315,800 km, or 196,229 miles high.


That's equivalent to 0.82 trips to the Moon.
Interested in Trading Commodities?
Start your research with reviews of these regulated brokers available in .
CFDs are complex instruments and come with a high risk of losing money rapidly due to leverage. <b>Between 74%-89% of retail investor accounts lose money when trading CFDs.</b> You should consider whether you can afford to take the high risk of losing your money.
Further Reading
You can find out about the national debt of France's neighbouring nations, like Germany, Spain, the UK, Switzerland, Belgium, and Italy.
Our team have also put together dozens of economic overviews where you can learn about a nation's GDP, top exports, and top imports, such as:
If you find commodities of interest across the above economic profiles, you can learn how to trade them through our instrument guides on CFDs, options, bullion, stocks, forex, and cryptocurrencies.