Disclosure:
Your support helps keep Commodity.com running! We earn a referral fee for some brokers & services we list on this page.
Learn more...
The Chaikin Oscillator or Volume Accumulation Oscillator consists of the difference between two exponential moving averages (usually 3 and 10-day) of the Accumulation Distribution Line indicator and might be used to confirm price movement or divergences in price movement.
The Chaikin Oscillator is considered to be more accurate than the On Balance Volume indicator (see: On Balance Volume).
On Balance Volume: adds all volume for the day if the close is positive, even if the stock closed only a penny higher; or subtracts all volume for the day if the stock closes lower.
Chaikin Oscillator: factors in the closing price in relation to the highs, lows, and average price and determines the appropriate ratio of volume to be attributed to the day.
The main purpose of the Chaikin Oscillator is to attempt to confirm price trends and attempt to warn of impending price reversals. The chart below of the Nasdaq 100 ETF QQQQ illustrates these confirmation signals and divergence signals: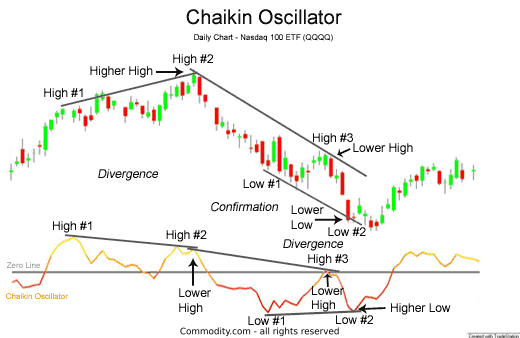 High #1 to High #2
The Nasdaq 100 ETF QQQQ made higher highs, usually interpreted as a bullish sign. However, the Chaikin Oscillator failed to mirror the QQQQ's advance higher and ended up making a lower low. This bearish divergence forewarned of the impending price reversal.
High #2 to High #3
The QQQQ's made a significantly lower high. The Chaikin Oscillator confirmed the QQQQ's downtrend by making a lower high as well.
Low #1 to Low #2
The Nasdaq 100 made significant lower lows, yet the Chaikin Oscillator made higher lows. This bullish divergence signaled that the previous downtrend may have ended.
The Chaikin Oscillator is a volume based technical indicator that attempts to confirm the current price action or foreshadow future price reversals.
Other technical indicators similar to the Chaikin Oscillator are the On Balance Volume indicator (see: On Balance Volume) and the Money Flow Index (see: Money Flow Index).
How to Start Technical Trading
If you are interested in trading stocks & commodities using technical analysis, have a look at our reviews of these regulated brokers available in to learn which charting & analysis tools they offer:
Loading table...
CFDs are complex instruments and come with a high risk of losing money rapidly due to leverage. Between 73.90%-89.00% of retail investor accounts lose money when trading CFDs. You should consider whether you understand how CFDs work and whether you can afford to take the high risk of losing your money.
Further Reading
Learn more about technical analysis indicators, concepts, and strategies including Candlestick reading basics, Gaps (windows), MACD, and many others.
Also see our guides on Forex, Bitcoin, CFD, and Option brokers to find out which tools brokerages offer their clients.