Disclosure:
Your support helps keep Commodity.com running! We earn a referral fee for some brokers & services we list on this page.
Learn more...
Interest Payments Per Year
$4,146,800,000
Interest Payments Per Second
$131
National Debt Per Citizen
$32,897
Debt as % of GDP
67.06%
GDP Of Finland
$268,421,000,000
Finland Population
5,471,674
The National Debt Of Finland
Finland's "national debt" is measured as its "general government debt." There are variations on how the figure of general government debt should be calculated. Thus, a number of authoritative international organizations publish different debt figures for all countries, including Finland. The IMF publishes both gross debt and net debt figures for each of the countries that it surveys.
Gross debt is the total of all debt. However, the IMF only counts those debts entered into by government through contracts, such as by taking out aloan or by selling bonds. By this measure, the gross national debt of Finland, when expressed as a percentage of the country's national income (GDP) worked out at 61.4% in 2017. Net debt is gross debt minus all of the financial assets owned by the government. The IMF-calculated net debt to GDP ratio published for Finland at the end of 2017 was 22.6%. There is a big difference between these two figures and that indicates that the government of Finland holds a lot of valuable assets while also maintaining debt.
Finland is a member of the EU and so its financial statistics are reported on by Eurostat. This body counts all of the debts of all levels of government in Finland in its national debt figure. The Eurostat national debt figure for Finland at the end of 2017 worked out exactly the same as the IMF gross debt figure: 61.4%.
The OECD also counts general government debt as the same as the national debt. However, this body includes the value of all loan guarantees given by a government. It's gross debt to GDP figure for Finland at the end of 2017 was 73.2%.
Is Finland's national debt growing?
The Eurostat graph below shows how Finland's debt to GDP has risen in recent years. Finland did very well at getting its national debt down since the year 2000, when expressed as a percentage of GDP.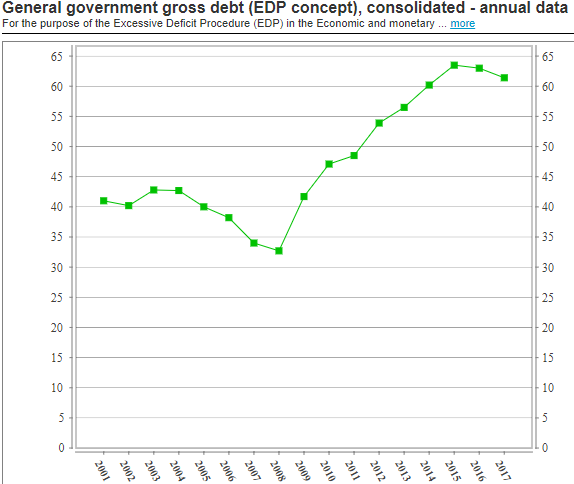 By 2008, Finland had got its debt to GDP ratio down to 32.7%. This is a very low ratio by the standards of most developed economies. What's more, the government debt now seems to be on a downward trend. Eurostat figures show that Finland's debt to GDP ratio peaked in 2015 at 63.5% and has been falling ever since. Like most advanced countries in the world, Finland experienced difficulties in its financial sector after the global crisis of 2008. However, the country did not suffer to the extent of many larger international economies and the government has done a better job at keeping its debts under control than governments of countries at a similar point of economic development. As the OECD graph below shows.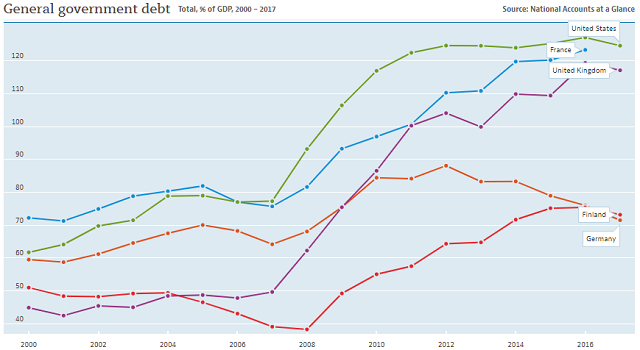 Although Finland has a sophisticated service sector, it also has a strong manufacturing base. The nation's mixed economy helped the country to get through difficult times.
What is Finland's credit rating?
The best credit rating that a country can have is "AAA." Finland doesn't enjoy that level of rating. However, it has A-grade evaluations from all three of the world's major credit ratings agencies.
| Agency | Short-term | Long-term |
| --- | --- | --- |
| S&P Global Ratings | A-1+ | AA+ (stable outlook) |
| Moody's Investors Service | P-1 | Aa1 (stable outlook) |
| Fitch Ratings | F1+ | AA+ (positive outlook) |
The government of Finland ran a small budget deficit in 2017 and has had a budget deficit for every year since 2009. However, the track record of government spending in the years before the financial crisis shows that the government of Finland has implemented the classic pattern of good budget management.
The government produced heavy budget surpluses during boom years and ran deficits during difficult years in order to pump extra money into the economy. The fact that the government has clearly implemented prudent policies over the years increases investor confidence and keeps the credit rating high.
Another encouraging factor when considering investing in Finnish national debt is the country's track record in increasing its income. Finland has only experienced a fall in GDP in one year of this century: 2009.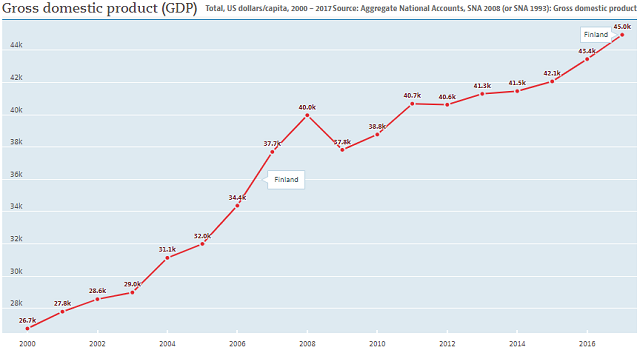 Fitch Ratings gives Finland a credit score of AA+. which is just one step below AAA. The agency also notes that the outlook is positive, which means that Finland could soon join the exclusive club of triple-A economies.
Who manages Finland's national debt?
The government of the Republic of Finland is answerable to the national parliament for the national debt. The government's Ministry of Finance sets the annual budget and decides how much debt the government will need to take on. The implementation of that debt policy is the remit of the Valtiokonttori, which is the State Treasury.
How does the Finnish government raise loans?
There are two phases in the sale of government debt instruments:
Primary market

Secondary market
Not everyone is allowed to buy securities directly from the government. The State Treasury only sells debt instruments to a group of approved banks, which are called the Primary Dealers. When the government wants to raise debt, the State Treasury notifies the primary dealers of a forthcoming auction. Those dealers have to submit tenders for portions of the issue. This is known as the primary market for government securities. Auctions take place through an electronic platform and pricing is set by the Dutch method. Once enough bids have been received to sell off all of the instruments in the sale, all dealers pay the same price, which is the lowest price bid during the auction.
Once all of the securities have been bought by the primary dealers, the phase of disseminating them into the economy begins. These are the activities of the secondary market. Individuals and businesses from anywhere in the world can buy trade government securities on MTS Finland, Brokertec, and eSpeed.
What debt instruments does the Finnish government issue?
The State Treasury needs to source debt with two time frames:
Short-term debt

Long-term debt
Short-term financing is provided by Treasury bills. These can be issued in Euros or in US Dollars. The State Treasury is able to issue Treasury bills with maturities from one day to 365 days. These instruments do not pay interest, but they are sold at a discount and paid off at full face value.
Long-term debt is funded by benchmark bonds. These pay a fixed rate of interest and have maturities of one year or more.
What facts should you know about Finland's national debt?
You could wrap $1 bills around the Earth 701 times with the debt amount.


If you lay $1 bills on top of each other they would make a pile 19,658 km, or 12,215 miles high.


That's equivalent to 0.05 trips to the Moon.
Interested in Trading Commodities?
Start your research with reviews of these regulated brokers available in .
CFDs are complex instruments and come with a high risk of losing money rapidly due to leverage. Between 71.00%-89.00% of retail investor accounts lose money when trading CFDs. You should consider whether you understand how CFDs work and whether you can afford to take the high risk of losing your money.