Broker Review
Markets.com Review: The Right CFD Broker For Commodity Traders?
Last Updated on
Overview
Risk Warning: Your Capital is at Risk
Markets.com is a brand and trademark used by Safecap Investments Limited. It's a multi-asset broker offering Contracts for Difference (CFD) trading to retail traders. CFDs allow traders to speculate on the price of assets without actually owning them in their accounts. The Markets.com platform enables traders to trade thousands of instruments across several different asset classes. This impressive menu of financial products and its innovative trading platform have made Markets.com a global leader in the CFD brokerage industry.
Markets.com has been recognized by industry professionals for its excellent trading platform and first-rate customer service. In 2012 the firm received the Forex Best Customer Service award at the London Investor Show and the Global Banking & Finance Review award for Best Broker in Customer Service. Markets.com received Best Forex Trading Platform and Best Forex Provider at the 2017 UK Forex Awards.
Traders seeking a competent, reliable online broker with a huge menu of CFDs to trade at competitive spreads would do well to consider Markets.com as their broker. Please remember, while Markets.com is a responsible broker, losses can still exceed deposits. CFD trading is for experienced traders.
CFDs are complex instruments and come with a high risk of losing money rapidly due to leverage. 73% of retail trader accounts lose money when trading CFDs with this provider. Therefore, you should consider whether you understand how CFDs work and whether you can afford to take the high risk of losing your money.
This Markets.com review will give readers important facts about the broker and discuss its major strengths and weaknesses.

Quick Compare
Background
Markets.com was founded in 2008 under the name GFC Markets. In 2010 it took the name Markets.com after its owner Safecap Investments Ltd. merged with forex software developer TradeFX. In 2015 Playtech plc, a publicly traded software company acquired TradeFX, and thus Markets.com, for €458 million.

Where Does Markets.com Operate?

Markets.com serves customers in dozens of countries across the globe.
The platform is offered in the following languages: English, French, Arabic, Italian, Spanish, Dutch, German, Greek, Norwegian, Russian, Polish, Czech, Danish, Finish, Swedish.
Customers in the following countries and territories are NOT allowed to open accounts due to local laws and regulations:
IMPORTANT: CFDs are not available in the USA due to local regulation, and this regulated CFD broker does not accept US citizens or US residents as clients.
Can I Trust Markets.com?
Yes, Markets.com is a safe and secure way to trade CFDs. The firm is regulated by the Cyprus Securities Exchange (CySEC) and the Financial Services Board (FSB) in South Africa and therefore is required to comply with the strict regulations of these agencies (learn more at Markets.com). One such requirement is that the broker must submit financial statements regularly to CySEC to ensure that the firm possesses the adequate capital to operate.
See the table below for exactly which regulator covers you in your country and what protection is offered.
Cyprus Securities Exchange (CySEC)
Markets.com is a trademark owned by Safecap Investments Limited – a Cyprus Investment Firm (CIF) which is licensed and regulated by the Cyprus Securities and Exchange Commission (CySEC) under license number 092/08. For more information, you can inspect their CySEC membership details here.
The Cyprus Securities and Exchange Commission is the financial regulatory agency of Cyprus. Cyprus is a member of the European Union and is a financial services industry hub. The country ranks well in the Transparency International league table of countries based on their corruption perception index.
Regulators require Markets.com to segregate all customer funds in separate bank accounts. If Markets.com were to become insolvent for any reason, the firm could not use clients' assets to pay its creditors. Customer funds also receive protection through CySEC's Investor Compensation Scheme. This scheme compensates account holders in the event of a brokerage firm's financial collapse or its inability to make customers whole on their account balances. See the Investor Compensation Fund for more details.
Financial Services Board (FSB)
The Financial Services Board (FSB) oversees the non-banking financial services industry, including financial advisors and brokers. Markets.com, operated by Safecap Investments Limited, is licensed under license number 43906.
Traders should also take comfort in the fact that Playtech plc, the parent company of Markets.com, is publicly traded on the London Stock Exchange main market and is a constituent of the FTSE250. As a publicly traded firm, it must regularly disclose information to the public about its financial health.
Markets.com uses SSL encryption technology to protect its servers from hackers and unauthorized users. The broker only works with PCI-certified international payment service providers. In addition, Markets.com uses firewalls and encryption to protect data transmissions. The firm asserts in its Privacy Policy that it will only share customer information with Safecap and its affiliates and not with any third parties unless required by law.
Inside Playtech's Office in Gibraltar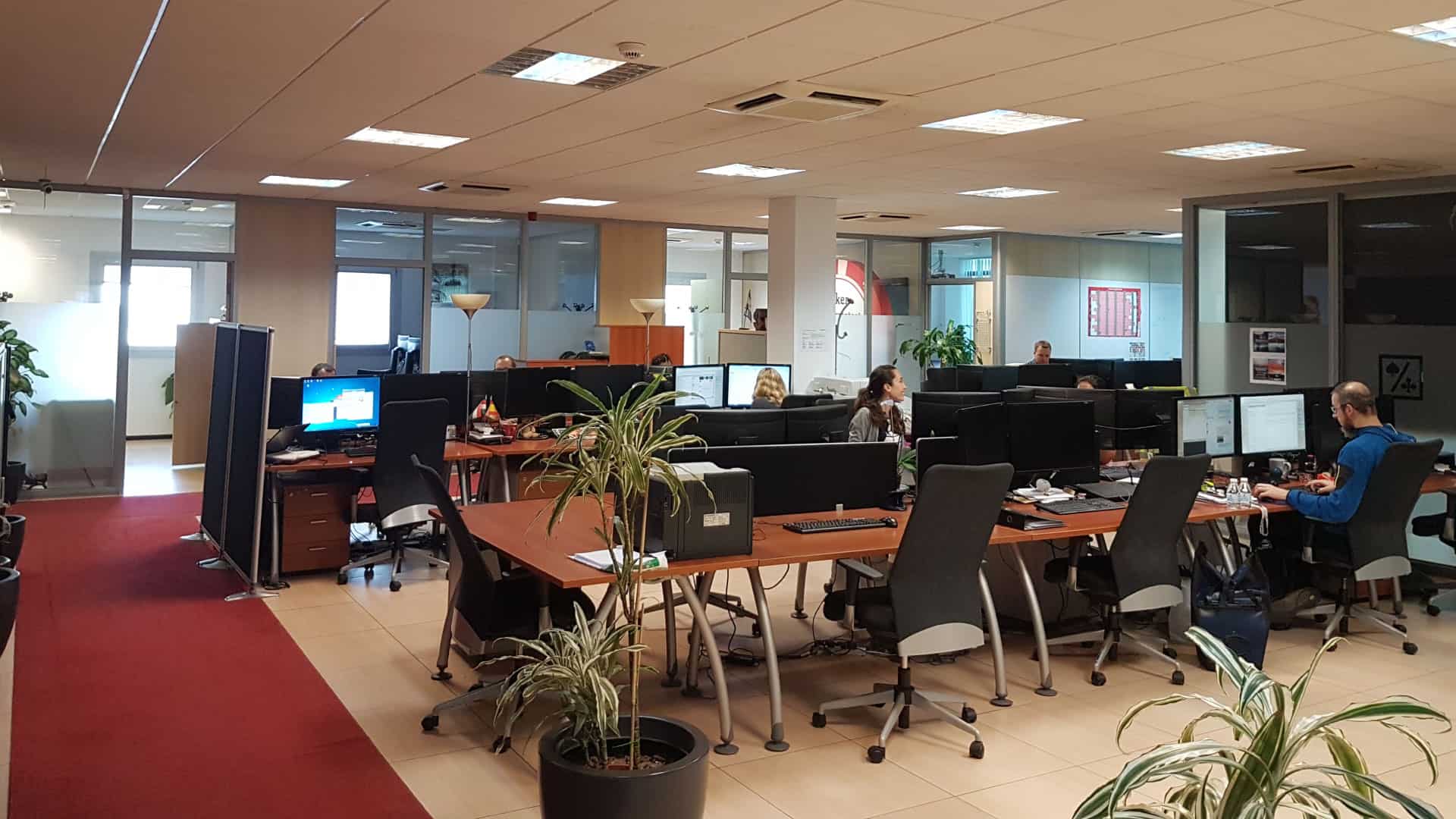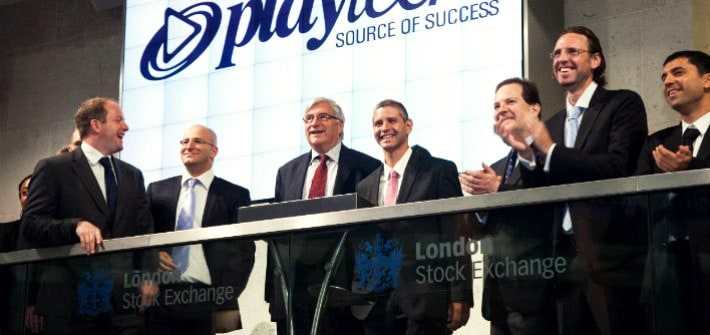 Who Runs Playtech plc?
Markets.com is operated by Safecap, a subsidiary of Playtech plc.
Markets.com Trading Products
Markets.com offers customers trading in CFDs on seven different classes of assets:
Shares
Forex
Cryptocurrencies
Indices
ETFs
Commodities
Bonds
1) Shares
Markets.com traders have access to markets in 2,000 shares from 12 major markets. Some of the most popular shares available include:
These company shares are from the following countries, and traders can use leverage of up to 1:5 on share CFDs:
Italy
Australia
Netherlands
Germany
Switzerland
USA
Belgium
UK
Spain
France
Hong Kong
Sweden
Greece
Finland
Austria
South Africa
Denmark
Czech Republic
Portugal
Poland
Russia
Norway
Japan
2) Forex
Markets.com provides markets in more than 50 pairs including all majors, minors and many exotics:
3) Cryptocurrencies
4) Indices
Markets.com traders can trade more than 25 major indices from over 20 countries including the S&P 500, Dow Jones, NASDAQ, Nikkei, DAX and FTSE 100:
5) ETFs
Markets.com traders have access to more than 30 different ETFs across the globe:
6) Commodities
Markets.com provides markets in the most popular hard and soft commodity CFDs globally (learn more at Markets.com):
7) Bonds
Markets.com provides markets on CFDs for several popular bond instruments:
8) Blends
Markets.com blends are baskets of shares that are combined to reflect a shared theme that can potentially be linked to specific market trends or developments. Traders in blends get exposure to a number of shares in specific sectors as a single product.
Markets.com Account Types
Markets.com keeps its simple and offers only two types of accounts – a demo account and a real money account. Both accounts offer the same features with the only difference being that the demo account uses practice funds.
Demo account holders can keep their accounts open for an unlimited amount of time. In the left panel of the main trading screen, there is a button that allows traders to switch back and forth between their real and demo accounts. Traders on the Markets.com mobile app also have the ability to switch back and forth easily between the demo and real accounts.
Demo accounts receive $10,000 in virtual funds to start and have immediate access to real-time analytics and charting capabilities. Traders can open a real money account with $/€/£ 100. The quantity is the same regardless of the currency used to make the deposit. Both account types come with access to Markets.com 24/5 support and all of the site's educational materials.
Markets.com Spreads and Fees
Traders don't pay commissions on CFD trades. Instead, they pay a Markets.com spread on each trade. The broker offers very competitive pricing on all its CFDs including spreads as low as 2 pips on popular currency pairs such as GBP/USD and EUR/USD.
Markets.com informs trades of the minimum spread on each product. However, if market volatility increases, these Markets.com spreads may be greater. Below are the minimum Markets.com spreads for each type of asset:
Shares: Spreads on the more than 2,000 share CFDs available for trading vary greatly by country and liquidity in the underlying shares. Traders should consult the Markets.com website for more details.
Major Currency Pairs
Minor Currency Pairs
Exotic Currency Pairs
Cryptocurrency Pairs
Indices

ETFs

Commodities

Bonds
Customers pay no other Markets.com fees, including when depositing and withdrawing funds. There are no hidden fees at Markets.com, and the company is mainly compensated for its services through spread and daily swap charges.
Account Requirements
Markets.com has a simple and straightforward minimum deposit amount for new accounts. Traders pay $/€/£ 100 to open an account – the quantity is the same regardless of the currency. Markets.com services customers worldwide with the exception of a few countries, including the US, where local regulations prohibit traders from opening accounts.
Traders opening an account have several funding choices:
Credit cards: Markets.com accepts Visa, MasterCard and Diners Club.
Wire Transfer: Markets.com allows bank-to-bank or person to institution wire transfers of funds. The broker doesn't allow cash transfers into any of its bank accounts.
Fast Wire Transfer: This allows traders to wire funds in their local currency, which saves currency conversion fees.
PayPal
Skrill
Neteller
Other methods: Markets.com accepts other country-specific funding methods. Traders should inquire with customer service.
To open an account, traders are taken to the registration page where they fill in some basic information and click the "Create Account" button.
However, before you can trade with Markets.com for the first time, you need to verify your account with the following information:
Proof of Identification
Proof of Residence*
National Client Identifier (NCI)

Enhanced Verification
Proof of Identification
Clear copy of a valid Passport; if this is not available, you have to provide a copy of your National ID or Driver's license. Passports should be provided at your earliest convenience.
Note that all details must be clearly visible:
Full name
Date of birth
Date of expiry
Photograph
Document's number and full security strip if applicable
Proof of identification displaying initials will not be accepted as proof of identity.
Proof of Residence
The proof of residence can include items issued by a financial institution, utility company, government agency or judicial authority:
*Proof of residence documents must have been issued within the last six months. All documents provided must be issued in the name of the client; third-party documents will not be accepted.
National Client Identifier (NCI)
As part of regulatory reporting obligations, Markets.com is required to verify your NCI. To validate your NCI, you need to provide them with the documents indicated above. Based on your nationality, additional documentation may be required such as a clear copy of a Citizen Card, Taxpayer card, Passport, National Insurance number, National Identification number, document indicating your fiscal code, etc.
In cases where documents with the highest priority are not available, Markets.com may proceed by creating a CONCAT. The CONCAT will be created by using information that you have already provided during your registration, such as your date of birth and name.
Enhanced Verification
As part of your account verification, additional information might be required in order to meet regulatory requirements. Information that might be requested from you for these purposes can include:
Proof of Phone Number – This can be a document verifying your phone number (mobile or landline). This can be a phone bill, a tax statement, a bank statement, a payslip or any other official document issued by a third party which carries your name and phone number. The document must indicate your full name as per your identification documents. In order to approve the submitted document, an employee from Markets.com will contact you on the phone number indicated in the document.
Bank Confirmation Letter – Letter from your banking institution, based in the EEA or an equivalent country, which includes and verified your Full Name, Address, Date of Birth and Passport/ID number. If the passport or ID number is different to the one on the identification document previously submitted Markets.com will require a clear copy of it.
Once registered, traders have access to both demo and real trading accounts.
CFD traders on the Markets.com platform have access to varying amounts of leverage depending on the products they are trading:
Shares: 1:5
Major Currency Pairs: 1:30
Non-Major Currency Pairs, Gold and Major Indices: 1:20
Cryptocurrencies: 1:2
Commodities: 1:10 (other than gold and non-major equity indices)
Markets.com margin requirements for each trade appear in the trade window when opening a ticket. Traders on the Markets.com platform can see in real time the amount of margin they have used and the margin available. When a trader's margin ratio (calculated as equity divided by initial margin) decreases, the account bears a greater risk of having its positions closed out by Markets.com. Traders can find the precise Markets.com margin requirements for each security on the website as well as on the trading platform.

Markets.com Withdrawal
Withdrawing funds from your account is easy. You can only withdraw funds using the same method that you used to deposit them, and to the same account as previously used to deposit.
Markets.com does not charge any withdrawal fees (Please keep in mind, however, that some banks may charge transaction fees.)
There is a minimum withdrawal amount for every payment method as listed below:
Credit/Debit card: minimum 10 USD/EUR/GBP
Wire Transfer: minimum 100 USD/EUR/GBP and 20 EUR within EU
Skrill/Neteller: minimum 5 USD/EUR/GBP
Markets.com Platform Review
The Markets.com platform has a modern look and an elegant design. The designers developed the platform with HTML 5, which gives it a speed advantage over many other active trading platforms. The layout makes it very easy to switch between different panels such as watchlists, positions, charts, and news.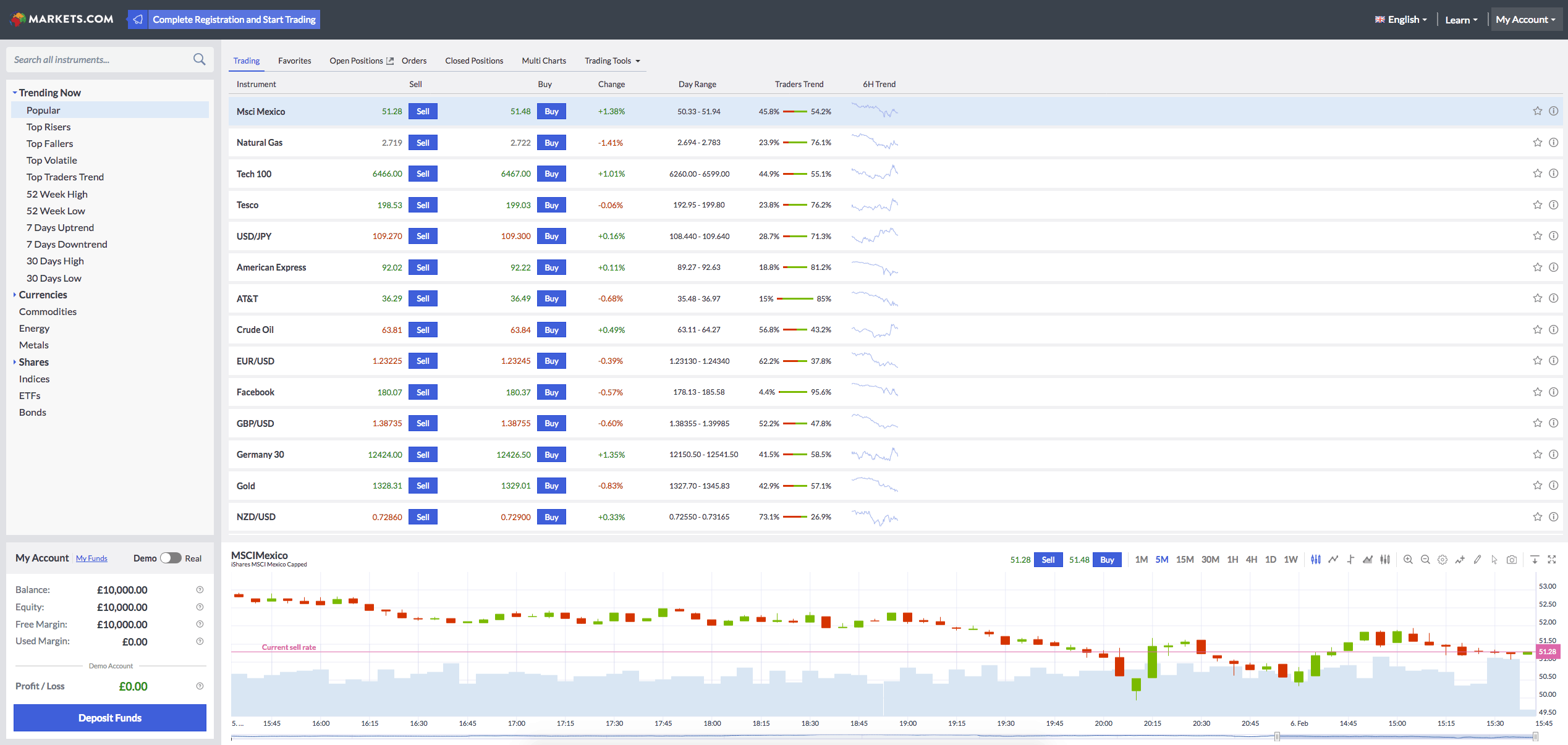 The platform allows easy customization of watchlists. Traders can click on a favorite icon and a trading instrument gets added to the list.
The trade ticket has features that both novice and experienced traders will appreciate. The large fonts and eye-catching design allow traders to quickly send orders with one click on a symbol and a second click on the send button. New traders will find this ticket very easy to use.
More sophisticated traders will appreciate some of the advanced functionality on the ticket. The colorful design incorporates sentiment features, which allow a trader to easily see whether other traders on the platform are buying or selling the instrument. Traders also have the ability to easily add stop loss and take profit conditions to their orders by simply checking a box and adding the prices. One of the very nice features is the ability to add entry limits and entry stops to orders. The ability to add these contingencies in the same window sets this ticket apart from other trading systems.
However, one of the problems with the Markets.com trade ticket is that once the trader has added a stop loss or take profit contingency to an order, there is no way to move these levels. For a platform designed to appeal to sophisticated and advanced traders, this is a flaw that the developers must address.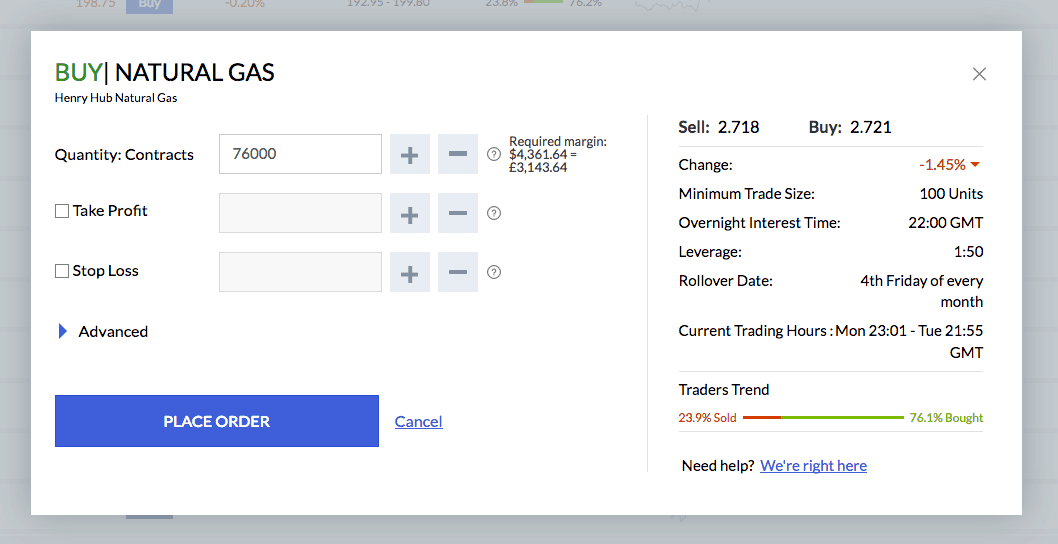 The charting features on the Markets.com platform are a mixed bag. On the one hand, the platform offers close to 100 indicators for technical analysis, which exceeds the functionality available on many comparable platforms. The Markets.com Trader platform also offers proprietary indicators for forecasting market direction, which allow traders to automate their technical analysis. In addition, the charts incorporate the sentiment tools so traders can gauge market opinions while analyzing charts.
The charting software also incorporates the trader's orders and stops on the display, which is a very nice feature not available on many other platforms. The trader's activity is shown with an order number and a dotted line with trading levels. This feature allows traders to see how their stops or take profit levels compare with key technical levels in the trading instrument.
However, Markets.com makes available a very limited number of tools to draw charts. Traders can only produce charts using bars, lines or candlestick. This is puzzling considering the number of technical indicators the software supports.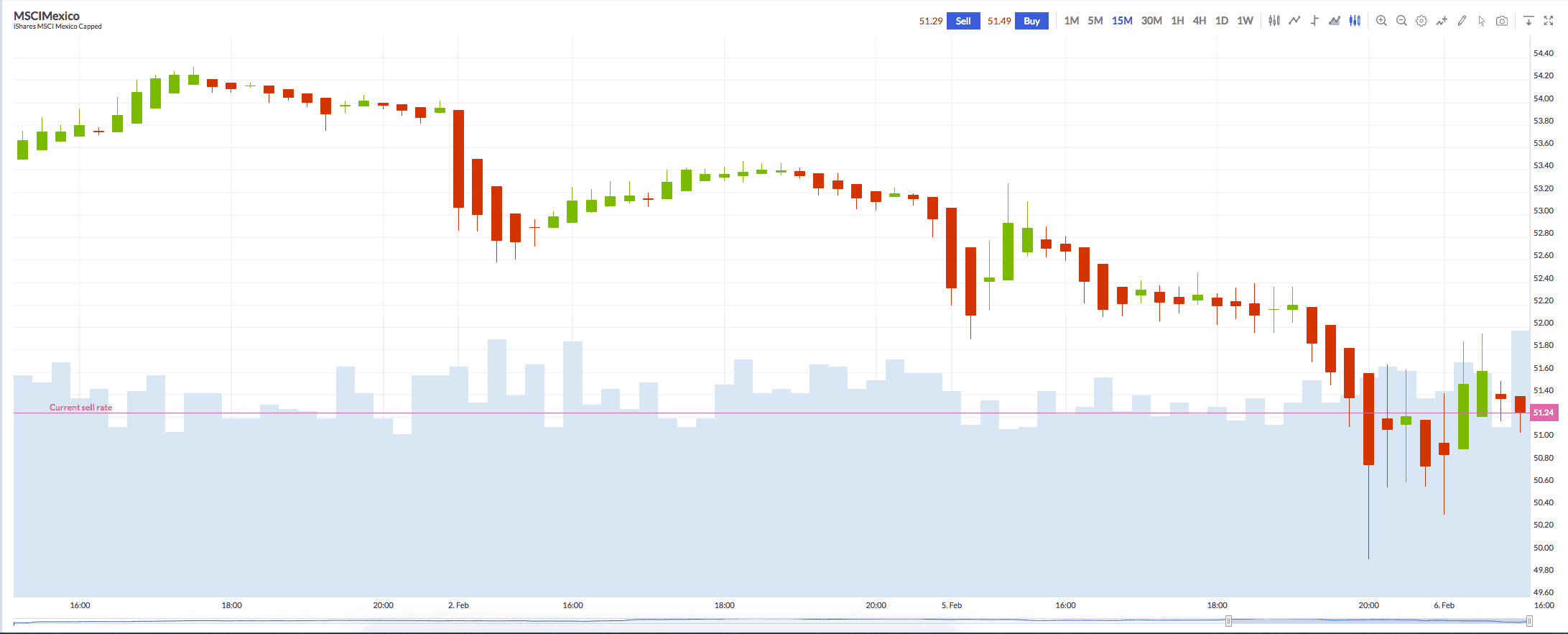 A very nice feature of the Markets.com platform is that the different panels within the main trading screen link with one another. For example, when a trader clicks on a symbol, the chart and news tabs populate with information on that symbol. While this feature is not unique to Markets.com, it provides for the integration of information and is helpful for active traders.
The Markets.com trading platform also makes its charts visible no matter where the trader navigates on the platform. This feature will be especially useful for technical traders. Traders can search their positions and watchlists or pull up a trading ticket while continuing to view a chart.
One very disappointing feature of the Markets.com platform is the paucity of news and research resources available to traders. Fundamentally driven traders will likely have to navigate outside of the platform to obtain more in-depth coverage of the instruments they are trading. In fact, it seems that the designers of the platform intend for it to be used more by technical than fundamental traders. This contrasts, for example, with the CMC Markets platform, which integrates fundamentals such as economic news releases with its analysis tools.
Trading Tools
Safecap Investment Limited, the parent company of Markets.com, has collaborated with TipRanks, a leading provider of aggregated Big Financial Data, to produce certain tools for Markets.com traders:
Markets Consensus
Daily Analyst Recommendations (DAR): This tool is available to all traders on the Markets.com platform. It collects all the public stock recommendations by leading financial analysts and presents it to as real-time data.
Insiders' Stuff: A tool for analyzing the forms filed by insiders with the U.S. Securities and Exchange Commission (SEC) reporting their transactions. This enables traders to see whether insiders are buying or selling the shares they are trading.
Social Sentiment: A tool for accessing the world's most influential financial bloggers in real-time. Markets.com traders can get the latest and most updated sentiment from the various financial websites, media channels and blogs.
Hedge Funds' Activities (HFA): A tool for analyzing the sentiment of your holdings based on the value of shares bought or sold by hedge funds in the last quarter. With HFA, you can view the holding change and resulting holding value of the stock at hand, along with the action of the hedge fund's transaction. The trends can be seen quarter over quarter since 2014.
Trader Trends
This is a social tool for measuring the sentiment of a particular financial instrument among traders in the Markets.com community. The Markets.com platform shows the trading trends of Markets.com traders and updates every few minutes. The displayed percentages of an instrument's sentiment value are calculated to the nearest 1% and are derived from real data of live open and recently closed positions.
Trading Central
Markets.com indicators offer insights about market and trading instrument momentum, forecasted volatility and movement, and other data.
Trending Now
Markets.com offers a tool for filtering, searching and finding the top trending instruments in real-time market conditions. The categories for trending instruments include:
Top Risers
Top Fallers
Top Volatile
Top (Markets.com) Trader Trends
52-Week High
52-Week Low
Uptrend
Downtrend
30-Day High
30-Day Low
Events and Trade
Events and Trade is a Markets.com tool for taking advantage of news cycle and events that might affect the price of instruments traded on the platform. The tool sorts through the annual economic calendar and finds potential trading opportunities on a variety of currency pairs over a number of different time frames. This tool is especially useful for fundamentally driven traders who have opinions about upcoming news events.
Markets.com Education Resources
The Markets.com Education Center offers a comprehensive suite of educational resources for traders looking to improve their trading. The tools are free for Markets.com customers:
Live Webinars: Markets.com holds live webinars several times a month on topics of interest to active traders. Webinars cover topics ranging from live trading to cryptocurrencies.
Economic Events: Markets.com has a section of its website dedicated to helping traders decipher and understand key economic events such as the Fed and ECB decisions on interest rates or economic releases such as gross domestic product (GDP) or the producer price index (PPI). The information is presented in a series of short videos.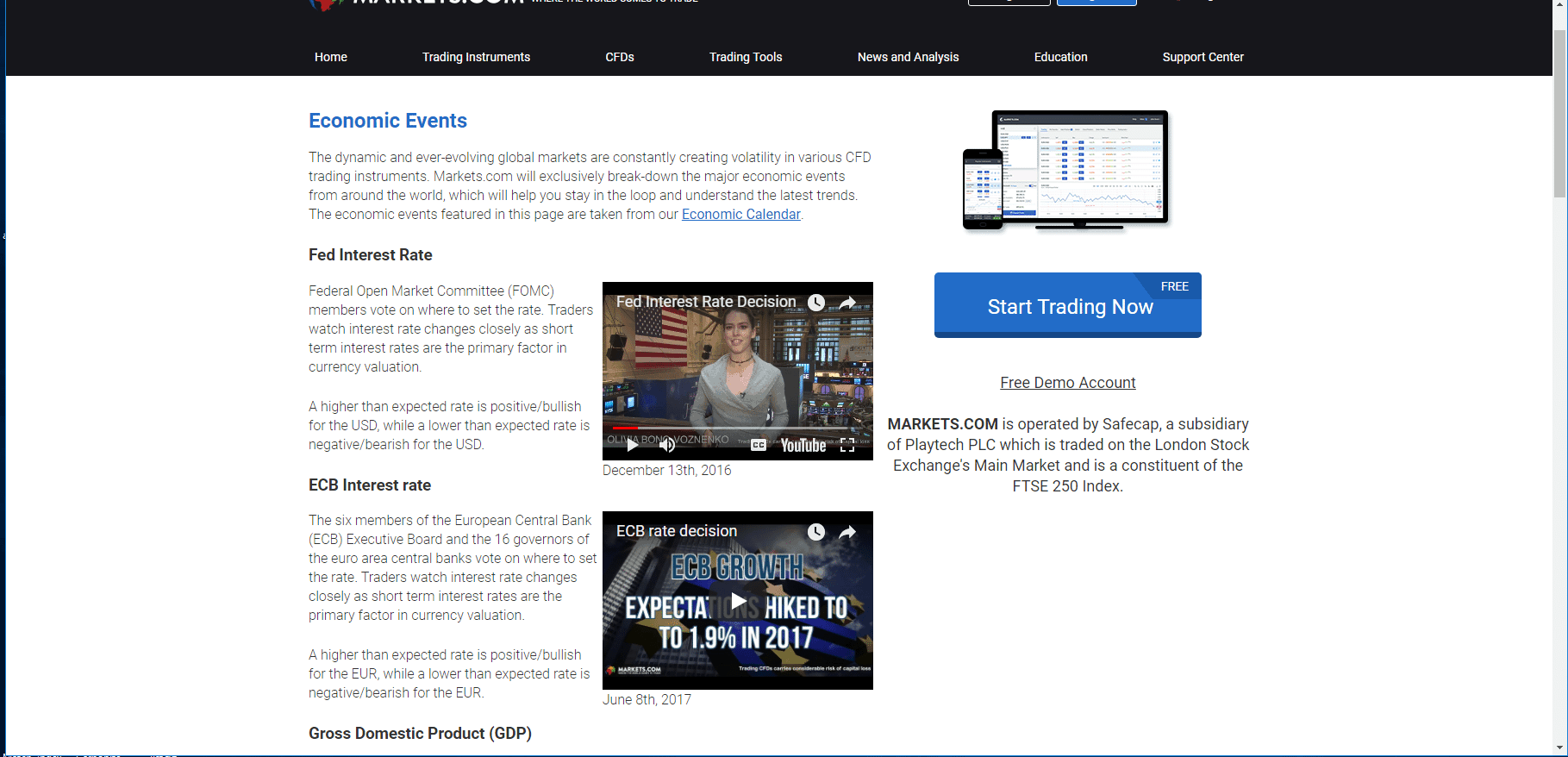 The News and Analysis section of the Markets.com website contains information on important fundamental events:
Economic Calendar: Contains key releases from different countries. The visually appealing layout is organized by date with a flag of the country next to each announcement.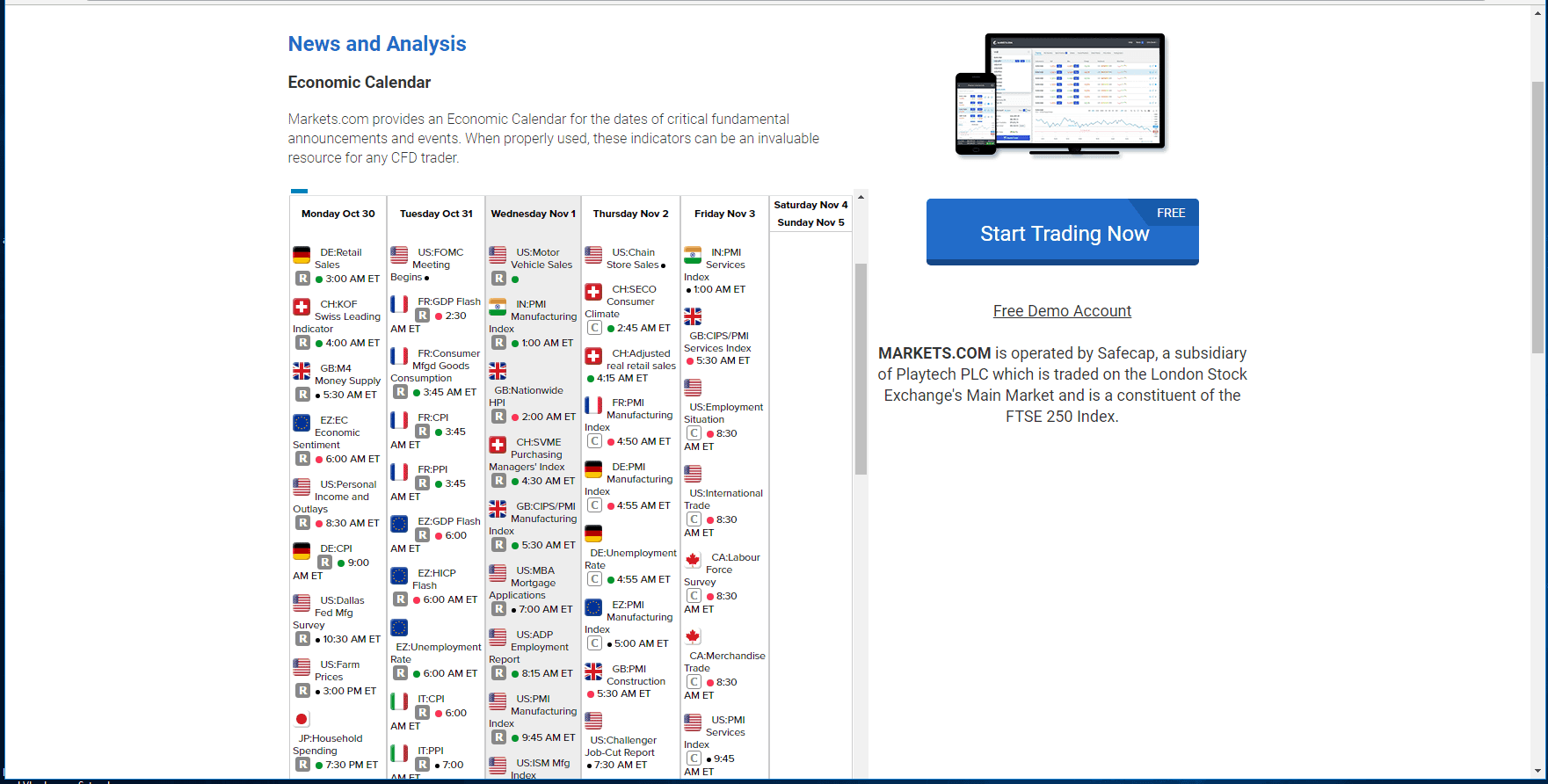 Initial Public Offering (IPO): Contains news on new share offerings.
Non-Farm Payrolls Report (NFP): Contains video analyses of NFP releases.

Markets.com Demo Account
Traders with Markets.com also have the ability to trade with a fully functioning demo account. The demo account has the same screen layout as the live trading account. Traders can toggle back and forth between the demo and real money account with the button on the bottom left of the main screen: