Learn How To Trade Aluminum
Last Updated on
Who Discovered Aluminum?
Aluminum is the most common element contained in the earth's crust, but it is never found naturally in its metallic form. Rather, aluminum is a compound of other elements. In the early 19th century, Danish-chemist Hans Christian Oersted first extracted tiny amounts of the metal from ore. The complexity of this process led many to believe that aluminum was more rare than gold. In the late 19th century, however, scientific breakthroughs led to very efficient and cost-effective ways of extracting the metal. Today aluminum alloys are abundant and found in a variety of industrial and consumer products.
How is Aluminum Made?
Supply
Aluminum is produced through two methods: primary production and secondary production. 
Primary Production
Aluminum production begins with extracting bauxite, an ore found in the topsoil in many tropical and subtropical regions of the world. Chemists then produce the chemical compound aluminum oxide, also known as alumina, from bauxite using a method known as the Bayer process.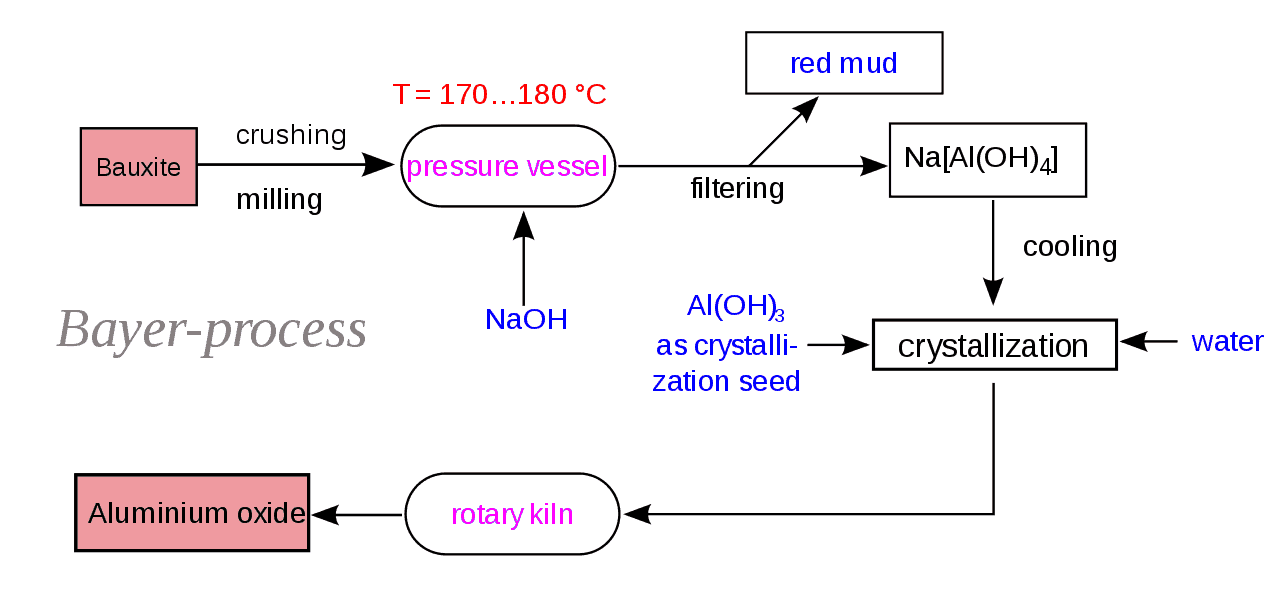 Every two pounds of bauxite produces one pound of alumina. Through a process known as Hall-Heroult, aluminum producers smelt aluminum oxide and refine it into pure aluminum metal. Every two pounds of aluminum oxide produces one pound of aluminum.
Secondary Production
Secondary production of aluminum involves recycling scrap aluminum into new aluminum. The process uses less energy than primary production and is more environmentally friendly.
Producers extract aluminum from waste streams and prepare to recycle it. Aluminum producers sort the scrap by its chemical properties. Scrap with one type of chemical composition has more value than scrap containing several alloys.
After sorting, aluminum refiners place the scrap into melting furnaces and turn it into molten aluminum. The molten aluminum can be cast into two types of large slabs – ingots and billets. Ingots can be rolled into sheet aluminum, while billets can be extruded into different shapes.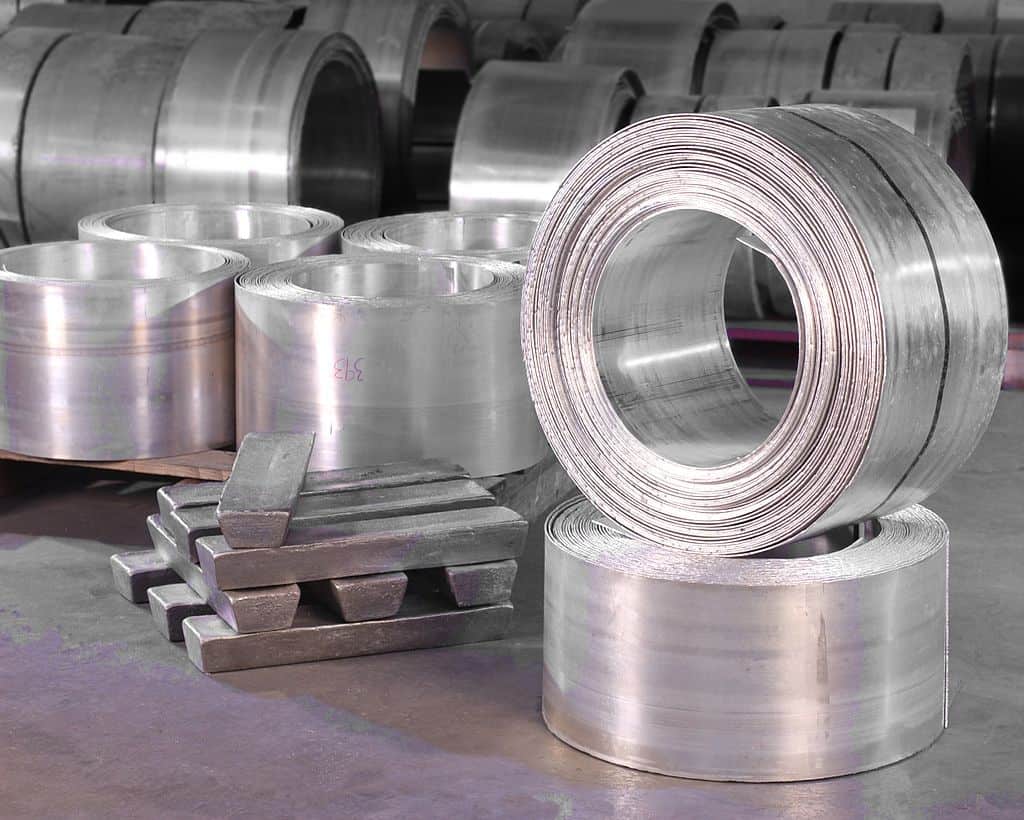 Where does Aluminum come from?
Global primary aluminum producers smelt about 60 million metric tons annually. Chinese primary producers account for more than half of the global supply of aluminum.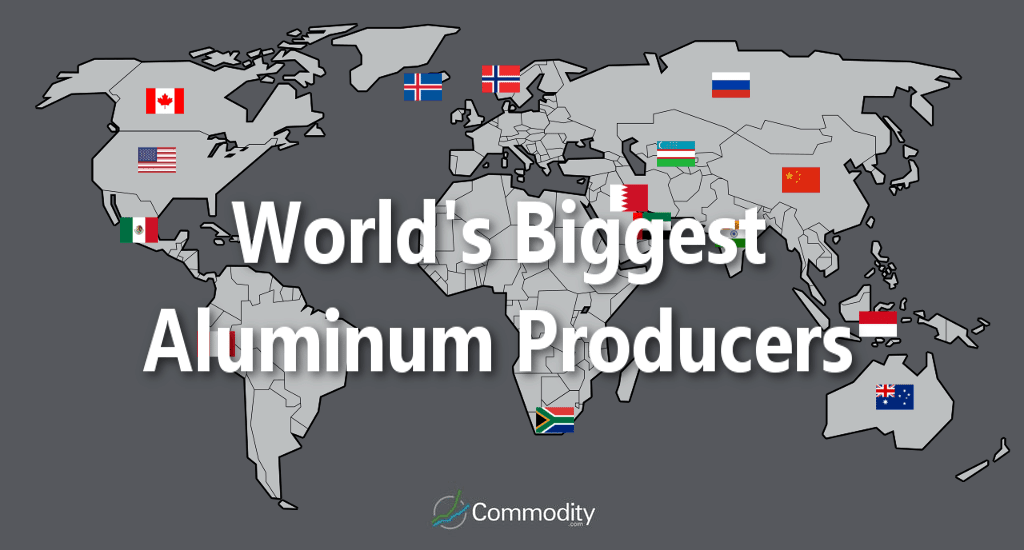 Top 10 Aluminum Producing Countries
A map of the world, illustrating Primary Aluminum Production by country.
| Rank | Flag | Country | Thousand Metric Tons |
| --- | --- | --- | --- |
| #1 | | China | 31,400 |
| #2 | | Russia | 3,580 |
| #3 | | Canada | 3,250 |
| #4 | | India | 2,750 |
| #5 | | United Arab Emirates | 2,400 |
| #6 | | Australia | 1,680 |
| #7 | | Norway | 1,230 |
| #8 | | Bahrain | 970 |
| #9 | | United States of America | 840 |
| #10 | | Iceland | 800 |
Demand
Global demand for aluminum is concentrated in China where urbanization has created strong demand. China consumes about 40% of the global annual supply of aluminum. Japan, the European Union and the United States are the next largest consumers of the metal.
Aluminum is lightweight, recyclable and corrosion-resistant, which makes it ideal for numerous industrial uses. The following industries represent the largest consumers of the metal: 
| Use of Aluminum | Description |
| --- | --- |
| Aerospace | Aluminum alloys are used in aircraft and rocket construction. |
| Aluminum cans | Manufacturers package sodas and other beverages in aluminum due to the metal's ability to cool down quickly. |
| Automobiles | Hoods and other lightweight aluminum parts maintain fuel efficiency in cars. |
| Building and Construction | Aluminum is an energy-efficient and sustainable material. The vast majority of aluminum used in construction is from recycled materials. |
| Electrical | Aluminum is an excellent conductor of electricity and is used in electrical wiring. |
| Electronics and Appliances | Appliances including washing machines, refrigerators and laptops use aluminum. |
| Foil and Packaging | Medicine packets, candies and TV dinners are a small sample of the items that use foil packaging. |
| Miscellaneous | Solar panel nanotechnology and aluminum-air batteries are two new technologies that use aluminum. |
What Drives the Price of Aluminum?
Many global industries use aluminum in their products, so the price is a good barometer of the overall health of the world economy. These are the five most important factors that influence aluminum prices:
Chinese Demand
Transportation Demand
Construction Industry Demand
Input Costs
The US dollar
Chinese Demand
China uses over 40% of the annual global supply of aluminum and, therefore, is the biggest driver of its price. Strong growth in Chinese GDP over the past two decades has pushed many industrial commodity prices higher. Chinese companies have an increasing demand for aluminum in the packaging sector. Additionally, real estate, transportation, and the electronics sectors have all seen growth in their demand for aluminum.
Transportation Demand
In the developed world, automobiles and aerospace are the most important markets for aluminum. The aluminum industry faces competition from lighter composite materials that seek to replace aluminum as a construction material. Carbon fiber materials, for example, account for a growing share of the aviation market. As composite materials make technological advances and become more affordable, demand for aluminum may wane.
Construction Industry Demand
The construction and building markets represent the second largest industrial demand for aluminum. In developing countries, aluminum accounts for about 30% of building materials. Construction growth rates can be volatile. Interest rates, unemployment, and overall economic strength can affect demand and, in turn, influence the price of aluminum.
Input Costs
The costs of producing aluminum can have a meaningful impact on its price. Aluminum production uses large amounts of energy in the smelting process. Changes in the cost of oil or electricity ultimately feed into the price of aluminum. In the case of recycled aluminum, the cost of scrap metal can also have a direct impact on prices for the finished product.
The US dollar
The US currency is the world's reserve currency and as a result, aluminum and other commodities are quoted in US dollars. Aluminum producers receive fewer dollars for their product when the US currency is strong and more dollars when the currency is weak.
Why Invest in Aluminum?
Many industries use aluminum in their products, so aluminum demand is a good barometer of the strength of the manufacturing economy. Manufacturing represents an important part of GDP, particularly in the fast-growing emerging economies, so investing in aluminum is a way to bet on global GDP growth. Some of the best specific reasons for investing in aluminum include:
Bet on Chinese Demand
Bet on Transportation Demand
Portfolio Diversification
Bet on Chinese Demand
China produces and consumes a large percentage of the overall global aluminum market. The fast-growing Chinese economy has needed aluminum in recent years for construction, transportation and electronics, and Chinese companies supplied the metal. However, as Chinese GDP slowed, internal demand could not absorb the large supply, and Chinese producers increased exports of aluminum to the United States and other countries. If Chinese economic growth picks up, then the country's demand for aluminum will grow. This could create a supply shortage and higher prices.
Bet on Transportation Demand
The global economy depends on transportation to support growth. The market for aluminum in aerospace equipment and automobiles could grow as the global economy expands. Individuals need cars and trucks to travel to work. Pro-growth policies in industrial and emerging economies should boost demand for aluminum in transportation products.
Portfolio Diversification
Investing a portion of a portfolio in aluminum along with other metals and other commodities, in general, is a way to achieve asset diversification.Baskets of commodities including aluminum insulate traders from declines in any one particular commodity.
Should I Invest in Aluminum?
3 Reasons You Might Invest in Aluminum
Investors should consider both the pros and cons of investing in aluminum. Some of the best reasons for making an investment include:
To divest your portfolio

To bet on global growth

To bet on manufacturing growth
Portfolio Diversification
This may be the best reason to invest in aluminum. Commodities such as aluminum provide traders with a way to mitigate the risk of having assets concentrated solely in stocks and bonds.
Global Growth
Investing in aluminum is a way to bet on a global growth boom. Both developed and emerging countries will need aluminum for transportation and construction projects in the years ahead. If growth accelerates in both the emerging and developed world, then there could be fierce price competition for industrial commodities such as aluminum, and prices should respond favorably.
Manufacturing Demand
Strong global growth usually boosts demand for manufactured goods such as refrigerators, cars, electronics and packaged goods. Investment in aluminum is a way to bet on a robust manufacturing economy.
3 Reasons You Might Not Invest in Aluminum
Overproduction glut

Advances in composite materials

Strengthening US Dollar
Investing in aluminum, however, has its risks. There are three compelling reasons aluminum prices might decline in value:
Overproduction
The Chinese have a recent history of overproducing commodities and dumping them on global markets. If internal demand for commodities does not pick up in China, then markets might suffer from a glut of aluminum supply.
Substitution Effect
Aluminum faces serious competition from composite materials. Technological innovations have created products that are light-weight and priced competitively. If these advances continue, then aluminum prices could suffer.
Strong US Dollar
A strong US currency is usually the enemy of commodity prices. If the US Federal Reserve turns hawkish and aggressively raises rates, the dollar may rally and commodity prices including aluminum may suffer.
What do the Experts Think About Aluminum?
Experts are ambivalent about the prospects for aluminum prices over the coming years. Some analysts optimistic on the commodity point to the correction of global supply/demand imbalances.
JPMorgan, for instance, notes that supply reform should lift markets in the future. It points to the closing of smelters in China as a positive catalyst, although it also notes that these smelters will likely reopen as the price of aluminum rises.
Andrew Estel, vice president of strategic planning and analysis at Alcoa, said that Chinese demand for aluminum is expected to increase by 7 percent this year, ahead of the global rate of 5 percent.  Estel said China represents over 50 percent of world demand for primary aluminum. He notes that growth in Chinese demand should exceed the rest of the world, but that Chinese surplus production remains an overhang on prices. 
How to Trade & Invest Aluminum
| Method of Investing | Storage Costs? | Security Costs? | Expiration Dates? | Management Costs? | Leverage? | Regulated Exchange? |
| --- | --- | --- | --- | --- | --- | --- |
| Aluminum Futures | N | N | Y | N | Y | Y |
| Aluminum ETFs | N | N | N | Y | N | Y |
| Aluminum Shares | N | N | N | N | Y | Y |
| Aluminum CFDs | N | N | N | N | Y | Y |
Aluminum traders have several ways to invest in the commodity:
Aluminum futures
ETFs
Shares of Aluminum Companies
CFDs
Aluminum Futures
The COMEX, which is part of the New York Mercantile Exchange (NYMEX) and Chicago Mercantile Exchange (CME), offers a contract on Aluminum MW US Transaction Premium Platts that settles into 25 metric tons of the metal.
The contract trades globally on the CME Globex electronic trading platform. Futures are a derivative instrument through which traders make leveraged bets on commodity prices. If prices decline, traders must deposit additional margin in order to maintain their positions.
Aluminum futures contracts expire on the last business day of the contract month and are financially settled. Investing in futures requires a high level of sophistication since factors such as storage costs and interest rates affect pricing. 
ETFs
These financial instruments trade as shares on exchanges in the same way that stocks do.
There are currently two exchange-traded funds (ETFs) that invest in aluminum futures:
iPath Dow Jones-UBS Aluminum ETN

(

NYSEARCA: JJU)

iPath Pure Beta Aluminum ETN (NYSEARCA: FOIL)
There are also several ETFs that invest generally in industrial metals including the following:
UBS E TRACS CMCI Industrial Metals Total Return ETN (NYSEARCA: UBM)

SPDR S&P Metals & Mining ETF (NYSEARCA: XME)
*UBS E TRACS CMCI Industrial Metals and SPDR S&P Metals & Mining invest generally in industrial metals.
Shares of Aluminum Companies
There are many companies engaged in mining and processing bauxite and other ores. While these companies are not pure-play investments in the commodity aluminum, the performance of their shares is generally correlated with the price of aluminum and other industrial metals.
A few popular mining stocks include:
Top 5 Aluminum Stocks by Market Capitalization
Current Price
Overview
Listings
Founded
Number of Employees
Interesting Fact
Rio Tinto


Developed some of the world's largest and best quality mines and operations.
New York (NYSE)
London (LSE)
Sydney (ASX)
1873
50,000
The Rio Tinto (Red River) mines in Spain, dating back to about 750 BC and once supplying the civilisations of ancient Greece and Rome
Alcoa


Invented the aluminum industry in 1888 and continue to innovate with new technologies and processes.
New York (NYSE)
1888
14,000
Originally called The Pittsburgh Reduction Company
Hydro


A global, integrated aluminum company.
Oslo (OSE)
OTCQX International
1905
35,000
Hydro was created to help meet the growing need for food. With its unique process for manufacturing fertilizer, the company became one of Norway's first industrial giants
Alumina Ltd

Invest in bauxite mining and alumina refining through Alcoa World Alumina & Chemicals (AWAC)
Sydney (ASX)
New York (OTCQB)
1961
5,100
Owns and runs a shipping operation that transports alumina, aluminum and raw materials around the world.
Century Aluminum


Global producer of primary aluminum. Operates aluminum reduction facilities in the US and Iceland.
NASDAQ (New York)
1995
1,300
Also own a carbon anode production facility located in Vlissingen, the Netherlands.
Aluminum CFDs
There is one way to trade aluminum that is superior in many ways to the alternatives discussed in this guide. Through a derivative instrument known as a contract for difference (CFD), traders can speculate on aluminum prices without actually owning physical aluminum, mining shares or financial instruments such as ETFs, futures or options.
Many regulated brokers worldwide offer CFDs on aluminum. Customers deposit funds with the broker, which serve as margin. The advantage of CFDs is that trader can have exposure to aluminum without having to purchase shares, ETFs or futures. Traders also don't have to worry about getting the timing and size of markets move correct in order to profit on their trades – like they would trading aluminum futures.
CFDs are still high-risk financial instruments however and your capital is at risk so you should be an experienced trader or seek out a broker that offers a demo account to allow you to develop your knowledge in advance of risking real money.
Start Trading Aluminum

One of the leading CFD brokers for trading precious metals, like aluminum, is Markets.com, here's why:
No commission on trades (other charges may apply)
Free demo account
Easy to use (mobile-friendly) platform
Industry-leading risk management tools
Trade aluminum and hundreds of other markets
Start Trading at Markets.com Important: Your capital is at risk. CFD services are suitable for experienced traders only.